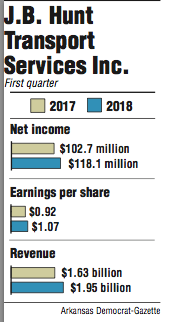 Graphs showing information about J.B. Hunt's First quarter
J.B. Hunt Transport Services Inc. on Monday reported net income of $118.1 million in the first quarter of 2018, a 15 percent increase from the same three-month period a year ago.
The Lowell-based company's earnings per share of $1.07 and revenue of $1.95 billion also were increases from 2017 when it reported 92 cents per share and $1.63 billion in revenue.
Revenue topped analyst expectations of $1.89 billion for the quarter, while earnings per share fell just below expectations of $1.08 for the quarter.
The company said in its earnings release that it benefited from a growth in volume, higher customer rates, new customer contracts and "vibrant spot pricing market."
Brad Delco, transportation analyst for Stephens Inc. in Little Rock, said results from the company's intermodal and dedicated contract businesses particularly stood out, and it was reflected in J.B. Hunt's stock, which closed Monday trading at $119.75 a share, up $6.98.
"[J.B. Hunt's] intermodal results surprised investors by delivering stronger margins than expected," Delco said in an email. "Additionally, the company is seeing tremendous growth in its Dedicated business. The combination of both of those specific items is the cause for the positive reaction in the stock in our opinion."
The intermodal segment, which accounted for 55 percent of the company's business, reported nearly $1.1 billion in revenue. It was a 14 percent increase from the same period a year ago, while operating income -- earnings before interest and taxes -- was up 20 percent to $114.2 million. J.B. Hunt was aided by customer rate increases and a 6 percent load growth.
J.B. Hunt's dedicated contract services business reported a 26 percent increase in revenue to $494.5 million, while operating revenue fell 9 percent primarily because of winter weather issues.
The segment's revenue growth included a 75 percent increase -- or about $35 million -- in final mile services. The company also had a larger fleet with an additional 1,329 revenue producing trucks in the quarter.
Revenue in the company's brokerage division, integrated capacity solutions, increased 41 percent to $296.1 million and operating income grew 99 percent to $9 million.
The company said $96 million of the segment's $296.1 million in revenue came through its online marketplace.
J.B. Hunt's trucking segment reported $92.7 million in revenue, a 1 percent decrease from the same three-month period a year ago that was primarily attributed to a 15 percent decrease in load count. The trucking segment's operating income increased four percent to $5 million.
The company will hold it's annual shareholders meeting at 10 a.m. Thursday at the company's headquarters in Lowell. The agenda includes the election of 10 individuals to the board of trustees along with two shareholder proposals.
The first is a request asking the company to prepare and update a report disclosing policies and procedures for making political contributions and expenditures. The second is a request for establishing greenhouse gas reduction targets.
The company recommends shareholders vote against the proposals, believing the political contributions request is unnecessary and not in the best interest of the company or stockholders.
The board believes the request for greenhouse gas reduction targets is "duplicative."
"Environmental considerations like those identified in the above proposal are built into the company's core modeling as it relates to our mission to provide customized freight movement, revenue equipment, labor and systems services tailored to meet the customer's specific requirements," J.B. Hunt said.
Business on 04/17/2018
Print Headline: J.B. Hunt earnings jump 15%
Sponsor Content
Comments