There is a particular energy that is sourced working side-by-side with teenagers, says Teen Action Support Center's executive director Madi Hutson. Take TASC's recently opened space on Emma Avenue in downtown Springdale called "The Station." This innovative "teen collaboratory" serves as a hub for Washington County teenagers as TASC works with partners like the Artist's Laboratory Theatre, Tech Hogs Robotics, the youth artist collective Stitches and the University of Arkansas to provide teens with meaningful activities and community service programs.
"Each teen here is working on something that is improving our community and improving their lives in some way and helping them figure out who they are," says Hutson. "It's a beautiful thing to watch. And it's beautiful to watch the adults around them, who often find something awakening in them. It's a really wonderful partnership."
Through Others' Eyes
"She focuses on creating equity for teens, allowing them to pursue their areas of interest with no judgment. If I had to choose one characteristic of Madi that I admire, and there are many, I would say it's her non-judgmental way she walks through life. Her inclusive leadership style allows her team to be creative with a clear understanding that there are no limits to what their program can do for teens. The results from the programs are evidence of great leadership and outstanding execution." — Teresa Walch
"Madi is an innovative thinker and has great leadership skills. She has executed an amazing plan to open a collaborative space so TASC can reach teens in Washington County. She has led our staff to a new level of standard of care while allowing each of them to work in their area of passion and giftedness. Madi has shared our mission, vision and dreams with the NWA community in a way that has encouraged others to rethink and realign with the needs of our teenagers. We are so grateful for all she does for our organization and our community. She is an incredible blessing." — Dawn Spragg
"Whenever you're talking to Madi, you always recognize that she's listening to you — really listening, not listening to formulate a response, but listening to understand what you're trying to get across. I think with teens you have to listen to be able to engage them — teens have a keen sense to know when people are just entertaining them. Madi listens with an openness to understand. You're comfortable sharing things with her. She has a natural ability to create trust quickly. I think these are some reasons why she's able to work with teens so well." — Aron Shelton
Next Week
Valerie Damon
Eureka Springs
Often, Hutson and TASC -- both in this new space in Springdale and their already-established home on New Hope Road in Rogers -- are also supporting teens in crisis: Helping a teen parent find the necessary means to stay in school through the nonprofit's resource "First Steps," for example. Or helping a homeless teen find shelter, food and clothing through the organization's "Teen Thrive" program. Or making sure a juvenile offender finds meaningful community service through TASC's "In Service" program, as well as offering mentoring services because embedding the youth in his community lowers his risks of re-offending.
As difficult as are the situations these teens find themselves in, data shows that their contact with TASC undoubtedly helps. The graduation rate of TASC's teen parents, for example, hit 98 percent last year (the state average for teen parents hovers right below 40 percent). Of the 64 housing-insecure teens TASC served, 90 percent are now safely and securely housed.
It's personal
A candid conversation with the effervescent Hutson -- she's weeks away from giving birth to a fourth child, but that hasn't slowed her down one iota -- reveals that her own personal history helps her relate to the kids she works with. Hutson was born to parents who lived off the grid in Hogeye -- so off the grid that their house was without running water or electricity. When she was 21/2, Hutson's parents got divorced.
"He dealt drugs," says Hutson frankly of her father. "He went to prison. My childhood was very difficult with him. I had a lot of traumatic experiences growing up based on that. I grew up with addiction and things like that around me." It's a difficult subject, but Hutson's telling of the story betrays no animosity or resentment -- instead, she shows compassion for her father's addiction. She made peace with it long ago and is able to assess her childhood trauma from the distance of adulthood.
When Hutson's mom remarried, she found herself in a conventional living situation for the first time in her young life.
"The first time I actually ever even stepped foot in a real store was when my stepfather took us to get our school clothes at Dillard's," she remembers. Prior to that, memories of food shopping included buying the ends of bread loaves and ham hocks from the owners of the Ozark Mountain Smokehouse for steeply discounted prices. "I don't think I owned a pair of shoes until I was at least 2."
Hutson stayed in periodic contact with her father until his death.
"My mom did a great job of never talking negatively about him," she says. "Even when the judge would say 'You cannot see your children,' my mom would say, 'OK, you know, if you decide you want to see your dad, I will find a safe place. We will do this. "
Hutson's father went to prison when Hutson was 8 or 9, she says, and contact was minimal for many years. She reached back out to him as a teenager, only to find out that he had been diagnosed with cancer. Her offers to help him through the disease were rebuffed; Hutson suspects that her father's guilt carried over from her childhood made him wary of accepting her help.
"But I love my dad," she says firmly. "I don't like to talk about the negative things. He said to me and my sister right before he died, 'Just please remember the good things,' and that's what I've tried to do to honor him.
"And some of my best qualities are from him. My creativity, my art. He always got me the really good art supplies -- it was funny, the things that were important to him. We didn't have running water, but we had beautiful paints and things like that. "
Her experiences with her father -- and her other brushes with addiction and abuse in her life -- marked Hutson in different ways, she says.
"If you look at what they call my ACE score -- the Adverse Childhood Experiences scale -- I score about an eight out of 10, so that gave me a lot of hurdles to deal with growing up," she says. "I struggled with mental illness. And I'm very open about those things because I'm incredibly functional, and I have dealt with it in really good ways. Not always, but now I do, and I think it's important to see that people who have gone through things or that struggle with things we think are scary, like mental illness -- it doesn't mean they're not functional. It doesn't make them any less able to succeed."
Hutson was a perfectionist as a child, an overachiever who scored high marks in school. But she was also riddled with anxiety and depression, she says. Hutson's mother, Laurie Atkins, suspects that the idealism Hutson displayed at an early age might have had something to do with that.
"She's always been very altruistic," says Atkins. "I call her 'the Golden Child.' She thinks everything can work for the good, so that would make anyone anxious in a world that doesn't always work for the good. I think she eventually developed ways of coping and making the world around her so much better, in spite of what the world is some days."
Atkins remembers that Hutson's skill at organizing and entertaining the youth around her started early: She started a "Planet Club," aimed at saving the planet, when she was in kindergarten and wrote and directed a play that engaged the neighborhood kids when she was 7 or 8.
But despite outward signs of involvement and coping, Hutson says anxiety and depression were taking a toll during her early teenage years. The situation came to a head when she was 13.
"I was sitting in the locker room of Farmington High School on one of those red carpeted benches, and I remember pulling [the bottle of pills] out of my backpack," she says. "I said, 'God, if you're here, do something,' very flippantly, almost disrespectfully. Challenging. And I heard what is the closest thing to an audible voice, so much to where I looked around. That shook me to my core. It said, 'I'm here. And I'm waiting.' It scared me enough to put the pills back in my backpack. It was terrifying. It made me curious and scared enough that I didn't do it. And I picked up a Bible a distant aunt had gotten me, and I started reading it every day at school."
It's evolving
Hutson also started going to church on her own. Though she was "inching closer" to embracing religion wholeheartedly, it was still a struggle.
And then an encounter at church changed everything for her.
"A man named Jim Nichols came up to me at church," she says. "He said, 'You know, I've been talking about you. I've been praying about you.' I knew his dad, and he was an elder at the church. He said, 'I just think that you need the blessing of a father. You need a father figure. Can I be that for you? Can my wife and I start meeting with you? ' And starting when I was 19, I met with him every Friday for two-and-a-half years. I would go to their house every Friday at 9 a.m. They probably put my life back on the rails.
"I believe in the power of one. If you look at my life -- I scored an eight out of 10 on the ACE scale, which means that my life should be 20 years shorter. It says that I should have an addiction. Statistically, my life should not look the way that it does. Statistically, I probably shouldn't be the best parent. I should have some sort of vices, and I shouldn't be able to hold a functional relationship. But these lights in my life, these pillars of light, helped guide me to where I am now."
The mentoring offered by Nichols and his wife had a stabilizing influence on Hutson's life: She bought her first house when she was 19. She started her own business -- as a consultant who helped Boys and Girls Clubs implement quality youth development programming -- by the time she was 21. She had started working for the Boys and Girls Club as a freshman at Abilene Christian College in Texas and continued her work in Benton County when she returned home.
She credits her mother for instilling this "can do" nature.
"When I was growing up, my mom had this 'Yes Attitude'," says Hutson. "I would say, 'Mom, I really want to adopt a kid.' I would have seen one of those advertisements on television, you know. Well, she has four kids, so she's of course, thinking, 'No.' But instead of saying 'no', she'd say, 'Oh, I can see that. You're really passionate about that. What can we do?' And we would sit down and brainstorm. And that time, I started an environmental club in second grade where we picked up cans after school in our neighborhood, got them recycled and sponsored a child through Compassion International with the change. So that was my first social entrepreneur venture."
Hutson was a powerhouse youth programmer.
"Her programs were designed to create intended outcomes in teen's behaviors and mindsets," says Teresa Walch, national vice president for program, training and operations for the Boys and Girls Club of America. Walch hired Hutson for her first job at the Boys and Girls Club in Texas. "She was a role model and mentor to both male and female members. She possessed an inner drive that made her stand out from her peers. She was committed to seeing the teens excel, but more importantly, see them thrive.
"Madi designed an implemented programs that were intentional and focused to produce positive youth outcomes. Her innovation and focus on creating programs and partnerships grew teen membership by double digits."
Soon, she was traveling all over the country, training employees that worked with teenagers to implement the energetic, innovative programming ideas she had developed. When she was offered a promotion that would require even more travel, she paused to take stock of her life.
"I stopped and thought, 'This doesn't line up at all,'" she remembers. "I can't travel 70 percent of the time and have babies. So I talked to my husband, and I decided I needed to leave. " The decision was a brutal one for Hutson, who had put so much into her work. But her grief was assuaged when she and her husband started building their family. She had her first child while she was finishing up her degree, which she had been slowly working on over the years. The couple fostered children, then adopted a child, and then had another baby. The activity was more than enough to keep Hutson busy.
"I stayed home for two-and-a-half years with my kids," she says. "We started fostering, and quite a few kids came through our home. I went to appointments and IEP meetings and school meetings -- it was a full-time thing."
She also was serving as a board member at TASC. Hutson had met TASC founder Dawn Spragg when Hutson was working for the Boys and Girls Club of Benton County; Spragg had helped the organization with a restorative justice initiative. One of the reasons Hutson was immediately drawn to TASC was because of the counseling component and ability to offer resources to food and home insecure teens.
"There were so many mental health issues involved [in my work at the Boys and Girls Club]," she says. "There were resource issues. 'Why would I care about doing my homework if I don't have food or a place to lay my head?' These were the things I couldn't solve. I was always advocating the need for counselors in our clubs. I love the Boys and Girls Club, but I couldn't offer the service to the teens that I knew they needed to achieve and to go forward. So that's when I really got passionate about what TASC was doing."
When TASC started looking for a new executive director, Hutson had a feeling that there was a higher power nudging her toward submitting her name for consideration.
"God asked me at one point when I was about 20 or 21, 'What do you want? What do you want your legacy to be?'" she remembers. "I told my husband, 'I think I want my legacy to be the teens in Northwest Arkansas.' That's what I want. I want to give everything I have to that group. I was staying home with my kids. I had no plans to go back to work. But I just felt it was the kind of shift that I had when I was going to take that promotion. It was like, 'This season is over. It's time for something new, and you need to go do this.'"
"When I first met Madi, I was so impressed by her passion for mentoring teenagers and setting a good example for them," says TASC founder Spragg. "Madi's desire to take the executive director role at TASC was a natural fit. We did ask her to go through the process of interviewing and being evaluated with other applicants, but there was no doubt that her passion and desire to move our mission forward made her the perfect fit."
Aron Shelton, TASC's director of innovation and entrepreneurship, was already working with TASC when Hutson came on board. He says he found Hutson's enthusiasm to be "a delight" from the first moment he met her. But it's her ability to empower others as a leader that make her special, he says.
"The phrase that comes to mind when I think of Madi is 'common north'," says Shelton, "We're very collaborative. Just in [The Station] alone, I have upwards of four organizations in this space. I'm working with 10 to 12 organizations on various different projects. Whenever you have that many partners, you have to have a common north, and a person able to articulate that common north. Madi is able to do that. She is very much a person who wants to put a compass in your hand -- some in leadership positions are apt to hand you a map: 'This is where we're going, from point A to point B.' A map is good for certain things, but not for obstacles or challenges that may arise. ... I think what Madi is able to do is to equip people with compasses and give them a common north. If we come up against barriers that stand in the way of our destination, at least you have a compass that lets you navigate around those barriers to arrive at our common north -- which is to see teens thrive."
It's a success
Since Hutson took over the reins, TASC has expanded its reach to teens in Washington County by opening The Station, which also houses a new and exciting initiative for the organization: an Evening Reporting Center. ERCs have been gaining momentum in juvenile justice arenas, serving a key role as an alternative to incarceration while also offering counseling, life skills, academic assistance and connections to meaningful community service projects.
"We were seeing that putting kids in orange jumpsuits on the side of the road, picking up trash -- hey, guess what, you treat kids like criminals, they become criminals," she says. "That's what the statistics were showing. So we decided to try something new. Let's find a restorative approach to this problem. Community service is a great thing. It increases empathy. It gives you that sense of power and a connectivity to your community. It's a great return on investment for the community."
TASC works with officials in the juvenile justice system to target teens to fill the 10 spots available at the ERC. The kids chosen are usually deemed at a moderate to high risk of re-offending.
"So instead of locking them up, let's intervene and see what they need," she says. "Let's fulfill needs, let's support. Let's give them amazing programming, counseling. We know that the majority of violent crimes for this age group happen between 3 p.m. and 6 p.m. That's a fact. That they're here instead of elsewhere keeps them from those situations. Our goal is also to say, 'What do you need? Are you struggling with homelessness? Is your family facing eviction? What is the hurdle, the barrier in life that's making you go here?'"
Since the organization's network of resources is already in place, TASC is uniquely qualified to answer those needs -- "Teen Thrive" can help the food and housing insecure teen, "First Steps" can help the teen parent and "The Closet" can help a teen who is lacking in clothing or resources.
Though this part of TASC's programming is new -- they've been offering services at the ERC for a little under a year -- Hutson says there are already indications that it's having a positive impact on the juvenile justice system.
"There was a reduction of recidivism among Marshallese and Latino youth throughout the first three quarters," says Hutson. "The judge said that she definitely believes that it is a result of the ERC. We've seen a shift in violent crimes over this year -- violent crime has dropped in Springdale and risen elsewhere."
Those kinds of results show that Hutson is right where she's supposed to be.
But to be perfectly honest, Hutson doesn't need facts and figures to tell her that.
"When I took the job, it literally felt like this is what I had been preparing for," she says. "This is the position that everything I've done -- all of my life experiences as a kid and as a teen -- prepared me for. God saved me for this, for such a time as this moment, where everything culminated to all these things I've been doing. This is why.
"This is why."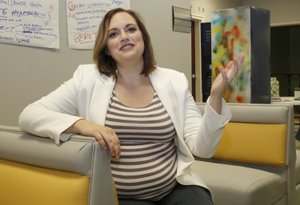 NWA Democrat-Gazette/DAVID GOTTSCHALK "She has great insight about innovative ways to connect and engage with young people." — Dawn Spragg about Madi Hutson
NAN Profiles on 04/15/2018