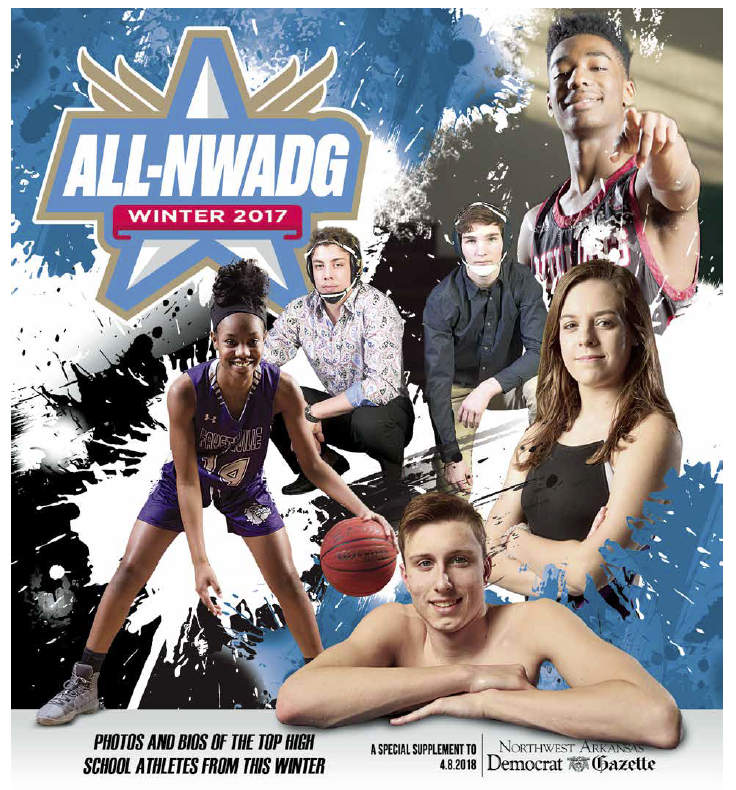 All NWADG Winter 2018 Basketball and Wrestling
The Northwest Arkansas Democrat-Gazette selected its All-NWADG basketball and wrestling teams.
BASKETBALL
Division I Boys
Player of the Year
ISAIAH JOE
SCHOOL Fort Smith Northside
HEIGHT 6-4
WEIGHT 170
CLASS Senior
THE SCOOP Leading scorer for a Northside team that went 22-10 and reached the championship game in Arkansas' highest classification for the second consecutive season. ... Averaged 23.5 points, 5.8 rebounds, and 5.5 assists per game as a senior. ... Averaged 18.8 points to lead Northside to the Class 7A state championship as a junior. ... Signed with Arkansas during the early signing period last November. ... Rated as a 4-star recruit by Rivals.com. ... Also selected as the Gatorade Boys Basketball Player of the Year for Arkansas.
DID YOU KNOW Joe wears No. 10 in honor of former Northside basketball standout Ron Brewer, who also played at Arkansas and in the NBA. Also enjoys playing golf and shot a 78 during a tournament before his freshman year.
HE SAID IT "I feel blessed to have coached Isaiah, who's meant a lot to the city of Fort Smith and Northside High School. Not only is he a great talent, he's a great kid, the kind of player every coach wants on his team. He's the whole package. Arkansas basketball fans are going to love him." -- Eric Burnett, FS Northside coach
...
Newcomer of the Year
TRENTEZ SCALES
SCHOOL Springdale High
HEIGHT 5-9
WEIGHT 142
CLASS Sophomore
THE SCOOP Averaged 13 points, four assists, and two steals in his first year on the varsity level. ... Shot 84 percent from the free-throw line. ...Started at point guard for a team that finished 17-12 after winning only seven games the previous season. ... Scored 27 points in a 79-71 victory at Fayetteville, the eventual conference championships in the 7A-West. ... Teamed with fellow sophomore JaJuan Boyd to form one of the best young guard combinations in Northwest Arkansas.
DID YOU KNOW Trentez Scales and his family moved back to Northwest Arkansas after living a few years in Arizona. He was born in Fayetteville.
HE SAID IT "His speed is special. He has the ability to push the tempo and keep the defense on their heels. He hit some really big shots this season and iced numerous games for us at the free-throw line. He's going to be an elite point guard in this league." -- Jeremy Price, Springdale High coach
...
Coach of the Year
KYLE ADAMS
SCHOOL Fayetteville
THE SCOOP Led Fayetteville to a share of the 7A-West Conference championship after being picked to finish fifth in the league in a preseason poll. ... Bulldogs finished 11-3 in the conference and 19-9 overall. ... Bulldogs earned No. 1 seed for the state tournament with its two wins over Springdale Har-Ber, which also finished 11-3 in the league. ... Adams has coached for 37 years, including eight years as head coach of the Bulldogs. ... Spent 19 years at Woodland Junior High in Fayetteville and seven years as an assistant at Fayetteville before being named head coach of the Bulldogs.
DID YOU KNOW Adams enjoys golf and finishing. He was a high school golf coach and won seven state championships combined with the Fayetteville boys and girls teams.
HE SAID IT "We knew it and it was justified, but we didn't talk about it a lot. There were teams that had a lot of kids coming back, and we were unproven. But we came together as a team and just kind of evolved over the course of the season. Just watching the kids evolve and grow into their roles was fun for me.
"It's an honor to receive any (coaching) award but I'm a small part of a great staff. All of our guys could be head coaches at any level and they choose to stay with me at Fayetteville High School. I appreciate them very much." -- Kyle Adams
...
Division I Girls
Player of the Year
SASHA GOFORTH
SCHOOL Fayetteville
HEIGHT 6-1
CLASS Sophomore
THE SCOOP Averaged team-leading 16.8 points per game for 7A-West Conference champions who finished 22-4 overall. ... Scored 16 points in the first quarter and finished with 28 points in 65-39 victory at Rogers High. ... Scored 26 points during 51-32 victory over Van Buren on Senior Night at Fayetteville. ... Shot 40 percent for the season on 3-point attempts. ... Named state finals Most Valuable Player as a freshman after she scored 19 points in 59-49 victory in title game over North Little Rock. ... Has over 25 scholarship offers from Division I programs with two seasons left to play in high school.
DID YOU KNOW Sasha plans to play basketball this summer for Cy-Fair Nike Elite team near Houston.
HE SAID IT "Sasha is a tireless worker and the most competitive players in our program. This proved itself with her infinite ways to score the ball. Her ability to attack the rim and finish is second to none. On the defensive end, Sasha was always assigned the opponent's best player. She is a committed defender and gave max effort on that end. Her long wing span and knack to not foul made her invaluable, defensively." -- Vic Rimmer, Fayetteville coach
...
Newcomer of the Year
CORIAH BECK
SCHOOL Fayetteville
HEIGHT 5-8
CLASS Sophomore
THE SCOOP Starting point guard for a Fayetteville team that won the 7A-West Conference championship with a 14-0 record and finished 22-4 overall. ... Averaged 12.7 points and 3.2 assists per game. ... Led Fayetteville with 23 points in a victory at rival Springdale. ... Daughter of former Arkansas guard Corey Beck, who played on the Razorbacks' national championship team.
DID YOU KNOW Coriah enjoys swimming and plans to play basketball this summer in Little Rock with Wood Elite.
HE SAID IT "As a sophomore point guard, Coriah had to be a quick learner to the varsity level. She has a high basketball IQ with a unique ability to score and lead our team in assists. That's rare at any level. Coriah became a much-improved 3-point shooter, but her ability to win one-on-one and score at the hoop was her true talent. She is an exceptional rebounder for a guard. Amazing for a sophomore." -- Vic Rimmer, Fayetteville coach
...
Coach of the Year
Clay Reeves
SCHOOL Greenwood
THE SCOOP Led Greenwood to the state championship game in Class 6A before losing 57-44 to Jonesboro. ... The loss ended an 11-game winning streak for the Lady Bulldogs, who opened the season with four consecutive losses. .... Led Greenwood to consecutive state championships in 2014 and 2015. .... Won three state championships in four seasons at Greenland before accepting the job at Greenwood. ... Been coaching for 30 years, including 15 years at Greenwood. ... Greenwood will return 17 of 18 players next season from the team that finished as state runners-up to Jonesboro.
DID YOU KNOW Reeves has taken teams to the state finals 11 times and won seven championships.
HE SAID IT "Our team improved and progressed a lot over the year. We got better and better individually and played better as a team as the year went along. We're blessed in that we've got great talent at Greenwood. There's a little give and take to make a team better and our kids bought into what we're trying to do." -- Clay Reeves
...
Division II Girls
Girls Player of the Year
LEXY ANDERSON
SCHOOL Berryville
HEIGHT 5-7
CLASS Sophomore
THE SCOOP Averaged 12.8 points, 6.4 rebounds and three steals per game for 32-3 team that advanced to the Class 4A semifinals for the third straight season. ... A team leader at both ends of the floor as a slasher to the basket on offense and lock-down defender on defense. ... Scored a season-high 26 points in the 4A-North regional final against Gravette. ... Was a varsity team member last season as a freshman. ... Plans to try out for the Arkansas Banshees AAU team this summer. Has played for the Wings the past three summers.
DID YOU KNOW Anderson is fearless on the basketball court, taking the ball to the basket against anyone. She's also fearless off the court and hopes to one day travel the world and do a solo jump out of a plane as a skydiver.
QUOTABLE "This year I learned when to shoot and when to back out," Anderson said. "My mom played basketball and she always told me, 'if you see something open, go for it.'
"I played with boys growing up, so maybe that helped some."
-- Chip Souza • @NWAChip
...
Newcomer of the Year
ANNA MCCREDY
SCHOOL Shiloh Christian
HEIGHT 6-3
CLASS Freshman
THE SCOOP Transferred to Shiloh Christian last season as an eighth-grader and had to sit out the junior high season. ... Emerged this season as an inside presence for the Lady Saints with her length and shot-blocking ability. ... Averaged 11 points, 10 rebounds and 3 blocked shots per game this season. ... Took on a bigger scoring role last half of the season when leading scorer Lia Enos was injured. ... McCredy credits her father as helping her learn to play on the defensive end as a shot-blocker. ... Has been in contact with some colleges.
DID YOU KNOW McCredy, because of her rapid growth, has dealt with ankle injuries. She plans to become an orthopedic physical therapist because "after spraining my ankles so many times, I just think it's something I'd have a lot of experience with."
QUOTABLE "The pace and the level of the competition were a lot faster than junior high," McCredy said. "The players are just a lot more experienced. It took me a little while to catch up to the pace, but after I got a few games under my belt and playing last summer, that's when I got acclimated to the pace.
"My height gives me some advantages on the defensive end. I'd rather block an opponents' last shot than make a game-winning shot. Blocking shots is a lot of fun. It took me a long time to sort of grow into my body and I'm still working on that, getting in the weight room and trying to eat right."
-- Chip Souza • @NWAChip
...
Coach of the Year
WILL PITTMAN
SCHOOL Gravette
THE SCOOP Led the Lady Lions to a 25-8 record and the second round of the Class 4A state tournament. Gravette lost to state runner-up Riverview 76-75 in a game that saw starter Callie Kildow break her leg in the first quarter. ... Pittman rebuilt a Gravette program that had fallen on hard times over the course of the past six years. Gravette suffered through 10 straight losing seasons before Pittman turned the program into an elite 4A squad with three straight winning seasons and back-to-back 20-win seasons. ... The Lady Lions handed Berryville just its second loss of the season in the 4A-1 Conference tournament finals. ... Prior to taking over at Gravette, Pittman was an assistant coach under Charles Berry at Huntsville. He also coached at Southside Bee Branch, County Line, and Hampton. ... Pittman and his wife Melissa coached together at Huntsville, and also coached together part of this season when a Gravette assistant took maternity leave and Melissa stepped in to help coach the team.
DID YOU KNOW Pittman was born in the Netherlands as his father was in the military and stationed there. They eventually settled in Hackett when his father went into school administration and Will graduated from Hackett High School.
QUOTABLE "It was tough, but I knew that going in," Pittman said of taking over the Gravette program. "I think staying in a place and committing totally to it, which I think is a big deal and that's something that I learned from Coach Berry. He talks a lot about being there and if you want to make a difference, you have to be there. There were some tough years, and it wasn't easy. When you're not winning, things are not great. But I still think you have to pour your heart and soul into it and we said this is where we're going to be and I wanted to build something.
"I'm proud of our program and I'm proud of our kids. I think they buy into our program and what we expect out of them. They all think they should compete and think they should win now, and that's where you want to get a program."
-- Chip Souza • @NWAChip
...
Division II Boys
Boys Player of the Year
GARRETT MATLOCK
SCHOOL Omaha
HEIGHT 6-5
CLASS Senior
THE SCOOP Led the Eagles to a 37-4 record be averaging 21 points, 10.7 rebounds and 3.2 assists per game. ... Scored 2,028 career points and led the program to more than 90 wins over his three-year career. ... Was named to the all-state team three times. ... Drury College in Springfield, Mo., has expressed interest in signing him along with Northark CC in Harrison and Lyon College. ... His father played college basketball at Northark. ... Led Omaha to the NAC Tourney title, the first time the Eagles have won that tournament. Scored more than 30 points in a game eight times this season.
DID YOU KNOW Matlock has aspirations of becoming a dentist when his basketball career ends. "My dad has some friends that are dentists," Matlock said. "They don't have to work a lot and make quite a bit of money."
QUOTABLE "In pee-wees I started to really like basketball and it just continued to grow as it went on," Matlock said. "Just that feeling when you're shooting it well. That's just something that's hard to explain and something you can't replace."
...
Newcomer of the Year
PAYTON BROWN
SCHOOL Waldron
HEIGHT 6-3
CLASS Sophomore
THE SCOOP Exploded on the varsity scene this season by averaging 31.5 points, 8.2 rebounds and 3.9 assists per game. ... Poured in 56 points, including seven 3-pointers, against Subiaco Academy, finishing just two points off his father Jason's school record of 58, set in 1993 against Paris in a triple-overtime game. ... Has drawn interest from several Division I schools including Kansas State and Oklahoma State as well as Arkansas. ... Will play for Team Superstar South this summer. ... Also plays on the Waldron baseball team as a pitcher, shortstop, catcher and outfield.
DID YOU KNOW Is a 4.0 student and has scored a 23 on the ACT on the first try. Plans to retake the test in the hopes of scoring a 28 or better.
QUOTABLE "Growing up, my dad played basketball a lot and he and his friends would play three-on-three every Wednesday and Sunday," Brown said. "So I would go up there and play with them. So just growing up around it and being in the gym all the time, it helped me with my shot.
"I'm not really thinking about my dad's record. I'm not trying to break it, but if it happens, it happens."
....
Coach of the Year
LENDALL MARTIN
SCHOOL Western Grove
THE SCOOP Led Western Grove to the Class A semifinals and a 27-14 record with primarily a young team ... Has a storied career in coaching and education as both a basketball coach and superintendent at several schools. ... Three of Martin's four sons are or were coaches. Cody is the football coach at Westville, Okla., Brian was a head basketball coach at Greenwood and an assistant at Bentonville West last season, and Bo is a basketball coach at Bergman ... Has coached two state runner-up teams at Wickes (boys) and Van Cove (girls). ... Has been coaching for 29 years and 17 years as a superintendent. Was both coach and superintendent of schools at Van Cove and Wickes.
DID YOU KNOW Martin's first coaching job after he graduated from Southern Arkansas was as an assistant at Hamburg. Little did he know at the time, but there was a fifth-grade student at Hamburg who might have had a significant impact on Martin's career. Martin left Hamburg after one season to take a head coaching job. That fifth grader was Scottie Pippen.
QUOTABLE "I just love coaching. It always was my passion," Martin said. "You've got to be a little bit passionate to still be coaching after all these years. I've always enjoyed coaching at small schools. I attended huge schools growing up. I was born in Los Angeles, lived in Albuquerque, and lived in Vancouver, Wash., which is a twin city to Portland., Ore., but Grannis (Ark.) was always home and where I spent most of my time coaching."
-- Chip Souza • @NWAChip
....
WRESTLING
Wrestler of the Year
CASH JONES
SCHOOL Bentonville High
CLASS Senior
WEIGHT 170
THE SCOOP Jones won his third Class 6A-7A state title in four years in three different weight classes (106, 145, 170). ... Finished with a career high school record of 218-12, despite missing much of his sophomore season because of a knee injury and went 62-1 as a senior. ... Went undefeated against in-state competition as a senior with his lone loss coming to Jeremiah Kent of Columbia (Mo.) Hickman, a three-time Fargo All-American and Missouri state champion in the largest classification. ... Signed a letter of intent to wrestle at Campbell University in Buies Creek, N.C.
DID YOU KNOW Jones got serious about wrestling at a young age, traveling to Kansas City weekly to get coaching when he was in the sixth grade in addition to working with an area youth wrestling club. He also dabbled with karate and played a little football, but never participated in baseball and only a little basketball, concentrating on more contact sports.
HE SAID IT "I just focused on having fun and scoring points more than any other year. Physically, I was better this year than any other year. I'd been cutting weight or dealing with injuries the other years. I just hope I've showed kids to always work hard and have all the confidence you need in yourself. And when you wrestle, don't worry about the match. Don't worry about the lights. Just go out there and have fun and score points. If you focus on those things, then you'll win when you need to." -- Cash Jones
...
Newcomer of the Year
TREVOR DAVIS
SCHOOL Springdale Har-Ber
CLASS Freshman
WEIGHT 113
THE SCOOP Davis won the Class 6A-7A state and Big West Conference titles at 113 pounds and finished with a 32-5 record, overcoming a couple of injuries throughout the season. ... Finished fourth competing at 120 in the Oklahoma-Kansas tournament in Caney, Kan. and fourth at 113 in the Huskey Invitational in Overland Park, Kan. ... He will now look to improve his skills by wrestling freestyle and Greco-Roman, looking to make Arkansas' national team that will compete in Fargo, N.D.
DID YOU KNOW He did not wrestle at all last year because of a disc problem in his back. But his interest in wrestling was piqued early as his father grew up in Iowa, a state with rich wrestling history.
HE SAID IT "Wrestling, it's just kinda in my blood. Once I found the love for it, I just kinda took off and I've had success with it. Wrestling really is a team sport to us. My first couple of years I saw it as just an individual thing but seeing the work the guys put in in the room. It's like a family, you travel with them and you look out for them." -- Trevor Davis
Coach of the Year
AARON WISE
SCHOOL Bentonville West
THE SCOOP Wise led the Wolverines to a runner-up finish in the Class 6A-7A state tournament in just their second year of existence, after taking ninth a year ago. ... He helped put five Bentonville West wrestlers in the state finals and three claimed state titles, after having three finalists and one winner in the inaugural season. ... The 30-year-old Poteau, Okla. native spent five years as an assistant at Bentonville High before moving when West opened two years ago.
DID YOU KNOW Wise did not wrestle in college but became the first in his family to get a college degree. Instead, he turned to mixed martial arts at age 18. He finished with a record of 12-6, but that came after losing the first four fights of his professional MMA career. Wise won his final professional MMA fight in Tulsa in 2013, claiming the 135-pound title for the Tulsa-based Xtreme Fighting League.
HE SAID IT "I knew there was going to be a lot of success on the horizon with those kids coming up at Bentonville, so it was hard to leave. The biggest thing that pulled me away was getting to start something from scratch. You get to build a program the way you want it from the ground up. What I want to do is build something special where 10, 15, 20 years down the road you can look back and go wow, look what program has become. Our goal coming into year two was to win a state championship. We fell a bit short, but I told my guys if you leave it all out on the mat and do things the right way, no matter what happens, in the end, you won't regret it." -- Aaron Wise
...
SWIM/DIVE
Girls
Swimmer of the Year
LUCIANA THOMAS
SCHOOL Haas Hall Academy-Fayetteville
HEIGHT 5-10
CLASS Senior
THE SCOOP Set the state record in the 200-yard IM for a second straight year when she won the event during the Class 1A-5A state meet with a time of 2 minutes, 3.68 seconds. She set the previous state record last year at 2:07.12. ... Did the same thing in the 100 butterfly with her winning time of 55.40 seconds, breaking the previous state-record mark of 57.11 she set last year. ... Helped the Lady Mastiffs break two more state records -- the 200 medley relay (time of 1:46.97; previous mark 1:50.95 set by Haas Hall last year) and 400 freestyle relay (time of 3:47.65; previous mark 3:53.44 set last year by Pulaski Academy).
DID YOU KNOW Thomas will continue her swimming career on the major college level next season. She signed a national letter of intent in November with Notre Dame.
SHE SAID IT "My butterfly has always been strong, but I got to swim -- not in state meets, but other meets -- the backstroke and breaststroke and practice those a little bit. That was fun. The experiences I had with the team and winning the state championship will be what I remember of the senior year. We went out with a bang and broke some state records, so that is going to be the most memorable part." -- Luciana Thomas
...
Diver of the Year
HAILEY RISSINGER
SCHOOL Fayetteville
HEIGHT 5-4
CLASS Junior
THE SCOOP Rissinger won the 1-meter diving competition during the Class 6A/7A state championships last month at Bentonville ... Rissinger accumulated 409.90 points over her 11 dives -- an increase of more than 60 points over last year's performance, where she finished third. ... Her win means a Fayetteville diver has won the diving competition for six straight years.
DID YOU KNOW Rissinger not only kept the state diving title with her school, but with her family as well. Her older sister, Lindsey, was the state diving champion for three consecutive years (2015-17).
SHE SAID IT "I started the season pretty strong, and my second meet was a personal-best with a 466. Unfortunately, I came down with mono just before state, which was a little tough. I didn't dive my best, but I pulled it out enough to win state. My favorite dive is probably a front 2 1/2-tuck. It's one of my favorite dives, and it's one I can count on for scoring the most." -- Hailey Rissinger
...
Newcomer of the Year
LILY DeSPAIN
SCHOOL Haas Hall Academy-Fayetteville
HEIGHT 5-8
CLASS Freshman
THE SCOOP Finished the Class 1A/5A state meet with a pair of second-place individual performances behind her Lady Mastiff teammates. She was right behind Luciana Thomas in the 200-yard IM with a time of 2 minutes, 10 seconds, then she finished behind older sister Corinne in the 100 breaststroke with a time of 1:07.96. ... Teamed with her sister, Thomas and Martina Thomas to help Haas Hall break a state record in the 200 medley relay with a time of 1:46.97, breaking the previous mark by almost 4 seconds, then teamed with Luciana Thomas, Rachel Reaves and Vanessa Salinas to break the state 400 freestyle medley record with a time of 3:47.65, breaking the previous mark of 3:53.44 set last year by Pulaski Academy.
DID YOU KNOW DeSpain is fluent in Chinese, having lived in China with her parents for 7 years.
SHE SAID IT "My favorite event is the 100 breast, which I swam with my sister Corinne. It's her time swimming and her last event swimming, and I wasn't expecting to get second. The fact that we were able to finish one-two, and she broke her state record, was unbelievable. Then I finished behind Luciana in the 200 IM, and that was incredible. They're incredible athletes, and the fact I was able to be even close to them was really remarkable." -- Lily DeSpain.
...
Boys
Swimmer of the Year
RYAN HUSBAND
SCHOOL Bentonville High
HEIGHT 6-2
CLASS Sophomore
THE SCOOP Became the Class 6A/7A state champion in the 200-yard freestyle with a winning time of 1 minute, 41.19 seconds. ... Also won the 100 freestyle during the Class 6A/7A state swim meet with a time of 46.49 seconds, slightly off the state-record time he set last year. ... Teamed with Owen Radcliffe, Simon Mooney and Zane Sutton to finish second in the 200 freestyle relay in a time of 1:26.28, which surpassed the state-record time of 1:27.00 Bentonville set last year. ... Teamed with the same three swimmers to win the 400 freestyle relay at the state meet with a time of 3:11.09.
DID YOU KNOW During state meets, Husband said he prefers to listen to music before his events, preferrably hip-hop.
HE SAID IT "I did well, and I'm happy with how the season went. I'm going pretty close on my times, so I was happy with how I swam personally. I did feel some pressure at the state meet to match those records or to be better, but I usually handle pressure pretty well. Even though I didn't match them, I was still happy with how I performed and how I represented Bentonville." -- Ryan Husband
...
Diver of the Year
MARTIN KEOWN
SCHOOL Bentonville High
HEIGHT 5-8
CLASS Senior
THE SCOOP Captured the 6A/7A boys state diving competition with 416.30 points, an improvement of more than 70 points from last year's performance when he finished second. ... Became the third Bentonville diver in as many years to claim a state title.
DID YOU KNOW Keown had a late start to the diving season -- and actually missed the first 11-dive meet -- because of his involvement on Bentonville's football team, where he played cornerback.
HE SAID IT "I think I've done my best so far. This is my second year of diving, and I worked very hard for it. I think I had a lot of fun doing it, having a good coach and training for 3 months. Once football was over, I practiced on diving every day. I think I learned a lot of new skills, a lot more difficult dives. I worked on a dive called the 'twister,' which is a front 1 1/2 with a double twist, and I was able to get good at it." -- Martin Keown.
...
Newcomer of the Year
CALEB TONG
CLASS Bentonville High
HEIGHT 5-6
CLASS Freshman
THE SCOOP Finished ninth in the 200-yard freestyle with a time of 1 minute, 55.40 seconds during the Class 6A/7A state swim meet and 11th in the 500 freestyle with a time of 5:18.17. ... Teamed with Jake Noble, Jaiden Hartley and Austin Mondello to give Bentonville a fourth-place finish in the 200 medley relay with a time of 1 minute, 44.08 seconds.
DID YOU KNOW When he's not in the pool, Tong is a member of the Bentonville band system. He plays the French horn in the symphonic winds band and has made all-region band three times and all-region orchestra once.
HE SAID IT "There was a lot of time-dropping for me at the beginning. I improved a lot in my sprinting because I was figuring so much stuff out like technique and tempo. There's so much pressure on a young swimmer on a team that has won so many state titles and has so much tradition. It was sad not getting the state title this year and sad for the seniors, but we should be able to get next time." -- Caleb Tong.
Sports on 04/07/2018
Print Headline: ALL-NWADG WINTER SPORTS: Basketball, Wrestling
Sponsor Content
Comments