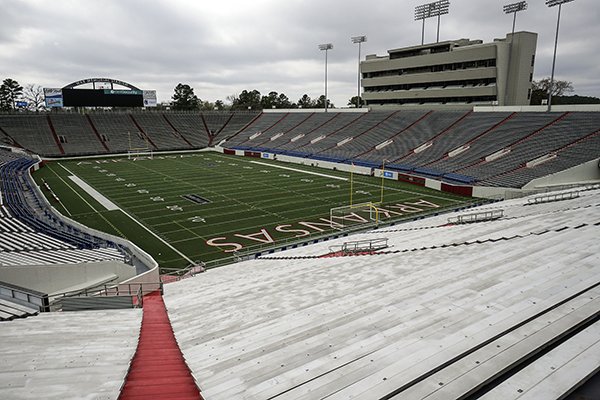 This Friday, March 16, 2018, photo shows War Memorial Stadium in Little Rock. - Photo by Mitchell PE Masilun
It is #free.
Parking, admission, the funfest on parking lot five, everything to make the University of Arkansas, Fayetteville Razorbacks Red-White game fun at War Memorial Stadium is free.
Except, obviously, the concessions.
How often does the Razorback Nation, or anyone else, get free anything, especially the last few years when good, hard-working and loyal Razorback clubs all over the state heard, "Thanks, guess we'll have to make this work."
There will be major changes with new Athletic Director Hunter Yurachek, slowly but surely, but not even he can come up with many things that don't cost anything.
Yet, when he realized the Red-White game could hinder progress on the expansion of Reynolds Razorback Stadium, which is going to be ready for this football season come Hades or high water, he reached out to central Arkansas to host the last chance to the see new version of the Razorbacks until the fall.
This is a chance for Hog fans from all over the state to make it a Rockin' the Rock on Saturday.
It has nothing to do with making an impression to enhance the hopes of keeping the Hogs playing in their home-away-from-home, but to show Yurachek and new Coach Chad Morris that everyone knows the old book has been closed and a new one opened.
The temperatures might be in the 50s, and it might be overcast, but put on a coat and come call the Hogs. Most fans have sat through a lot worse.
An educated guess is Morris is going to have the Hogs put on a show. He likes lots of scoring, which entertains the fans.
Back in the 1970s when now defunct Affiliated Foods would sponsor the spring game in Little Rock, it was nothing to draw more than 30,000 fans. While that might be a stretch for Saturday, it is a chance to eyeball the quarterback competition -- but keep in mind two more are on their way.
It is a chance to see the defense being revamped and an offense that really is full-tilt boogie.
And it is free. #Free. And the festivities start at 9:30 a.m. Saturday, and the game kicks off at 1 p.m.
---
Starting tonight all over the city, but primarily at Positive Atmosphere Reaches Kids (P.A.R.K.), is one of the biggest weekends in summer basketball in the country.
Later, in the dog days of summer, there will be bigger tournaments in Las Vegas, but not better than Real Deal in the Rock.
Teams have come from all over the country, and hotels are booked from Benton to Conway.
These kids are the future one-and-dones as well as program-makers all over the country.
There will be future McDonald's All-Americans, and some who just eat burgers and fries there. But all of them will be excited to take part in the tournament that kicks off the summer season.
After 14 years, founder Bill Ingram has fine-tuned this event. From the officiating to the facilities, he hears few complaints, especially not from the winners.
Three Real Deal participants went on to become MVPs in the NBA, and two were MVPs in the NBA Finals.
There have been 67 first-round picks play in this tournament, and of course, several are being recruited by Arkansas. There are also guys you will read about in the future playing for Duke, Kentucky, North Carolina, Villanova and Kansas. You get the picture.
Not everyone is a blue chipper, but there's plenty to go around.
The games continue through Sunday, and by then all of them will be at P.A.R.K. It isn't free, but it's definitely worth the price of admission.
Sports on 04/06/2018
Print Headline: Red-White game worth price of admission
Sponsor Content
Comments