With the nation at war against Japan in the Pacific and against Germany in Europe, faculty members of Hendrix College in Conway did something that seemed unthinkable and controversial.
In February 1944, they organized an art show at the college by a well known, Japanese-born artist, Henry Sugimoto, who was being held at the Jerome Relocation Center in southeast Arkansas. He was among some 17,000 people of Japanese descent -- more than half were American citizens, some were parents of American servicemen -- incarcerated at two internment camps in the state.
"The Art of Injustice: Paul Faris's Photographs of Japanese Incarceration Rohwer, AR, 1945"
Through Dec. 31, Butler Center for Arkansas Studies, 401 President Clinton Ave., Little Rock
Hours: 9 a.m.-6 p.m. Monday-Saturday
(501) 320-5700
www.butlercenter.org
The forced relocation of people of Japanese descent from the West Coast was ordered by President Franklin D. Roosevelt shortly after Japan attacked Pearl Harbor on Dec. 7, 1941. Other camps were set up by the military in California, Arizona, Colorado, Wyoming, Idaho and Utah.
More than 100,000 were held at these camps, and most lost their homes, livelihoods and possessions.
Artists and Hendrix teachers Louis and Elsie Freund and Floy Hanson, who also was a collector of Japanese art, visited the Jerome camp in 1943 to meet Sugimoto. Elsie Freund and Hanson arranged for a showing of 15 of the artist's works at the college. The college bought Sugimoto's Arrival at Jerome, which still hangs at the school.
Paul Faris, who taught photography and English at Hendrix, took photographs at the opening reception, which Sugimoto and his wife, Susie Tagawa, were allowed to attend.
In July 1945 -- just weeks before atomic bombs were dropped on Hiroshima and Nagasaki on Aug. 6 and 9 -- Faris and his wife, Ann, traveled to the Rowher camp, where Sugimoto and his family had been moved.
Faris was contracted to take photos for a book, Beauty Behind Barbed Wire: The Arts of the Japanese in Our War Relocation Camps, by Allen H. Eaton. Ann Faris interviewed the internees Paul photographed.
Those photographs form the heart of "The Art of Injustice: Paul Faris's Photographs of Japanese Incarceration Rohwer, AR, 1945," the second of a planned four-exhibition series at the Butler Center for Arkansas Studies examining Arkansas' relocation camps. Faris' photos will hang through Dec. 30. Two more exhibitions will be held in 2018.
"The Art of Injustice" is curated by Sarah Wilkerson Freeman, professor of history at Arkansas State University, Jonesboro. She started working with Paul Faris' negatives in 2012 after being contacted by the Faris' children, Mary Ann Thurmond of Memphis and Tim Faris of Piperton, Tenn.
"We wanted to honor the work our parents had done," says Thurmond, who is retired. "They were quiet activists; Rowher was one facet of their lives. They quietly looked out for people who were marginalized or needed help, doing what they could to shine a light on intolerance and injustice. That was their call. It was a wonderful way to grow up, in a happy home in which you knew other people were important and that you had to do the right thing."
Thurmond, who grew up in Conway, says the photographs show how the internees at Rowher "created a life of creativity and joy in the midst of a terrible thing that had been done to them."
Over the course of his career, Paul Faris, who worked at Hendrix from 1928 until he retired in 1971, shot thousands of images.
He also wrote a bi-weekly photography column for the Arkansas Democrat in the 1950s. "They were a tag-team. Mom was a freelance writer [for the Arkansas Gazette and others] and a third-grade teacher."
Freeman estimates Faris' negatives exceed 10,000. "Possibly many more."
Most of Faris' photographs were focused on Arkansas -- landscapes, the production of cotton, homestead cabins, craftsmen and events at Hendrix College. Life magazine and The New York Times published some of his work. Faris also created the book Ozark Log Cabin Folks: The Way They Were.
But Thurmond says the Rowher photographs, about 170 images, "tell a story that needs to be told."
"It's a very tragic story of American history, hatred, bigotry, control," Thurmond says. "Many lives were destroyed. These people were mostly American citizens. Some had sons serving in the Armed Forces against the Axis powers. When they came home, they had to go through a guard station to see their parents."
Freeman notes that everybody knows about the Central High School integration crisis, "but do they know about Sugimoto, this group of people at Hendrix and the Japanese-Americans who were incarcerated in Jerome and Rowher? It is important in terms of Southern history that we recognize that the internments happened in our state.
"It brought out, in certain people, a social consciousness because they didn't like what was being done.
"I was concerned that this part of our history would be forgotten."
Freeman specializes in U.S. history from Reconstruction to civil rights, with a focus on Southern history. "My publications focus on politics, gender, social welfare, education ... social movements."
She began working with Thurmond and Tim Faris in 2012. Research into the photographs was conducted by Freeman and her graduate and undergraduate history students.
"My work began with a sense of urgency," she says. "Some of the people in these photos were still alive and they had compelling stories. I wanted to get those particular images out so they could see them. It was a way to connect first and foremost with these people and show that there are some of us who care about what happened.
"Paul and Ann Faris were quite a team," Freeman says. "She interviewed people, took notes, kept in touch with people and tape-recorded interviews with the Freunds and Sugimoto. Her documentation was very helpful."
MORE IMAGES
The first display of the photographs was at ASU in April 2014. Different versions of the exhibition have traveled to Hendrix, to the Presidio in San Francisco and the Memphis Botanic Garden.
"At the Presidio, a number of the people who were in those photographs came to see them," she says. "The exhibition is different every time I've done it."
For the Memphis show earlier this year, Freeman says, she "literally excavated" the life of Hendrix professor and Memphis native Floy Hanson.
"We found material on her and were able to have one area for the Faris photographs and one to show Hanson's life through her letters, art, diaries and furniture designs."
For the Butler Center show, Freeman expanded the exhibition to some 40 photographs, which benefit from the timeline created for the exhibition series and the displays of art created by the internees from the center's collection. In addition, there is a selection of Faris' cameras, tripod, old film canisters and flashbulbs on display.
"I think these photographs are very powerful," says Kim Sanders, confinement sites interpreter at the Butler Center. "You look at the artwork from our collections and you see the faces of the people who created it."
Drawing from its permanent collection, the Butler Center also added Louis Freund's harrowing late-1940s lithograph Hiroshima to the exhibition. "Louis Freund was tormented by all of this," Sanders says.
Also on display is Pulitzer Prize-winning Arkansas poet John Gould Fletcher's poem "Longing," which was inspired by Sugimoto's poignant painting When Can We Go Home? and photos of Sugimoto's art.
Sugimoto had realized there would be but a minimal record of the Japanese-Americans' internment camp experience, so he abandoned his earlier painting style to create what he called "documentary paintings" that presented the residents' point of view. It was these works that the Freunds and Hanson saw in 1943.
ART IN CAPTIVITY
The photographs in "The Art of Injustice" are accompanied by often lengthy placards that explain what is going on in the photo, with context.
"I wrote most of the text and selected some of Ann Faris' writing," Freeman says. "People who see the exhibit seem very willing to read the text ... they are hungrier for information than we realized."
The photographs are focused on art classes teaching ikebana, a spiritual approach to arranging flowers; kobu, the collection and transformation of cypress knees into art; sculpture; calligraphy; and wood carving.
But the viewer also sees how the internees lived -- how they transformed small living spaces and created beauty under difficult circumstances.
Some images are heart rending, none more so than one of a young Japanese-American soldier, on leave to visit his family at Rowher, who meets his daughter for the first time.
Freeman says the Farises' visit to Rowher came as people were making plans to leave the camp.
"They knew they were getting out, they didn't know what the future would be," she says. "There was a sense of community there ... people got married there, had babies there. This particular time, before the atomic bombs were dropped, is bittersweet."
...
Freeman says the internment camps also sparked a crisis of conscience.
"My analysis is that the impact of incarcerations of Japanese-Americans on this nucleus of folks -- the Freunds, John Gould Fletcher and others -- prodded them toward a more enlightened view on racism in a Southern, Jim Crow-era, racially segregated environment. It was a glimmer, a beginning of a civil rights movement."
Freeman says she's "not interested in preaching to people," but she hopes people who see the exhibit "will get a more accurate understanding of history. There is a lot of misinformation about this incarceration of these people, which was based on their ethnic and racial backgrounds. Most were American citizens."
"I hope people take away the understanding that these are real people who had to reinvent their lives with practically nothing," Sanders says. "It's easy to distance yourself from history when you hear stories, but when you see people doing something so mundane as working in a garden or children playing, it makes it real."
William M. Tsutsui recognized Sugimoto's art during a visit to Hendrix College before he was selected president of Hendrix in 2015. On the college's website, he saluted the college's "enduring commitment to inclusiveness that, even in a time of war and fear and injustice, the campus could welcome a Japanese-American artist with talent and a quiet message of resignation, loyalty and dignity in distress."
Thurmond hopes people will be moved by the exhibition of her father's work.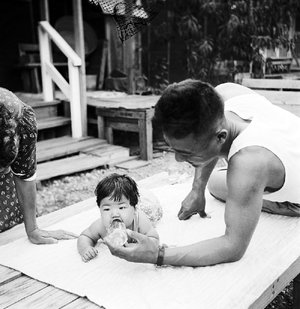 Photo by © Paul Faris/Courtesy of Mary Ann Thurmond and Tim Faris
A Japanese-American soldier sees his daughter for the fi rst time at the Rowher Relocation Center in July 1945. Paul Faris took this and other photographs at Rowher. Sarah Wilkerson Freeman, professor of history at Arkansas State University, said the woman barely in the picture at the left is the child's grandmother.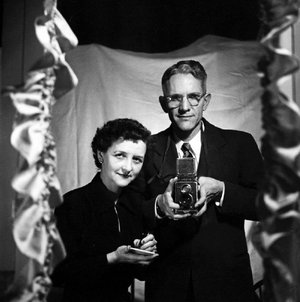 Photo by Paul Faris/Courtesy of Mary Ann Thurmond and Tim Faris
Ann and Paul Faris "were a tag-team" says Mary Ann Thurmond, their daughter. Ann Faris interviewed the internees photographed by Paul Faris, who taught photography and English at Hendrix College. The exhibition "The Art of Injustice: Paul Faris's Photographs of Japanese Incarceration Rohwer, AR, 1945" hangs at the Butler Center for Arkansas Studies through Dec. 30.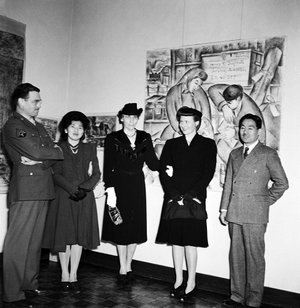 Photo by © Paul Faris/Courtesy of Mary Ann Thurmond and Tim Faris
An exhibition of art by Japanese-American artist Henry Sugimoto was held at Hendrix College in February 1944, during World War II. Sugimoto and his wife, Susie Tagawa, were allowed to leave an internment camp to attend. Pictured are Louis Freund (from left), Tagawa, Floy Hanson, Elsie Freund and Sugimoto. Paul Faris took this photo at the reception.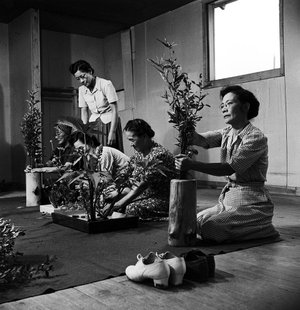 Photo by © Paul Faris/Courtesy of Mary Ann Thurmond and Tim Faris
A class on ikebana — Japanese fl ower arranging — was one of the artistic activities at Rowher Relocation Center photographed by Paul Faris. His photographs are on exhibit at the Butler Center for Arkansas Studies through Dec. 30.
"It goes to the fact that we have so many choices in life. We can shine a light on evil, stand up against evil and replace it with God's love. Not out of anger, but in doing the right thing. This speaks to the present day ... any time you see hatred or bigotry or chaos purposely created, we have a choice on how to react. If people can be moved, I believe they will do the right thing."
Style on 09/03/2017