BENTONVILLE — The Benton County Sheriff's Office hopes a pilot program in its Cyber Crimes Division will further combat child pornography, child predators and other crimes online.
The pilot program involves acquiring a digital currency, or cryptocurrency, called Bitcoin. The currency was created in 2009, and its popularity grew as an alternative to money kept by central banks.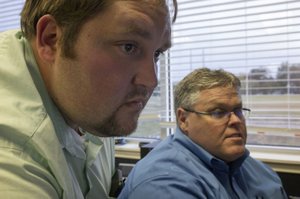 NWA Democrat-Gazette/CHARLIE KAIJO Detective Olin Rankin and Detective Keith Eoff work out of their office in the Cyber Crime Division on Friday at the Benton County Sheriff's Office in Bentonville. TheSheriff's Office hopes mining for Bitcoin will help detectives catch criminals on the dark web. It's a way of getting the digital currency. The cybercrime division can then use it for undercover operations in various capacities online.
Bitcoin at a glance
• Bitcoin is still the No. 1 cryptocurrency (digital currency) in the world.
• Bitcoin's market cap was about $100 billion.
• A single bitcoin was worth about $5,770 as of Friday afternoon.
• The last 24-hour trading volume was $1.8 billion worth of bitcoins.
• More than 16,650,000 bit-coins are currently circulating.
Source: Coinmarketcap.com as of 5 p.m. Saturday
The division intends to use Bitcoin for undercover operations in various capacities online, Detective Olin Rankin said.
Sheriff Shawn Holloway said using the currency is another tool to keep the community safe. The sexual exploitation of children online and other similar crimes are a growing issue in the area, he said at a conference Oct. 17.
As with any new idea, experience most likely will lead to refinement in how the program is run, said Nathan Smith, Benton County prosecutor. He was consulted to see if the program could create cases his office can prosecute.
"The Sheriff's Office deserves credit for creating a pilot program with the goal of depriving criminals of that safe haven," Smith said. "Ultimately, attacking crime online has a direct impact on the safety of our communities, and I am grateful that our law enforcement officers are being proactive in that effort."
PATROLLING CYBER NEIGHBORHOODS
Many illegal transactions occur in a level of the Internet known as the deep web. It cannot be accessed by traditional search engines because the content isn't indexed. Information here isn't static or linked to other pages as is information on the surface web, according to a May 2017 Congressional Research Service report.
The furthest corners of the deep web, known as the dark web, contain content intentionally concealed. The dark web may be accessed both for legitimate purposes and to hide criminal and other malicious activities, according to the report.
[EMAIL UPDATES: Get free breaking news updates and daily newsletters with top headlines delivered to your inbox]
Data on the prevalence of dark websites are lacking. Tor is a free software that enables anonymous communication. Tor estimates about 1.5 percent of its users visit hidden services/dark web pages, according to the Congressional Research Service report.
Law enforcement's methods must change as criminals methods change, Holloway and cyber crime deputies said. They are going into the dark web to start "patrolling the neighborhoods as well as the main highways," Rankin said as an analogy.
It's an old-school tactic being used in a relatively new way, the cyber crime detectives explained. These tactics have been used by the federal government and a few police agencies across the Western world.
The Bitcoin system is peer-to-peer, without an intermediary, such as a bank. The deputies are earning Bitcoin through a process called mining. Miners verify the transactions by running a complex algorithm and are rewarded with a new fraction of a Bitcoin.
The detectives said they decided to mine instead of buying Bitcoin because they know the money hasn't been used for illegal purposes. By mining, they also aren't spending taxpayer's money. The process will create a slow, daily stream of cryptocurrency that will look less suspicious to other users.
"If you buy $10,000 of Bitcoin, someone may see that," said Zach Steelman, a University of Arkansas, Fayetteville, assistant professor of information systems. "That might not be the same process a criminal would do. Mining the Bitcoin is a better way to enter that market without throwing up red flags."
Rankin said the choice to mine had nothing to do with not looking suspicious when offering Bitcoin and the average user won't be able to track where the coins came from, so that isn't a concern.
The cryptocurrency the division accumulates is being put into a hardware wallet, which is like a bank account. They are not trying to accumulate a large sum and haven't spent any of the small amount accumulated so far, said Detective David Undiano, a cyber crime detective.
The pilot program began in late April and is in the validation process, Undiano said. The division is working hand-in-hand with the federal government and others on cases that expand outside its jurisdiction and to form a written policy for their use of cryptocurrency, Undiano said.
Rankin said everyone working on the project has directives to follow, and the Bitcoin mining process can be easily audited and tracked.
FOLLOW THE MONEY
Bitcoin has grown to be a wildly popular payment method for cyber criminals in part because of its perceived anonymity. Europol, the law enforcement agency of the European Union, reported in 2015 more than 40 percent of online transactions for illegal uses are made with Bitcoin.
"People are selling child pornography on the dark web and on the Internet. They are accepting Bitcoins, not payments," Undiano said, referring to payments made with U.S. currency.
Bitcoin is one of more than 1,000 cyptocurrencies but is by far the most popular and is at its highest valuation ever, Steelman said. It's known for being used on the dark web, he said, but users can get on Amazon now and buy things with Bitcoin.
A Bitcoin was worth about $5,770 as of Friday afternoon — nearly 20 times more than the second highest cyptocurrency on the market, according to coinmarketcap.com.
The daily trading volume in Bitcoin is running about $1.8 billion, according to coinmarketcap.com.
"That's not $1.8 billion of child pornography and drugs," Steelman said. "Lots of these are companies that send money across borders or selling assets that are real things. People are buying houses now with Bitcoin they invested in five years ago."
Steelman and others in his department are working to incorporate Blockchain into their teaching. All Bit-coin transactions are recorded on Blockchain, which is the public online ledger. Every transaction done with Bitcoin is publicly available, Steelman said, and they can be viewed from outside the network.
Anyone using the currency has a long digit of random numbers assigned to his account. It might not make sense to the human eye, but it's essentially a bank account number, he said.
"When it first came out, it was assumed to be anonymous. People thought, 'I can buy whatever I want. No one is going to be able to trace me, because I'm not using cash or my bank account,'" Steelman said. "What ends up happening is your personal information may not be tied to your Bit-coin account, but what law enforcement try to do is find the crumbs that people have left in other places on the Internet."
Not every criminal will leave crumbs, and the percentage of Bitcoin transactions for illegal purposes is very small compared to the beginnings of Bitcoin's popularity, but it's still a worthwhile endeavor, Steelman said.
"There is still going to be potential to catch people. I definitely think there will be positive results," he said. "It's always a cat and mouse game. Law enforcement is always trying to catch up, but they are getting better at it and getting better tools."
POSSIBLE PROBLEMS POSED
The sheriff and cyber crime detectives said they want to be transparent but also "don't want to give out the playbook," Rankin said.
Mining has become increasingly specialized over the years and is mostly done by dedicated professionals with specialized hardware, cheap electricity and, usually, big data centers, according to Bitcoin Magazine.
Glenn Latham, a former law enforcement officer who plans to challenge Holloway in the 2018 election, has concerns about the new program.
"These machines that they have to use draw a huge amount of power and cooling costs will go up. That's at the taxpayer's expense," Latham said. "If they can prove that it is cost-effective, OK, fine. But every taxpayer has the right to know what is going on."
Benton County Cyber Crimes Division isn't trying to rake in the big bucks by mining, the detectives said. They are using one computer, which is stored in a data center already designed to keep the hardware cool, Rankin said.
The electricity bill increase for mining would be marginal at best when compared to the cost of running the whole facility, he said.
It would be equivalent to plugging in another PC, he said.
The project is in its early stages and the detectives said there's plenty of room to adjust.
Undiano said they need to finish collecting and then review the data and consult with officials and experts on how much currency they need.
Privacy and potential system hacking is a concern raised by some online about law enforcement in general mining Bitcoin and interacting on the dark web. The Cyber Crimes Division does not think this will be an issue after consulting with experts.
The division is part of mining pool, which combines different miners' resources to share their processing power over a network. The miners in the pool split the reward according to the amount of work they contributed. Rankin attempted to identify the other users in the mining pool and has not been able to, which demonstrates the security on sheriff's office's end as well.
Latham said he isn't an expert on the Bitcoin mining process or the dark web, but said the Sheriff's Office should go after the large amount of low-hanging fruit on the surface web instead of diving into something he believes will not lead to many, if any, arrests.
"No question whatsoever that those activities are happening, and criminals are using Bitcoin." he said. "The problem with it is the anonymity behind the Tor network and the expense we will go through to reach a dead end. There are easier ways of catching people who are actively hunting children."
Undiano said using Bit-coin and dark web activities is prevalent here.
"It's becoming mainstream everywhere except with law enforcement agencies," he said.
Rankin said about the pilot program: "I'll be the first to say that if it doesn't work, I'll shut it down."