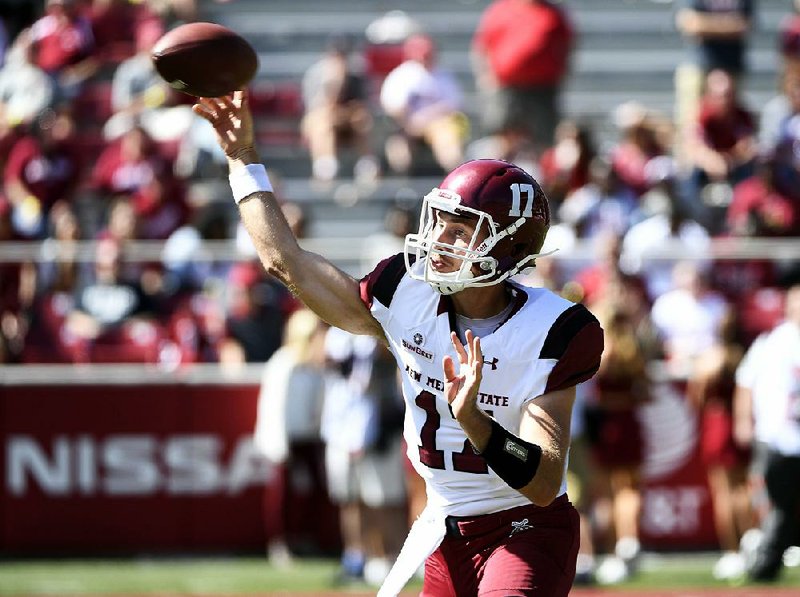 New Mexico State quarterback Tyler Rogers has thrown 13 interceptions this season.
JONESBORO -- A thousand miles away, the Arkansas State University football team will play a New Mexico State offense that can smolder like the rice fields in Jonesboro as farmers wrap up their harvest.
Both teams have offenses ranked in the Top 25 in the NCAA in total offense (ASU 21st, 474 yards per game; New Mexico State 25th, 467.3) and in the Top 50 in scoring offense (ASU 12th, 41 points per game; New Mexico State 50th, 30.9).
Up next
ARKANSAS STATE at
NEW MEXICO STATE
WHEN Saturday, 7 p.m.
WHERE Aggie Memorial Stadium, Las Cruces, N.M.
RECORDS Arkansas State 4-2, 3-0 Sun Belt; New Mexico State 3-4, 1-2
TV FOX Sports Southwest Plus
INTERNET ESPN3
Both teams also have quarterbacks that rank in the Top 10 in touchdown passes (ASU's Justice Hansen fourth, 21 touchdowns; New Mexico State's Tyler Rogers eighth, 19).
It will be ASU's toughest challenge on defense since SMU, the NCAA's 13th-ranked offense that helped beat the Red Wolves 44-21 in the third game of the season.
"They're scoring a ton of points," ASU Coach Blake Anderson said Wednesday of New Mexico State. "One of the best offenses in the country and in our league as well. Going into that environment will be different than what we're used to."
The 1,127-mile road trip is the longest in the regular season for ASU (4-2, 3-0 Sun Belt), and Anderson said some of the game will come down to whether the Red Wolves' pass rush can irritate Rogers, who is third in the NCAA in passing with 356.4 yards per game.
"If you let him pat the ball, he's going to find somebody open," Anderson said. "Even if you don't, sometimes he's going to. So being able to make him move, speed up his tempo, hit him some, hopefully sack him as well, maybe we can create a turnover."
Interceptions have hampered Rogers throughout his career. The senior has thrown 51 in his four-year career, 13 this season, and 6 in the Aggies' 45-31 loss to Appalachian State two games ago.
New Mexico State Coach Doug Martin said Monday he's seen improvement in his quarterback since he threw 23 interceptions during his freshman year.
"The biggest thing is he missed four games last year," Martin said. "He's been able to stay healthy this year. He's playing within the system better, which again, he has a lot of experience. He can make all the throws, and he's a really talented kid."
The offense for the Aggies (3-4, 1-2) includes senior running back Larry Rose, who Anderson called "the best running back in the conference" on Monday.
Rose (492 yards, 5.35 yards per carry) likely will play Saturday, Martin said, after he missed New Mexico State's 35-27 victory over Georgia Southern after suffering a knee injury two weeks ago.
ASU has struggled against talented backs. The Red Wolves surrendered 192 yards to Nebraska running back Tre Bryant; 146 yards to SMU's Xavier Jones, who has 547 yards this season; and 112 yards to Georgia Southern quarterback Shai Werts.
The coaching staff attributed those struggles to a lack of tackling, which Anderson said Wednesday has improved.
The Red Wolves gave up their lowest rushing total (91) against an FBS team this season in last week's 47-3 victory over Louisiana-Lafayette.
"We're tackling better," Anderson said. "We're more physical up front. Our assignment responsibilities are sound. We just got to go play a sound, solid football game. Understand if they make a play, don't panic, play the next play.
"They're good at what they do, so they're going to have some plays that go their way. We've got to make them uncomfortable, be physical and hope we create a turnover or two."
The Red Wolves likely will be without starting running back Warren Wand for a second consecutive game.
Wand, who suffered an ankle injury in the 51-17 victory over Coastal Carolina, has not practiced all week. Anderson said it might be too risky and could "risk further injury" to play him.
"We need him healthy for the stretch," said Anderson, who also said sophomore linebacker Tajhea Chambers is still out with an ankle injury. "Luckily we got other guys that have stepped up that are playing at a high level, so I think we're going to be OK."
Senior running back Johnston White likely will start for the second consecutive game. He rushed for a season-high 73 yards with a touchdown last week against Louisiana-Lafayette.
"We've always been a running back by committee," White said. "Hopefully I can stay consistent, help the team win the game."
Sports on 10/26/2017
Print Headline: ASU faces offense with gaudy stats
Sponsor Content
Comments