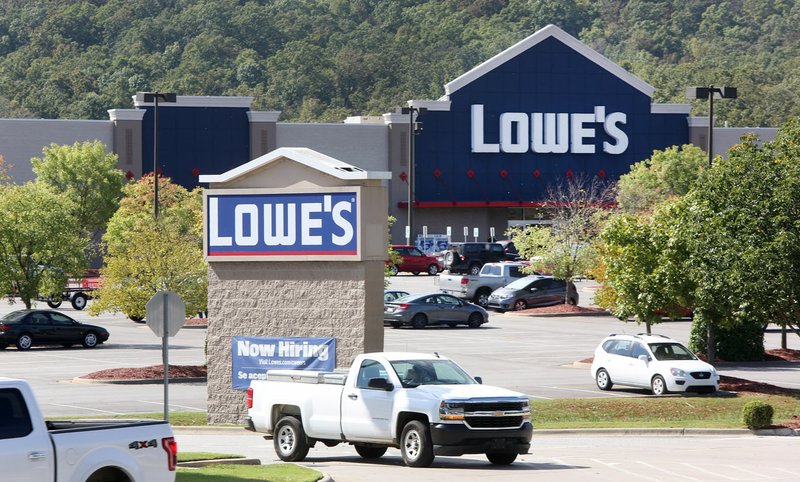 The Lowe's at 3231 W. Martin Luther King Jr. Blvd. is seen Oct. 5 in Fayetteville. Big-box stores want lower property values and soon may try to change the way property is assessed to get it, said Russell Hill, Washington County assessor. The change, if allowed, could cost schools, cities and the county millions in tax revenue. Nationwide, big-box store officials want open stores to be compared with abandoned stores when appraisers assess property values, according to a 2017 report from the International Association of Assessing Officials. - Photo by David Gottschalk
FAYETTEVILLE -- The Washington County assessor is concerned big-box store operators want to change the way property is assessed in Arkansas so they pay less property taxes.
Home Depot USA and Lowe's Home Centers corporations petitioned Washington County for lower property values this year. Russell Hill, the county assessor, said the move may be a first step toward a national trend to redo how counties assess big-box stores, typically defined as a store with more than 50,000 square feet.
The change, if allowed, could cost schools, cities and the county much-needed tax revenue, Hill said.
"In the appraisal world, it's like Darth Vader is coming in," he said.
The so-called "dark store theory" comes from store operators who say they have been unfairly over-assessed on their real estate taxes by taxing jurisdictions, including counties and cities, according to a 2017 report from the International Association of Assessing Officials. Nationwide, the operators want big-box stores that are open to be compared with abandoned stores when appraisers assess property values, the report shows.
Wal-Mart has not asked to lower its Washington County property values using the dark store theory, Hill said.
Under the dark store method, property value is based on what the property would be worth to a hypothetical user in the future -- not what it's worth to the current user. Or the property that is open is compared with space that is closed, or "dark," Hill said.
Proponents argue the method is fairer because the stores are often customized and reselling is likely to bring the current owner less money.
Arkansas appraisers compare stores with similar use, size and operation to assess the commercial property value and also use calculations based on construction costs and on income.
"Property taxes are the main source of income for the county," Washington County Attorney Brian Lester wrote in email Wednesday. "A decline in county funding will result in the decline of county services, which impacts every citizen and visitor of Washington County."
Washington County is struggling with its $68 million budget, despite increases in revenue from climbing property values and sales tax. Justices of the peace are mulling how to keep the county from spending $5 million more than its projected revenue next year.
If the dark store theory were implemented, the county would likely need a tax increase to make up for the drop in property tax income, said Mervin Jebaraj, interim director of the Center for Business and Economic Research at the Sam M. Walton College of Business at the University of Arkansas, Fayetteville.
The county does not track total property tax revenue from commercial real estate countywide, but Lowe's paid $175,062 on its two Fayetteville properties this year, according to the Collector's Office. Home Depot owes $73,220 on one property in Fayetteville as of last week.
Those amounts are for real estate only.
Home Depot appealed its assessment in Washington County, just like other property owners can, company spokesman Stephen Holmes said in email. The company hasn't used the dark store theory, he said.
Lowe's wants to be taxed on the fair value of its property, just like any property owner, said Karen Cobb, spokeswoman for Lowe's Companies in Mooresville, N.C.
"Like any property owner, we are concerned with the fair and appropriate valuation of our property under the law," Cobb said. "It's always our intention to pay our fair share of taxes. In fact, we pay our taxes at the time they're due, then appeal after the fact if we disagree with the way our tax liability was calculated. In Washington County, we've reviewed and resolved our property tax valuation."
'Red Flags'
States including Alabama, Mississippi, Tennessee and Michigan, have been targeted by attorneys representing large retail chains who set out to change the appraising process, said Dan Cypert, division administrator over ratio studies for the Arkansas Assessment Coordination Department.
The Michigan Court of Appeals, among others, favored the dark store method in 2014, saying it is fair to consider the value using vacant stores that sold to compare with open stores.
For example, the court lowered Marquette Township's $5.2 million assessment of a Lowe's store to $1.5 million. The community had to repay Lowe's $755,000. Ottawa County lost $14.8 million in assessments and $745,000 in tax revenue since 2010, through big-box store appeals, the Detroit Free Press reported.
Those decisions make Hill and Cypert nervous about how Arkansas would fare.
"We haven't seen it in Arkansas a lot, but that doesn't mean it's not coming," Cypert said. "I think they are trying to test the waters a little bit."
Appeals of property assessments to the Washington County Equalization Board previously have not been a big deal, said Wesley Cannon, who has been on the board for 12 years.
Some other counties aren't concerned. Benton County had no contested commercial property value assessments this year and plans to handle problems when they comes up, Assessor Roderick Grieve said.
"It's not a prevalent thing here, so far," he said.
In Arkansas, any property owner who disagrees with county-appraised property value can appeal it to their county equalization board. Appeals then go to the county judge and finally to the circuit court.
Washington County Judge Joseph Wood, a Republican who took office in January, has not handled an appeal from the equalization board, Lester said. But, the board handled several requests from Lowe's and Home Depot this year, according to records at the county clerk's office. The board lowered property values without addressing the dark store theory, records and officials say.
Home Depot's property value dropped by $445,600 to $7 million in 2015 and by $162,600 to $6.8 million this year, county records show. A parcel owned by CL George & Sons that houses a Lowe's on Sunset Avenue in Springdale was not changed from $11.8 million.
The value of Lowe's two Fayetteville properties dropped by $775,600 this year. The location on Zion Road dropped to $7.1 million from $7.6 million. The property on Martin Luther King Jr. Boulevard dropped to $7.9 million from $8.2 million, county records show.
Home Depot has requested lower property values for years, records show, but Lowe's request to the equalization board was unusual. Lowe's hadn't appealed before, Hill said. "That really sent up some red flags to me," he said.
It also caught the attention of staff with the Association of Arkansas Counties and coordination department. Bear Chaney, department director, has started chatting with state legislators about the potential problem and how to stop the use of the dark store theory before it takes hold in Arkansas.
"We are trying to educate people right now," Chaney said.
'Protect Us'
New laws may be the only way to preserve how Arkansas determines commercial property values, Cypert said. Hill said he hopes legislation will be ready by the next regular legislative session in 2019.
Other states, including Indiana, have passed laws against use of the dark store method, but some Arkansas lawmakers may see those kinds of laws as anti-business, Cypert said. The laws may curb the ability of commercial businesses to appeal property values, he said.
"The problem I see is, we have a really pro-business Legislature right now," Cypert said.
Two local legislators said they needed more time to research the issue and were leery about legislation.
"This might be unusual for a Democrat, but if it's possible to avoid having legislation to handle a problem, then that's the way I want to go," said state Rep. Greg Leding, D-Fayetteville.
For now, the decisions are up to county equalization boards. And, it will be up to counties to defend themselves, too, Hill said. He set aside $25,000 in his 2018 budget specifically in case he needs to hire an expert attorney to stave off changes to the assessing process, he said.
"I'm working first to protect us," Hill said.
NW News on 10/16/2017
Print Headline: Washington County assessor raises alert on 'dark store theory'
Sponsor Content
Comments