SONOMA, Calif. -- Rising winds fanned the California wildfires again Saturday, forcing hundreds more people to flee from their homes in the state's wine country and threatening to undo the efforts of crews that have spent days trying to corral the flames.
During a night of strong winds, the 46,000-acre Nuns fire in Sonoma County grew by at least 300 acres, threatening the outskirts of the city of Sonoma and the Oakmont neighborhood in Santa Rosa. The fire was 10 percent contained as of Saturday morning.
About 400 homes were evacuated in Sonoma and a portion of Santa Rosa, authorities said.
"Things went to hell last night," said Dean Vincent Bordigioni, winemaker and proprietor at the Annadel Estate Winery, who awoke at 3 a.m. to see flames over the ridge above his property. "They've got a good fight going on."
A fire that ignited when a downed power line touched a tree branch rapidly grew into a 400-acre blaze on the southwest corner of the Nuns fire, officials from the California Department of Forestry and Fire Protection told firefighters at a morning briefing.
"That's what a little wind can do," agency spokesman Scott McLean said in an interview. "It's still very volatile."
In neighboring Napa County, officials said Saturday morning that they did not expect any new evacuations but cautioned residents to remain vigilant because of "significant wind activity."
"Sonoma County has had a very tough morning with the winds that have surfaced over there. We're not out of the woods and have work to do," Napa County Fire Chief Barry Biermann said at a news conference Saturday morning. "But on our side of it, off of the Highway 29 area, we have pockets that are burning down into dry creek."
[INTERACTIVE MAP: Active wildfires in the U.S.]
Nearly a week after the blazes began, the zone containing scattered fires had swollen to an area as wide as 100 miles. The fires have left at least 40 people dead and destroyed at least 5,700 homes and businesses, making them the deadliest and most destructive group of wildfires in California's history.
Most of the victims are believed to have died late last Sunday and Monday, when the fires took people by surprise in the dead of night. Most of the victims were elderly, though they ranged in age from 14 to 100.
"It's a horror that no one could have imagined," Gov. Jerry Brown said Saturday after touring the destruction with Sens. Dianne Feinstein and Kamala Harris.
Brown, 79, and Feinstein, 84, said the fires were the worst of their lifetimes. They reminded people that the blazes remain a threat and that residents need to leave their homes when told to go.
"It's devastating. I've only driven maybe 5 percent of the fire area. ... I don't even think I understand what the damage toll is going to be, and I have a better handle on it than most," Sonoma County Sheriff Rob Giordano told the Los Angeles Times. "Santa Rosa will be a different planet. There is so much to rebuild. It will absolutely change the community."
Sonoma County, north of San Francisco, sustained the most damage, with 22 people confirmed dead. The fires have destroyed nearly 3,000 homes and caused $1.2 billion in damage in Santa Rosa, the county seat and gateway to the wine tourism industry.
Some 300 people remain unaccounted for, 74 in Napa County alone, though officials expect to find most of those people alive.
DEFENSES THREATENED
Firefighters spent much of the past week digging defense lines to keep the flames from spreading. On Friday, they tried to fortify the edge of Sonoma using bulldozers and other heavy equipment.
But if winds push the flames over the barriers, then neighborhoods stand in the path, along with a historic central plaza built centuries ago when the area was under Spanish rule.
The renewed strength of the winds was "testing the work that we accomplished," said Daniel Berlant, a spokesman for the California fire agency. The greatest risk was that winds would blow embers across the firebreaks and ignite new blazes.
By early afternoon, state fire officials said they had halted the flames' advance into the city of Sonoma. But winds gusting up to 40 mph were expected to continue into the evening.
The latest estimates showed that about 100,000 people were under evacuation orders as the fires burned. Some people who have been evacuated all week demanded to get back into their homes.
Douglas and Marian Taylor stood outside their apartment complex Saturday in Santa Rosa with their two dogs and a sign that said "End evacuation now."
Their building was unharmed at the edge of the evacuation zone, with a police barricade set up across the street. The couple said they are spending about $300 per day to rent a motel and eat out, and they want to return home because the fire does not appear to threaten their home.
But the fires have threatened several neighborhoods more than once.
Judy Guttridge evacuated for the second time after her daughter saw flames advancing over the side of a hill and told the family to get out.
"I have good insurance, everything," she said. "All the kids, grandkids, great-grandkids are fine. I'm OK with that."
At an evacuation center at the fairgrounds in the Sonoma County city of Petaluma, volunteers sifted mounds of donated baby wipes, diapers, pillows, shoes and clothing.
Randy Chiado and his wife, Barbara, evacuated Monday from the Oakmont section of Santa Rosa. They stayed for several days with a friend in Santa Rosa but left Saturday when flames approached again.
"After so many times of 'It's coming, get ready, it's coming, get ready,' it just gets nerve-wracking," Barbara Chiado said.
Life away from home has been difficult and dangerous, they said. Randy Chiado said a man who may have suspected he was a looter tried to punch him through his car window and yelled for a friend to get a gun when the Chiados turned onto a residential street after they evacuated their home. He said he was able to push the man off and drive away.
The couple would be spending the night with other evacuees in a room set up with cots. "It's like jail," he said.
RESPONDERS' HEROISM
Video released from the fire's first night showed the courage of the deputies and firefighters working amid the flames.
"Go! Go! Go! Go! Go!" an unidentified Sonoma County deputy can be heard yelling in the body-camera video released by the Sonoma County sheriff's office. The footage was recorded as he urged hesitant drivers to speed out of an area that was being devoured by flames.
The deputy is shown lifting a woman out of her wheelchair and into an SUV to rush her out of town. And he drives through walls of flame looking for more people to help.
"And that's just one person," Giordano, the Sonoma County sheriff, said Friday at a news conference.
In Napa County, firefighters had contained 48 percent of the Atlas fire, which had scorched 50,403 acres, as of Saturday evening.
Officials battling the Atlas fire expected low humidity and high winds Saturday, with a red flag warning in place throughout the day.
"Firefighters continue to strengthen perimeter control lines, provide structure defense and engage in tactical patrol," a Department of Forestry and Fire Protection report said.
The fire spread slightly along its southern and northwestern edges overnight, officials said Saturday morning.
But the combination of high winds and high temperatures raises the potential for burn areas to expand quickly, they said.
Crews continued to gain ground against the 35,270-acre Tubbs fire in Napa and Sonoma counties, which was 44 percent contained. The nearly 11,000-acre Pocket fire, north of Santa Rosa, was 5 percent contained.
A new 100-acre fire ignited in Lake County on the California 20 highway, about 5 miles east of Clearlake.
In Mendocino County, the 34,000-acre Redwood fire was 20 percent contained as of Saturday morning.
In all, 17 large fires still burned across the northern part of the state, with more than 9,000 firefighters attacking the flames using air tankers, helicopters and more than 1,000 fire engines.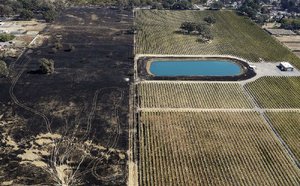 Photo by AP/MARCIO JOSE SANCHEZ
An aerial photograph taken Saturday shows the damage from a wildfi re that was stopped at the edge of a vineyard in Santa Rosa in Sonoma County, Calif.
Information for this article was contributed by Ellen Knickmeyer, Terry Chea, Daisy Nguyen, Andrew Dalton, Paul Elias, Olga R. Rodriguez, Sudhin Thanawala and Martha Mendoza of The Associated Press; by Lisa Bonos, Amy B Wang, Cleve R. Wootson Jr., Kristine Phillips, Herman Wong, Josh du Lac, Abigail Hauslohner and Aaron C. Davis of The Washington Post; and by Joseph Serna, Sonali Kohli and Laura J. Nelson of Tribune News Service.
A Section on 10/15/2017