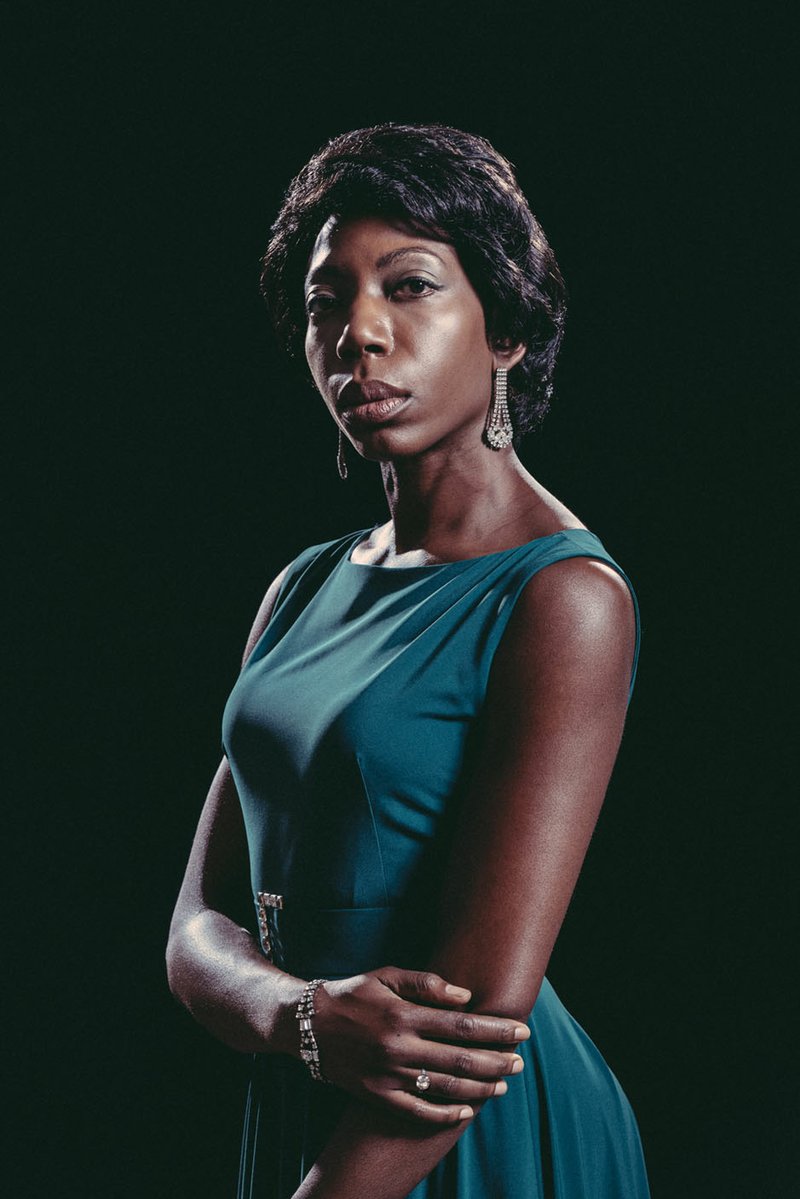 Joy Jones is Nina Simone in TheatreSquared's world Premiere of "The Champion" by Amy Evans.
TheatreSquared's production of "The Champion" by Amy Evans -- first seen in Fayetteville as a workshop production at the theater's New Play Festival in the summer of 2016 -- is a living, breathing work of art, agree its director, Reginald L. Douglas, and Joy Jones, the actress playing Nina Simone. The two have been working hand-in-hand with playwright Amy Evans for over three years, seeing the play move through various permutations, shifting with each subsequent draft.
Jones says she started learning her lines prior to rehearsals beginning in September only to find significant changes to the script when she pulled into Fayetteville.
FAQ
'The Champion'
WHEN — 7:30 p.m. Wednesday through Sunday & 2 p.m. Saturday and Sunday now through Nov. 5
WHERE — TheatreSquared, 505 W. Spring St. in Fayetteville
COST — $10-$47
INFO — 443-5600
FYI
TheatreSquared,
National Stage
"This is truly top-notch, outstanding professional theater, and I hope that theater audiences continue to embrace the world and the vision and the ambition of this company. I think [T2] has cultivated a real artistic community here, and a community that embraces new work and diverse stories and I think that's the future of our field, especially as America continues to change in so many ways. The country, our national industry, is really taking notice. I could not be more proud to be developing this play in this city at this theater at this time. [T2] really is challenging what American theater can do and be and I'm very grateful for that." — Reginald L. Douglas, director, "The Champion"
"I had a moment to recalibrate, and then I certainly had to say, 'Oh, right, OK, of course, in this room, with this team, of course things would change. So from time to time in the process I'll say '#livingplaywright' or '#livingplaywright in the room' or '#livingplaywrightonSkype'," says Jones, using the "hashtag" language popularized by social media. "It's growing, and I think we've all embraced the honor and pleasure of being a part of it. It's truly a delight -- the actors are great to work with, the material is so strong, as is the team, and that gives even more through space and artistic energy so that changes are not shattering. They're helping to finesse the story, because everything else is in place and can be trusted. It's exciting."
The play's events take place during one snowy, North Carolina night, as Nina Simone and her band find shelter in a small-town diner when their plane is grounded due to weather. The conflict in the piece starts local, between Simone and her bandmates, then becomes global as the racist south of the 1960s affects the musicians' lives in a dangerous way.
"I think there is something so exciting and purposeful and urgent right now for stories that are written in this moment and really speak to the world as it is and as it could be and dare I say, as it should be," says Douglas. "I think that's what 'The Champion' does so well. It's wonderfully now. It's been a great gift of theater, both as a director and a producer, [to have] the opportunity to tell really contemporary stories and provide an opportunity for writers who are grappling with who we are now as a country and as a community [to challenge and expand upon] that. Amy is at the pinnacle of doing all of those inspiring things."
Douglas says the play is inspired by a true story: Evans developed the script when she became aware of a little-known event that happened while Simone and her band were on tour. Evans interviewed all of the band members who are featured in the play, as well as family and friends of Simone. (She was unable to interview Simone herself as her research started after the singer's death.)
Jones says these interviews played a vital part in helping her prepare for the role.
"At some point, I had to say that I wasn't doing an impersonation," says Jones. "I was embodying the Nina Simone represented by the people that knew and loved her, including Amy Evans, as sort of a cultural heir, a fellow black artist from North Carolina. There have been documentaries, and people will come in with expectations of those because there are a myriad of Nina Simones: There are the Nina Simones my parents saw on a couple's date night in Washington, D.C., and the people who made love to her songs or broke up to her songs. So even if I was doing an impersonation, the impersonation isn't going to be able to honor all of those different Ninas."
"I think what's so exciting about the play is that it's not trying to be 'Jersey Boys' or 'Walk the Line'," says Douglas. "It's really about the humanity of an artist and what the sacrifice of all of these band members is to both each other and to music. It's a real love letter to music and to artists and to the power of creation and the fight and the sacrifice of sharing ones' work with another. It's quite fascinating and really inspiring and, I think, freeing as an artist that we're not trying to do the biopic."
Recent events in the United States -- such as the white supremacist rallies in Charlottesville, Va. -- lend a current relevance to the play's themes of racial bigotry.
"One of the themes of the play is the role of music as a unifier, as a connector," says Douglas. "And I think that in these moments in which we're living, the power of arts and artists to share their specific truths with each other allow us to build community. And I think that's one of the gifts of the play. The play allows healing and connection. It's honest about how we are different and how the world views us differently and how this country views people of different races differently. But it's very hopeful in its honesty, and I think that part of the truth of our country is that it's rooted in a spirit of hope at its best. But there is hope for change and conversation and community that can come out of that trauma.
"I think that healing and hope are at the heart of this piece as much as the raw reality of race in history."
NAN What's Up on 10/13/2017
Print Headline: Hope, Communication
Sponsor Content
Comments