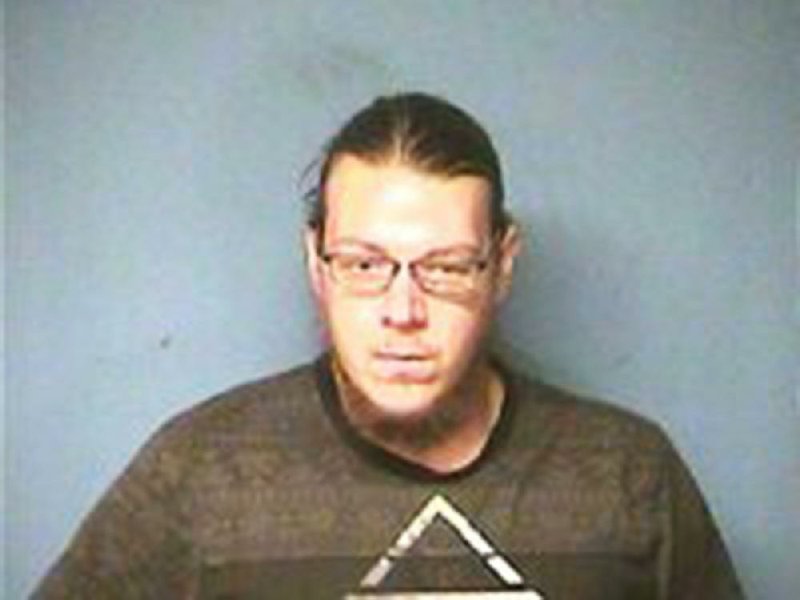 Jacob Scott Goodwin, 23
Federal authorities on Tuesday arrested an Arkansas man accused of beating a black man during a white-supremacist rally that turned deadly in Charlottesville, Va., in August.
The U.S. Marshals Service reported that Jacob Scott Goodwin, 22, was arrested at a residence outside Austin in rural Lonoke County. Deputy U.S. Marshal Kevin Sanders said Goodwin had been wanted on a felony charge of malicious wounding in Charlottesville.
Goodwin is suspected of being one of several men seen on video beating Deandre Harris, 20, in a parking garage in Charlottesville on Aug. 12, when hundreds of white supremacists, including neo-Nazis and Ku Klux Klan members, marched through the city to protest the removal of a statue of Robert E. Lee from a public park.
The attack reportedly left Harris with a serious head injury, a spinal injury, a broken wrist and bruising across his body. It was one of many violent confrontations between the white supremacists, some of whom carried guns and wore military-style combat gear, and counterprotesters.
One person, Heather Heyer, 32, was killed and at least 14 others were injured when a car was driven into a crowd of counterprotesters. James Alex Fields, 20, who was reported to be a Nazi sympathizer, was arrested in the attack.
Sanders said Wednesday that Charlottesville police asked the Marshals Service in Arkansas on Oct. 4 for help finding Goodwin.
"We had information that he had fled Charlottesville to go back to his parents' house, which is where he was ultimately located," he said.
Goodwin was arrested about 2 p.m. Tuesday. He was being held in the Lonoke County jail Wednesday awaiting extradition to Virginia.
The jail website said Goodwin resides in Ward but did not list an address.
Goodwin is the third person to be arrested in the beating of Harris, a former special-education instruction assistant. Daniel Borden, 18, of Ohio and Alex Michael Ramos, 33, of Georgia also face felony counts of malicious wounding.
Virginia law defines malicious wounding, in part, as when a person "by any means causes bodily injury, with the intent to maim, disfigure, disable or kill" and the victim is "severely injured and is caused to suffer permanent and significant physical impairment."
Harris also faces a criminal charge in the confrontation. According to The Washington Post, a magistrate in Virginia issued an arrest warrant Monday for Harris on a felony charge of unlawful wounding, based on a complaint by Harold Ray Crews, a lawyer and self-described "Southern nationalist," who accused Harris of injuring him by hitting him with a flashlight right before the garage brawl.
Unlawful wounding, under Virginia law, occurs when a person intentionally causes injury without acting maliciously or with intent to kill.
An attorney for Harris reportedly called Crews' accusation a transparent attempt at retaliation.
Videos of the attack have been viewed tens of thousands of times on the Internet. The footage shows a group of men knocking Harris to the ground, kicking him and striking him with flagpoles and sticks. Harris repeatedly tries to get up and flee, but the men continue beating him.
One of the men is wearing a military-style helmet, eyewear and clothing, and carrying a shield similar to those used by riot police. The man appears to strike Harris with the shield and kick Harris multiple times.
Journalist and Black Lives Matter activist Shaun King said Sept. 24 that a "team of volunteers" had identified Goodwin as one of Harris' attackers by carefully comparing photos of Goodwin on social media to footage of the attack.
"Dear Jacob Scott Goodwin, age 22, of Ward, Arkansas," King wrote Sept. 24 in a Facebook post. "We have looked for you for a month. In the end it was your hair, your bracelets, your glasses, your tattoo on your forearm, the white supremacist pins and necklaces, and your own bragging online that helped us identify you as one of the felony attackers of DeAndre Harris in Charlottesville. Soon, you will be arrested."
The Charlottesville Police Department declined to comment on Goodwin's arrest, according to The Washington Post.
In an interview before his arrest, Goodwin's mother, Tamera Goodwin, confirmed to the Post that her son was in the parking garage during the attack and was the man wearing the military tactical gear and carrying the plastic shield. Goodwin also wore two pins, one with the number 88, reportedly a code for "Heil Hitler," and the other with the logo for the Traditionalist Worker Party, a white-nationalist group run by Matthew Heimbach.
"I told him, 'It does look like you kick him,' but he said, 'No, Mom, I didn't,'" the mother, who attended the rally, told the Post.
Tamera Goodwin did not respond to a message left by the Arkansas Democrat-Gazette seeking comment on her son's arrest Wednesday.
A search of Arkansas court records found no criminal history for Jacob Goodwin.
Lonoke County sheriff's office spokesman Lt. Matt Edwards said the agency had no documented encounters with Goodwin. He said the jail was holding Goodwin in its general inmate population and had taken no special security precautions.
"I do know the jail is aware of his possible associations," Edwards said, referring to Goodwin's participation in the white-supremacist rally. "Just like everything else, everyone's safety is of the utmost importance to us."
Metro on 10/12/2017
Print Headline: Arkansan 3rd arrestee over attack in Charlottesville
Sponsor Content
Comments