John and Michele Bowen are baseball fans.
"Our family loves the Cubs," John Bowen says.
That only partially explains their connection with Miracle League of Arkansas, a baseball league for children with physical and developmental disabilities.
John Bowen, a group vice president for Acxiom Corp., says he has been involved "since the day they opened," but "I don't really remember how that happened."
Michele Bowen, who is training to become a certified verbatim reporter (think court reporting), joined up four years later.
Miracle League has its own "stadium," one of the fields at the Junior Deputy Complex, off Cantrell Road in Little Rock, but you won't see grass or dirt, as you'd find on a traditional diamond; it's constructed entirely of tiles made from recycled tires, and it's totally "barrier free," meaning there are no obstructions for youngsters with limited mobility. (Miracle League also has a field at Randall Tyson Park in Springdale.)
The Bowens are chairing the Miracle League's 11th annual Double Header on Saturday in the football stadium of Little Rock Catholic High School for Boys.
The event draws Major League players with Arkansas connections -- no guarantees they'll be on hand this year, because some of them might still be involved in post-season play, but past fundraisers have drawn Dallas Keuchel, Drew Smyly, Travis Wood, Cliff Lee and Dustin Moseley, who will be "pitching in" (literally and figuratively) for the event's Home Run Derby.
The evening will also feature entertainment by Tragikly White, food and beverages and memorabilia-filled live and silent auctions. Dress is business casual.
Citing "institutional synergies," John Bowen insists it makes sense to hold a baseball-related event in a football venue. Past events have been successful at War Memorial Stadium.
Those synergies include students from Catholic High School and Mount St. Mary Academy who form the core group of Miracle League "Buddies," volunteers who provide assistance, guidance and encouragement for players.
There needs to be somebody on the field, Michele Bowen explains, to help guide runners who have mobility or vision challenges from one base to another, "or if a ball whacks somebody," which happens occasionally even though balls beep to give full notice of their approach.
The 480 participants in Little Rock and Springdale range in age from 4-80. Players' challenges range from cerebral palsy to blindness, from autism to Down syndrome; some players are nonverbal. Some are in wheelchairs. "We don't turn any kid away," says Miracle League executive director Peggy McCall. "If you experience our games you will understand why we say, 'Miracle League ... It's more than baseball.'"
Miracle League ball is, and is not, like regular baseball. Each player gets a hit and goes to first base. Players advance with each hit, and last batter in the lineup gets a "home run" to clear the bases. "Players steal bases like crazy," Michele Bowen notes. After each game, players and Buddies line up to sing "Take Me Out to the Ballgame."
From the nonprofit's website: "Miracles on a field where hope becomes a home run, where a wheelchair becomes a hot-rod, a metal walker becomes a chariot of fire, bats come in all colors and a baseball 'pings' and turns ears into eyes."
"There's a lot of laughter, a lot of joy," Michele Bowen says. "The parents cheer like crazy." There's no razzing of the umpires and everybody supports everybody else.
And, "We also get a lot from them," John Bowen adds. Miracle League "graduates" have gone on to college; one player, after leaving Miracle League, went on to coach Babe Ruth ball at a nearby Junior Deputy field.
There are three Miracle League divisions, based on "skill sets," John Bowen explains. There's a competitive Friday-night division in which "the kids actually try to beat each other." On Saturday morning, it's more along the lines of "a whole lot of high fives."
John Bowen's volunteer calendar also includes support for his alma maters, Catholic High and Hendrix College. Michele Bowen volunteers for CARTI and the youth group at Asbury United Methodist Church, their house of worship.
Miracle League, John Bowen says, is "an opportunity to give children with some challenges a chance to do things typical children get to do. "They don't often get that opportunity.
"We can't do anything about those challenges, but we can give them a respite."
The Miracle League's Double Header is 6:30-11:30 p.m. Saturday at Catholic High's football stadium, 6300 Father Tribou St., Little Rock. Tickets are $100, $150 per couple. Call (501) 940-3405, email [email protected] or visit the website, MiracleLeagueAr.com.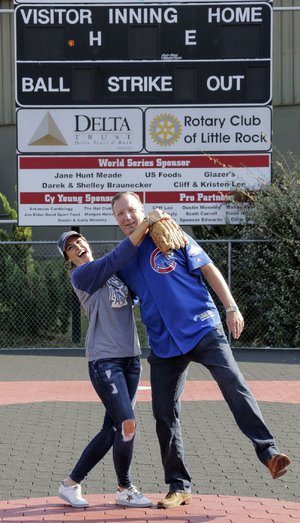 Photo by John Sykes Jr.
John and Michele Bowen, chairmen of the Miracle League of Arkansas' 11th annual Double Header fundraiser this weekend, "play" on the Miracle League field in Little Rock's Junior Deputy Complex.
High Profile on 10/08/2017