Coleman Ray Clark said he can't remember a time when theater wasn't a career goal. As a 5-year-old, the Northwest Arkansas native was creating original characters. Today, he's a junior at New York City's Marymount Manhattan College.
"I would put on these ridiculously high boots that would go up to my hips and a cowboy hat," he recalled. "I created a character I called 'Johnny from Springdale' and talked in a crazy southern accent. My parents were like, 'Oooookay, let's put you in some theater classes.'"
Classes at Arts Center of the Ozarks and Arts Live Theatre and summer camp at TheatreSquared followed, and Clark's affection for theater -- and his obvious talent -- continued to grow.
By the time Clark attended Fayetteville High School,Warren Rosenaur, the school's theater director was already familiar with his student: When Clark was in sixth grade, the young theater wunderkind reached out to Rosenaur via email.
"He said, 'I need to connect to some Broadway directors. I need to learn from them,'" Rosenaur recalled. "So he's been driven from the get-go. I said, 'I think it's great you're interested. I'm not sure I know many of those people, but, if you're interested, Amy Herzberg and other folks at the university [of Arkansas] might be able to help you a little better.'"
Rosenaur said Clark hit the ground running the minute he enrolled in high school.
"He stage managed the first show, he was in the first musical, he worked with all of the shows, being an actor or assistant director, a technician -- anything he could do."
But, Rosenaur said, Clark really hit his stride when he started his own theater company as a sophomore.
"You can probably count on two, three fingers the number of new theater companies started by 10th graders in the United States," Rosenaur said. "I might have given him advice or lent him stuff, but I was completely hands off. He had kids doing all of the work -- painting, building, acting. It was pretty much 99 percent youth theater."
"You could say, I made some opportunities for myself," Clark said of creating New Threshold Theatre Co. "But it really would not have been possible without everyone else's support and encouragement. We were feeding off of what we were getting from the other arts' organizations."
Clark said the theater company did a total of seven full-length plays and musicals, including a touring holiday show that traveled around Northwest Arkansas.
"We started with a budget of $1,000 off of a Kickstarter campaign," Clark said. "When we finished, our budgets had gone up to around -- for the largest show, Into the Woods -- our budget was upwards of $20,000, all raised with community and corporate donations and ticket sales."
By the time he graduated from high school, Clark was ready to explore other parts of the country for his post-secondary training. Although he was initially nervous about auditioning for the larger theater programs -- fearing that his small-town training was not enough to compete -- Clark said he soon found he was more than prepared for national competition.
"What I'm very proud of is that we are so top notch in theater education in Northwest Arkansas," he said. "I got a lot of experiences here that other students weren't finding in high school. I ended up teaching classes in camp with Trike Theatre, and none of my friends or colleagues at college had done that. I had directing experience at school, and most college students are hoping to get a chance to direct, but only coming into college with acting experience. It was really wonderful to step out of Arkansas and learn that the opportunities we're giving students today are some that can't be found in other parts of the country."
Clark's talented reputation preceded him this past summer, when Jenni Taylor Swain, then acting executive director of the Arts Center of the Ozarks in Springdale, was considering directors for the theater's season.
"I was trying to put together a directorial team that represented a balance between maybe some older people that had relationships with ACO, had directed a show before, but also some fresh perspective. His name popped up several times," said Swain, adding that his relative youth -- Clark was 20 -- did not deter her from extending an offer to join the team. "I think people should stop underestimating people based on their age or their gender or their race, so I'm always very interested in listening to people's ideas. I especially wanted young voices."
Swain was impressed with Clark at their first meeting.
"He's very self-aware. He knows exactly what he wants to do," Swain said. "He's clear, he's direct. His communication skills are far beyond his age, and he is a real, natural intuitive-type of person."
Swain was impressed enough to invite Clark to direct Kiss Me, Kate in the ACO's big, showy summer musical slot. Clark took the helm of a team that included a 50-plus member cast, a choreographer, costumer designers, set and props designers and a technical director.
"Coleman made it fun," Swain said. "People were learning new things at the same time they were working in an environment that was familiar and comfortable. He's still learning. People like being around people that are still learning -- it's a valuable thing. It's a good sign that will support his continued success."
Swain said she has a pretty good idea of where Clark's future might take him.
"I think we're all going to be working for him some day," she said with a laugh. "It was a wonderful experience for me, in the producing car. I had an opportunity to learn from him and vice versa."
It's a sentiment echoed -- almost word for word -- in a separate conversation with Rosenaur.
"Some of the theater folks he had worked with in town would ask me how Coleman was doing," Rosenaur said. "They would all look at each other and say, 'You know, we're all going to end up working for Coleman.' I said, 'You know, I already do. He's a 10th grader, and I already work for him.'
"I mean, he had some great ideas that I had never thought of. He taught me a couple of things, showed me a couple of things that were new and innovative and fresh.
"It's just really great, having that innovation and passion."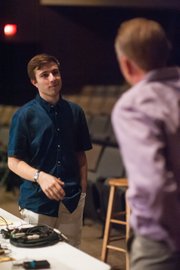 NAN Our Town on 11/23/2017