"There isn't a lot of discussion about the military caregivers, their families and about what they need to do. They aren't really recognized for what they need to do," documentarian Stephanie Seldin Howard told the crowd at the Kansas International Film Festival in Leawood on Sunday.
Her 56-minute documentary Weight of Honor, which debuts this week on Amazon, iTunes, Vudu and other streaming services, follows five wives and one mother who struggle to take care of soldiers who've returned from the war in Iraq with physical and emotional wounds that require constant attention.
"The film is really a vehicle for these stories because each of these women and others we've interviewed have a different story, a different journey, if you will. They have a lot to say, but people aren't asking them questions. I started working on this film, now six years ago ... I started doing some research on Facebook, and it turns out that we hear from the different caregivers. That's how they communicate with one another. They're up in the middle of the night. And who [else] is up in the middle of the night? Well, it turns out that other caregivers are. That's really how things got started," she says.
Modern medicine has enabled returning troops to survive wounds that would have been fatal in previous conflicts. But lost limbs and other battlefield injuries require constant care, and many wives and mothers discover their relationships with their loved ones change dramatically.
"It breaks relationships. What we've heard from the experts in the film, is that there's a big concern about the romance or that relationship because there becomes a disconnect," she says. "The wife or the mother is seen eventually as 'the nurse.' You have a relationship where it's a nurse and patient instead of a wife and husband. That's what it's starting to feel like, and the romance is gone."
BRAVE NEW WORLD
For example, while Staff Sgt. (Ret.) Allen Hill returned to America with no physical scars, he qualified for 100 percent disability because he requires the same watchful eye veterans who've lost limbs or organs require. Early in the film, he can't eat inside a restaurant because the walls remind him of things that happened to him in country. Any meals not served at home have to be drive-thru.
He and his wife, Gina, have to leave their current home in Ottawa, Kan., because the constant sound of trains on the nearby tracks brings back crippling and traumatic memories for him.
Seldin Howard lets viewers into Allen's head by showing a train roaring past the Hills' home and then cutting to archival battle footage. "I have to give my editor credit for that. You saw their house, and you saw how close those rails were. We didn't have to wait long to see a train come by," she says.
"My editor saw that and said, 'Those sounds are so similar.' In going back and forth with this, I was actually concerned that this might be a trigger for Allen, and I let Gina know ahead of time. She said, 'No. He'll be fine.'"
Caregivers such as Gina often have to give up their jobs to take care of their husbands or sons, but her situation is somewhat unique. "Gina is working, and Allen has to go to work with her because he can't be left alone," Seldin Howard says.
Over the course of filming Hill recovers enough to enjoy being with his family again. He even guides his son as they do some indoor rock climbing. He also overcame his fear of enclosed spaces to attend the screening.
Similarly, Spc. (Ret.) Andy Toppin now plays hockey even though he lost a leg (after being badly burned) and wears a brace on the other. Seldin Howard says getting him to talk on camera about the kind of care his wife gives him took some persuasion.
"We don't have nearly the amount of wound care [on film] we would like to have had. I think it took some courage for them to do that, and I think that they also understood that the film is about the caregivers. When you see Ashley taking care of Andy's stump because he was going to play hockey that day, what we didn't say was that Ashley had had a caesarian section five days before that. I didn't know who to say it without narration. That wasn't important to her. For her, that wasn't part of the story," she says.
While the Hills and the Toppins benefit from government support that wasn't available in previous conflicts, it only eases part of the struggle.
"There is a stipend available for caregivers now," Seldin Howard explains. "That is decided upon the level of disability of the wounded. So, if they have 100 percent disability as determined by the VA, which can take a year to determine, there is funding there. But, if you think about it, if you're waiting a year to get some money back because you had to quit your job to stay home and take care of your husband, it can wear you out on that."
All in the Family
Asked why the 24/7 struggle ends some relationships but strengthens others, the director says, "I asked Ashley and Andy that, and they said their sense of humor. They felt that that made a big difference. They've had two children since his injury. They were really in love. Their relationship was solid to begin with, and there wasn't going to be anything that shook it. Who knows? In another 10 years, their stories may be different."
Much as the people she filmed, Seldin Howard has gotten a lot of support from her own family. Her husband, Rodger, took time off from his day job as a multiple Emmy-winning photojournalist for Channel 11 in Los Angeles to help her produce the film and to shoot many of its most memorable sequences.
Her son Alex Howard, who worked to secure releases for every still photograph and video clip used in the film, accompanied her. Asked what it was like to work for his mom, he says, "It makes it easier because it's easier to be told to do things from her because she's been telling me to do things my whole life. The other day there was an interview that fell through. [The journalist] sent something late, and she was yelling. I already know she wasn't yelling at me. She's yelling at the situation. Whereas with another person I don't know as well, it would be, 'Why are they yelling at me?'"
She adds, "He has a degree in this. This is what he's doing professionally. He is between freelance gigs, and I said, 'I seriously need help,' and he's been working on this for years with me.
"Once I had a distributor who approached me, he asked me, 'Do you have talent releases on everything?' I said, 'Not only do we have talent releases, but we have releases for every single photo.' What Alex did was he went through the whole edit schedule ... and every single timecode, and with every single photo, he marked that and he made a spreadsheet for each family so they could sign off on every single photo. We felt like we were annoying them, but now they understand, and they're glad that we did it."
She's also glad that her family's movie is helping make the public more aware of other families' struggles. She says, "Someone came up to me here and said, 'Thank you for your film. I'm a vet.' And I shook his and said, 'Thank you for your service,' and then I asked him, 'Do you have a family?' And he said, 'My wife and my kids.' And I said, 'Thank you to your wife and your kids as well.' We need to do that. We need to open that up and talk about it."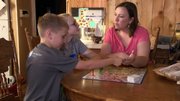 MovieStyle on 11/10/2017