BENTONVILLE -- The football rivalry between Bentonville High School and Bentonville West High School has heated quickly, and tonight's game certainly brings the burn.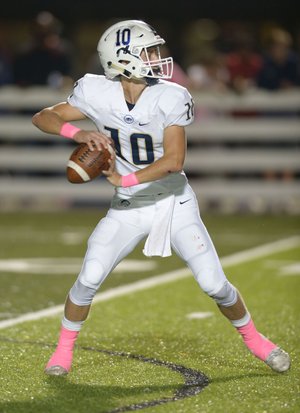 Photo by File photo
Bentonville West quarterback Will Jarrett rolls out to pass against Springdale Har-Ber on Oct. 13. Jarrett will lead the Wolverines into today's game against crosstown Bentonville High.
West will be the home team in a stadium on the Bentonville High campus and plans to take home team privileges to their full extent. Bentonville players will dress in the visitors' locker room instead of their usual spot inside the Tiger Athletic Complex. Tiger fans accustomed to their own seats on the home side will have to find somewhere else to sit -- or stand -- to watch the game.
At a glance
State's best rivalries
Here's a few of the state's most noted rivalries over the years, whether they remain active today or not:
• Fayetteville vs. Springdale High
• Fort Smith Northside vs. Fort Smith Southside
• Little Rock Central vs. Pine Bluff
• Bentonville High vs. Rogers High
• West Memphis vs. Forrest City
• Rison vs. Fordyce
• Russellville vs. Conway (to resume in 2018)
• Crossett vs. Hamburg
• Texarkana Arkansas High vs. Texarkana Texas High
• Van Buren vs. Alma
• Little Rock Central vs. Little Rock Hall
Source: Staff Report
Tonight should be the only time this happens since the West Wolverines will have their own stadium completed in Centerton next season.
Bentonville head coach Jody Grant doesn't like the circumstances. Springdale didn't have to do such a thing when it shared Jarrell Williams Bulldog Stadium with Har-Ber High School, he notes. And Fort Smith Northside didn't do it when it shared Mayo-Thompson Stadium with Fort Smith Southside.
Grant even offered West head coach Bryan Pratt the opportunity to play two straight games in Centerton over the next two years if Bentonville could be this year's home team.
Pratt declined.
"For our kids and their parents and as hard as they have worked, I'm never going to go with that," he said.
Bragging rights until the next time the two teams meet is enough incentive for both teams to play their hardest. However, the outright 7A-West Conference championship and the top seed for the Class 7A state playoffs -- which carries home-field advantage through the semifinals -- are on the line.
All that just fuels the fire.
"It's not going to matter, because we're going to be louder," said Tanner Loy, a Bentonville High School senior. "That's all that matters is all the energy we've got. And how much we can express how much we care about our team."
He wasn't shy about predicting today's outcome.
"We will destroy them. And we will not show them mercy," he said. "We really want to win. Our team really wants this."
Three West seniors who attended Bentonville High School for their freshman and sophomore years confirmed Thursday they shed all allegiance to their former school. Being on the visitors side at last year's showdown was intimidating, said Leah Hatton.
"So it will be cool this year to show them we have a big student section. We have traditions we can show them," she said.
Ben Larsen added, "I think it will be awesome to watch all the Bentonville fans cram into one little visitors' section like we did last year. The home side is a lot more comfortable to be on."
Sarah Moreno, a member of Bentonville High's color guard, won't get to perform at this year's game. She'll be on the sidelines watching while West High School's band plays.
"It's going to be different. Last year when we played West, we got to perform," said Moreno, 18. "But I'm excited to see their show and see what they've been working on."
Folks in Bentonville may respectfully disagree about when the rivalry began. Some might say it started the night the Bentonville School Board approved building the new high school. Some may point to the day Pratt was hired as West's head football coach, just days after Grant was chosen over Pratt in 2015 to replace Barry Lunney as Bentonville's head coach in 2015. Others may argue hard feelings started during a freshman football game two seasons ago when a Pratt-led Bentonville Gold team -- the future West players -- defeated Bentonville Black.
Some could claim it became serious when the two teams faced for the first time last fall. The more experienced Tigers rolled to a 48-8 victory over a Wolverines team with no seniors that still became the first Class 7A team to earn a playoff berth in its inaugural season.
The meeting schooled both teams on how to handle a game of such magnitude.
"As a staff and a team, we wanted to win that one so bad," Grant said. "We turned the ball over because we had players that were trying to get that extra yard when they were being tackled. We made silly mistakes because we were so amped up emotionally."
He chalks up last year's mistakes to the newness of playing a team that shares your community.
"We will handle it a lot better this time around."
"It's no secret that we went into last year's game like we were going into a gun fight with a knife. Let's be honest; that happened in a lot of our games last year," Pratt says.
"This, to me, is our true first game where we are on a level playing field, and it is what it is. It's highly competitive and highly intense and a lot on the line -- everything a rivalry is supposed to be. We have a lot of respect for what they have done and what they do. I hope they feel the same way about us."
Bentonville athletic director Scott Passmore credits the intensity this year to the first senior class at West and the team's inaugural year being behind them.
"We've really seen a big difference in the rivalry in the football side, for sure," he said. "I think it's good for the community. It's good for Bentonville schools, and it's been a positive thing for our programs."
The West students said they hope the rivalry between the two schools doesn't get out of hand.
"We're trying to keep it fun competitive," Hatton said. "A lot of the guys on our football team are really good friends with guys on the Bentonville team. I know a lot of people are saying, whatever happens in the game, we're still going to be friends."