ROGERS -- Michael Watts runs a factory where cranes move heavy molds and machinery, hoisting them overhead. Nearby presses hold molten plastics under intense heat and pressure. The most dangerous piece of machinery there, he says, is a common forklift.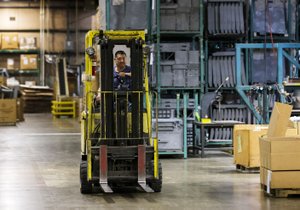 Photo by Jason Ivester
Juan Yanez navigates the floor in a forklift May 10 at FM Corp. in Rogers. The company has a drug-free workplace policy and intends to keep it. The presence of THC — the active ingredient in marijuana — in any amount in a urine test is grounds for firing under that policy.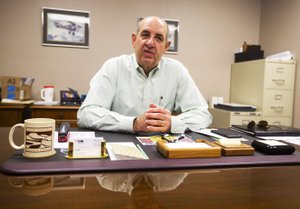 Photo by Jason Ivester
Michael Watts, chief executive officer, speaks May 10 in his office at FM Corp. in Rogers. Watts' factory uses cranes and forklifts to move heavy molds and machinery.
"I'm the boss, and I wouldn't let myself drive one of those if I was impaired in any way," said Watts, chief executive of FM Corp. in Rogers. Someone's likely to get hurt and thousands of dollars in damage can occur if the driver makes any mistake, he said.
Web watch
Updates to the medical marijuana process in Arkansas are available here.
Commission decisions
Arkansas' Medical Marijuana Commission decided earlier this year to authorize 32 dispensaries and five cultivation facilities. Some marijuana sales could occur before January, as production gets under way, according to an estimate from the state Department of Finance and Administration.
Source: Staff report
Such common dangers are why legalized medical marijuana won't affect his business and many others across the state, Watts said. His company has a drug-free workplace policy and intends to keep it. The presence of THC -- the active ingredient in marijuana -- in any amount in a urine test is grounds for firing under that policy.
[EMAIL UPDATES: Get free breaking news updates and daily newsletters with top headlines delivered to your inbox]
The company is reviewing all its written personnel policies and job definitions to make sure they are consistent with the new law, but the goal will remain the same, he said.
Companies doing business with the federal government are required to maintain drug-free workplaces with no exemptions for states with legalized marijuana, he said. Conviction on a drug-related offense also would be grounds for dismissal.
Drug-free companies also get better insurance rates, Watts said. His company makes plastic components for medical equipment, scientific instruments, the aerospace industry and others along with metal components at another factory in Sulphur Springs.
But a Little Rock lawyer who helped write the state constitutional amendment legalizing medical marijuana said employers who stick to the drug-free workplace policy and apply it to someone prescribed medical marijuana could find themselves in court. Arkansas voters in last year's general election approved allowing medical marijuana. The state is set to begin accepting applications for cultivation and distribution July 1.
"That's the benefit of losing in 2012," David Couch said. An earlier proposal he supported failed to get voter approval, and in the interim, he saw drug-free workplaces adopting the same policy in Colorado. He revised the 2016 Arkansas proposal to address drug-free workplaces.
"A qualifying patient or designated caregiver in actual possession of a registry identification card shall not be subject to arrest, prosecution, or penalty in any manner or denied any right or privilege, including without limitation a civil penalty or disciplinary action by a business, occupational, or professional licensing board or bureau, for the medical use of marijuana in accordance with this amendment if the qualifying patient or designated caregiver possesses not more than two and one-half ounces of usable marijuana," the amendment says.
That protection is specific and explicit, Couch said. "I don't see how you can argue that a federal regulation supersedes a state law," he said. "Neither would the terms of a federal contract."
Beyond drug free
Most experts interviewed agreed with Watts' view, including medical marijuana advocates and labor attorneys, who noted Arkansas is a right-to-work state. Labor leaders and a local chamber of commerce president, who is a former state attorney general, also agreed. So did the chamber of commerce of the largest state in the country, which also has the longest history with medical marijuana.
But J. Bruce Cross, a labor law attorney in Little Rock, advised caution. The legal issues aren't as clear-cut as either medical marijuana proponents or drug-free workplace advocates would like them to be, he said.
"You can go that route, but I think that's pushing the line," Cross said of an employer simply declaring a drug-free workplace. He gave that opinion in a May 19 presentation to the Greater Bentonville Chamber of Commerce and in more detail in an interview.
The Arkansas Chamber of Commerce supported Act 593 of 2017, which defined terms within the amendment and clarified much of it, Cross said. He helped draft the act, he said.
"We tried to make it so that someone who was maintaining a drug-free workplace could continue to do that and use that as a defense if challenged," he said. "You can make that argument, but I still think you should protect yourself if you're an employer and update your personnel policies and job descriptions."
Those policies should be checked to make sure they reflect Act 593, and they should be revised in light of the law if needed, he said.
Act 593 includes a number of "safety sensitive" categories of jobs in which employers can require employees to be drug-free. Any job requiring employees to drive between various locations, handle food or food containers or handle documents with confidential information, for instance, can require employees to be drug-free. Handling machinery, such as in a factory, is another such category. Employers should make sure any jobs where they are going to try and impose a drug-free requirement fit in a category of Act 593, he said.
Rights to work
California legalized medical marijuana in 1996. No one has successfully sued a company for losing his job because of medical marijuana use in the more than 20 years since. The last case was in 2008, said Christine Haddon, deputy director for media relations for the California Chamber of Commerce.
Such a lawsuit would be difficult to win in Arkansas, said Maggie Ellinger-Locke, legislative counsel of the pro-medical marijuana Marijuana Policy Project of Washington, D.C.
"You're a right-to-work state," she said. "Your boss can fire you for having red hair." There is one provision in the law, passed by the Legislature, that prohibits discrimination against hiring someone who has used or legally dispensed medical marijuana, Ellinger-Locke said, but that law doesn't appear to protect a worker fired for using the drug.
James Nickels of North Little Rock is a labor lawyer and former state representative. Dismissing someone for medical marijuana use wouldn't entitle the former employee to unemployment benefits because the law covering those benefits wasn't changed by the Legislature, he said.
Employers have a recognized right to have a say in legal activities, Nickels said, even if those activities take place outside of work hours. Alcohol use is legal, he said, but that doesn't require employers to allow workers to show up drunk.
Activities that are legal and not impairing can be regulated to some extent, he said.
"Cigarettes are perfectly legal, and your employer can maintain a smoke-free workplace if he wants to," he said. "There's not much doubt that he can insist on a drug-free one too."
Feds v. states
The biggest unresolved issue about marijuana in general, Nickels said, is some states allow legal use of marijuana in some form while federal law prohibits any use. The discrepancy creates uncertainty for everyone, not just business, he said.
"It's a mess, and the feds need to address it," he said.
To date, federal law enforcement officials have adopted a "hands off" policy in states decriminalizing marijuana, but recently appointed U.S. Attorney General Jeff Sessions indicated he's considering reversing that practice.
Steve Clark is chief executive of the Fayetteville Chamber of Commerce and a former Arkansas attorney general. Clark said states that legalize marijuana send a mixed message to employers, who can be expected to err on the side of caution and maintain drug-free workplaces.
He added legislators failed to clarify many workplace issues such as what happens in workers' compensation cases. If someone is injured at work and is prescribed marijuana instead of a pharmaceutical painkiller, does the employer have to pay for his medical treatment. For business, the safest course will be to pre-empt the question by insisting on a drug-free workplace, he said.
"Not being able to be prosecuted for something is not the same thing as having employment rights," Clark said.
Major employers such as hospitals, schools and the transportation industry have no choice in the matter, he said. Federal regulations require they be drug-free.
"The law is very clear on this as it relates to drivers, but for us it is an issue in the general workforce," said David O'Neal, director of safety services for the Arkansas Trucking Association. "The people working on the loading docks have a stake in this too."
What about protections for marijuana users Couch said are in the amendment?
"I would suggest to him that potentially allowing this to impair someone driving an 80,000-pound piece of machinery at highway speeds would be shortsighted," O'Neal said.
Other drugs
Banning marijuana in the workplace while allowing other, potent drugs makes little practical sense, said Alan Hughes, president of the Arkansas AFL-CIO, a leading labor lobby.
"I'd much rather have someone who smoked some medical marijuana working next to me than someone who was on oxycodone," Hughes said about the commonly prescribed painkiller.
Use of prescription medication is addressed under federal law but isn't included in rules on a drug-free workplace, which only concern drugs deemed illegal by the U.S. government. Employees aren't required to disclose what prescription drugs they use unless that use would lead to a safety issue, such as impairment while operating machinery, according to information from the federal Occupational Safety and Health Administration.
The AFL-CIO didn't take a position on medical marijuana during last year's election because the membership was divided, Hughes said.
"I've had people sitting in front of me, tears in their eyes, telling me they wanted to get off of pain pills and the only thing that worked was marijuana," he said. It's a safer alternative in some cases, he said.
Tyson Foods intends to keep a drug-free workplace, adding such policies are reviewed periodically as laws evolve and change, a company statement said.
Pain pills are usually prescribed for temporary use, and the employer almost always knows when someone is taking them, Watts said.
"Medical marijuana is mostly prescribed for chronic conditions," he said. "If somebody's going to have a surgery and be on painkillers, we expect them to tell us and we will assign other duties until they're off that pain medication."
The bigger problem with medical marijuana compared to pain pills is the gray area it creates, Watts and others said.
"We have a breathalyzer for alcohol, and if you have a level greater than 0.08, you are intoxicated," he said.
Whether everyone agrees with that threshold or not, the level is well defined in the law. The most common test for marijuana, a urine test, cannot determine the level of the drug, only the presence. Even a precise test couldn't indicate if a person is impaired, he said.
Someday, somewhere in Arkansas, someone will be told he's fired for using marijuana and will produce a certification from his doctor, then challenge the firing in court, all those interviewed said. No one wants to be that test case, either as the employer or the employee, they said.
NW News on 05/30/2017