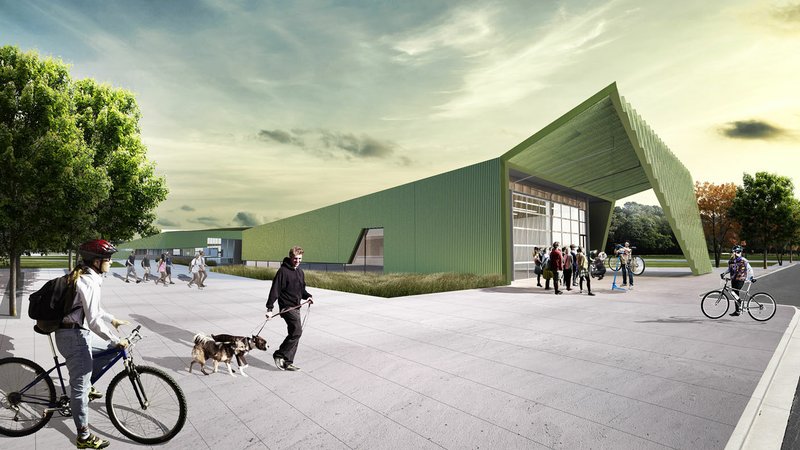 Thaden School officials have released renderings of what the 30-acre campus will look like once construction is completed in 2019. This picture is a view from the northwest corner of campus at South Main and Southeast Eighth streets.
BENTONVILLE -- Thaden School officials have released images of the campus they envision developing within the next two years on the former county fairgrounds near downtown.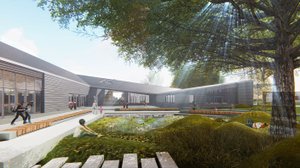 Photo by Submitted photo
This artist's conception shows what the Thaden School's water lab could look like. The private school is set to open this fall in Bentonville.
The pictures show several buildings connected by walkways and surrounded by green spaces. There's an outdoor water lab, garden areas where food could be grown and lawn space where people can watch movies shown on the side of a building.
Street closure
Southeast C Street from Southeast Eighth and Southeast 10th streets is under construction for road improvements in preparation for the Thaden School and is expected to remain closed until June 2, according to a news release from the Bentonville Police Department.
Source: Staff report
Louise Thaden
The Thaden School is named after Iris Louise McPhetridge Thaden, who was born and raised in Bentonville. She won the Bendix Trophy in 1936, the first year women were officially allowed to compete in what was then America's most prominent transcontinental air race. She is the only woman to simultaneously hold records for speed, altitude and endurance in an airplane. Her aeronautical achievements earned her a place in the "Pioneers of Flight" gallery at the Smithsonian National Air and Space Museum in Washington. She was inducted into the National Aviation Hall of Fame in 1999.
Source: Thaden School
"We just want this to be a rich and memorable campus that will stick with these kids for years," said Clayton Marsh, founding head of the private school. "In our design team, we have that architectural talent that can meet the practical but transcend that and take these buildings into another place."
The Thaden School, backed by the Walton Family Foundation, will open this fall with about 60 students total in grades seven and nine. Officials plan to grow gradually to about 500 students in grades six through 12, Marsh said.
The school will add to the growing education options in Northwest Arkansas. Also opening this fall will be Rogers and Springdale campuses of Haas Hall Academy -- a public, open enrollment charter school. The New School, a private school in Fayetteville, is adding facilities to its campus as it expands to include a high school. A Catholic high school is being planned to open for the 2018-19 academic year in Tontitown.
The Thaden School will come into the market as the most expensive at full price. The school offers an indexed tuition rate ranging from $500 to $24,800 per year depending on each family's resources. It's designed to make the school affordable to families from a variety of economic backgrounds.
The New School is charging $13,500 in tuition for the 2017-18 school year, plus fees totaling $3,050, for grades seven and eight. Tuition for grades nine and 10 will be $15,000. The New School also offers tuition assistance based on demonstrated need but is unable to help all students who apply, according to the school's website.
Many independent schools look for ways to increase their socioeconomic, racial, cultural and religious diversity with the idea that not only is a diverse community preparing students for the world they will grow up to, but it also benefits students in the here and now, said Myra McGovern, vice president of media at the National Association of Independent Schools.
Private schools nationally are moving from a financial aid model based largely on scholarships to the indexed tuition model where families get a customized price based on their ability to pay.
"It attracts different families, families that might not think they can afford an independent school," McGovern said.
Nationally, a little less than a quarter of private-school students receive some financial aid, she said.
Choosing Thaden
Savannah Peters, an eighth-grader at St. Vincent de Paul Catholic School in Rogers, will attend Thaden next school year.
"I really like the sustainability that they're incorporating into their campus, like the natural lighting instead of all artificial lighting," Savannah said.
Karen Peters, Savannah's mother, said she's impressed by the way the campus has been designed with hands-on learning in mind.
"They're going to have outdoor labs where the kids are out there doing their studies and their experiments and being able to see how what they're learning in the classroom comes to fruition, and just how they can put it to real-life experiences," Peters said.
The idea of enrolling Savannah in a school without a track record didn't scare Peters or her husband, Tom. They noted their son, Dylan, is a sophomore at Rogers New Technology High School, a charter school opened by the Rogers School District in 2013.
Dylan's experience at that school "gave us a little confidence knowing that new schools that are coming in with a different format can be a good thing," Peters said. "So I think the positive experience there kind of opened up our comfort level."
Construction of the school's four permanent buildings is expected to begin this summer on the block bordered by South Main Street to the west and Southeast Eighth Street to the north. The site was used as the Benton County Fairgrounds for nearly 80 years until 2007.
Some buildings will be open in time for the 2018-19 school year; the rest won't be ready until the following year, Marsh said.
Students will attend classes for the first year in about nine portable buildings that will be installed on the east side of Southeast C Street. That side of the school's property will contain a large parking lot, an athletic field and additional green space, according to plans.
Alex Chrisco, 14, of Bentonville also will enter the ninth grade at Thaden this fall. He's attended Bentonville Public Schools for the past five years, said his father, Rustin Chrisco.
"While we are very gratified to live in an area with fantastic public schools, we just felt like the opportunity to go to a very unique private school might be a direction we'd be interested in," Rustin Chrisco said.
Alex is a good student who thrives on challenges. Chrisco said he and his wife felt Alex would benefit from an environment that challenged him even more.
The school so far has received applications from families in both Benton and Washington counties, Marsh said. He expects the geographic diversity of the student body to increase.
Thaden officials stress the term "independent" over "private" when describing the school. Independent schools are a type of private school that are independently governed and financed, typically through tuition, donations and an endowment, McGovern said.
There are different reasons to celebrate the addition of an institution like the Thaden School in a community, McGovern said. One is the expansion of school choice.
"We like to say not every school is right for every kid. Families really appreciate the ability to choose a school that meets their needs," she said.
As of the 2013-14 school year, about 10 percent of all students in the United States attended private schools, even though private schools make up about 25 percent of all schools in the country. That's because private schools tend to have much smaller enrollments than public ones, McGovern said.
Architecture
The Thaden School was selected as a project for the Northwest Arkansas Design Excellence Program, which provides financial support to entities such as school districts; county, state or local municipalities; and nonprofit organizations that intend to develop space for public purposes, according to a Walton Family Foundation news release.
At least some of the space on Thaden's campus will be accessible to the public.
Marlon Blackwell Architects of Fayetteville and Eskew+Dumez+Ripple of New Orleans are designing the buildings, while Andropogon of Philadelphia and Raleigh, N.C., is leading the landscape design.
Z Smith, principal at Eskew+Dumez+Ripple, described the school as a "small college campus" while visiting with community members in November.
The designers are trying to use the campus as a learning tool, said Marlon Blackwell, principal of Marlon Blackwell Architects.
"The whole campus is like a big learning laboratory for the students," he said. "We started out looking at farm groupings, the way buildings are arranged on a farm, thinking about groupings that could become a campus."
Designing the campus came with some complexities, including a flood zone running through the site and the fact the 30-acre campus is divided in the middle by Southeast C Street, he said.
Each of the buildings will have outdoor covered areas where students can spend time.
"The idea is to make students want to go outside and experience nature as a learning environment," Blackwell said.
There is meant to be a relationship between the architecture and the school's emphasis on balance, specifically the idea a person maintains mental balance by encountering new points of view, Marsh said.
"And that's why the architecture is so important, because it's meant to be surprising in interesting ways that invite contemplation -- 'I wonder why they did it that way?' Or, 'I never thought about how this shape is getting recreated over there.' And then you start to think about the connections not just in terms of form, but in function."
The former home of Louise Thaden, an accomplished aviator of the 1920s and 1930s, will be on the northeast corner of the west side of campus. The house formerly sat on West Central Avenue but was moved and is being stored, awaiting its move to the Thaden campus.
Community connections
A campus map shows trees, but no fences around the school's property. That's because the school wants to have a connection to the neighborhood and community it inhabits, Marsh said.
The map shows a small "urban park" lining the north side of campus. The science and fabrication building will have an entrance off Main Street so people can bring their bicycles in to be repaired. The performing arts center on the northwest corner may be shared with community partners, Marsh said.
"We want this to be an amenity for the whole community, not just a school where Thaden students go, but as a place people have all kinds of reasons to come," Marsh said. "A speaker series here, a film over there, a community garden of some sort."
Marsh's discussions with community members have extended to Trike Theatre, a professional theater group for youth based a few blocks away. Trike Theatre is interested in using the school's performing arts center.
Kassie Misiewicz, the theatre's artistic director and founder, said she met with Thaden officials last fall. They talked about how they could work together to best serve youth and families in the area, though they haven't reached any decisions yet, she said.
The performing arts center will be a "huge asset" to the community, Misiewicz said.
"It's going to anchor the south end of the arts district and provide a much needed 300-seat performing space. Right now there isn't a space like that in Bentonville," she said.
NW News on 05/22/2017
Print Headline: Thaden School prepares for first year
Sponsor Content
Comments