A proposal to move 60,000 people off Arkansas' expanded Medicaid program was approved by the House and Senate on Tuesday despite objections by some lawmakers that it would increase the ranks of the uninsured and by others that it wouldn't cut the program enough.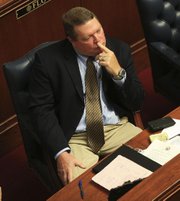 The identical bills approved by the two chambers Tuesday are designed to save the state money by limiting eligibility to adults with incomes of up to 100 percent of the poverty level, instead of the current threshold, 138 percent of the poverty level.
The Arkansas Department of Human Services also would seek federal approval to impose a work requirement on many of those who would remain covered by the expanded part of the Medicaid program known as Arkansas Works.
More than 320,000 Arkansans were covered under Arkansas Works as of March 31.
After receiving approval from their originating chambers, House Bill 1003 and its identical counterpart, Senate Bill 3, then went to the other chambers, where they each received a favorable recommendation from that chamber's Public Health, Welfare and Labor Committee during the second day of a special legislative session focused mainly on health care issues.
Approval of SB3 by the House and HB1003 by the Senate today would send the bills to Gov. Asa Hutchinson for his signature. The changes, which would also require waivers of federal Medicaid rules from President Donald Trump's administration, would take effect as early as Jan. 1.
[EMAIL UPDATES: Get free breaking news alerts, daily newsletters with top headlines delivered to your inbox]
The 100-member House passed its bill 71-23, with all the chamber's 24 Democratic members either voting against the bill or not voting.
The 35-member Senate passed its bill 23-9, with support from two of the chamber's nine Democrats, Eddie Cheatham of Crossett and Stephanie Flowers of Pine Bluff.
Along with most Democrats, those opposing the bills, not voting, or voting "present" included some Republicans who have opposed Medicaid expansion in the past.
Although he ultimately didn't vote, Sen. Bryan King, R-Green Forest, spoke against SB3 for almost 40 minutes. He said he supported reducing enrollment but wanted more details about how the changes would be implemented and what effects they would have.
"This is the Nancy Pelosi thing once again -- you've got to vote for this stuff before you find out what's in it," said King, who has opposed Medicaid expansion. Pelosi, D-Calif., is the minority leader of the U.S. House.
Another Medicaid expansion opponent, Sen. Alan Clark, R-Lonsdale, complained that the bill didn't go far enough in reducing the cost of the state's Medicaid program.
"We have a short window of opportunity to correct this the way it ought to be corrected," said Clark, who still voted for the bill.
Sen. Larry Teague of Nashville was among Democrats who said they feared the bill would hurt hospitals financially by increasing the percentage of their patients who lack insurance.
"When you talk about health care in rural Arkansas, if you lose what little health care we've got left, then we've attracted our last job," Teague said.
Senate President Pro Tempore Jonathan Dismang, R-Searcy, the sponsor of SB3, said the Human Services Department, insurance companies and health care providers would work to encourage enrollees with incomes above the poverty level to sign up for other coverage, either through an employer or through the federal health insurance exchange.
He added that lawmakers will have a chance to make sure their concerns about the transition are addressed when the Human Services Department presents the Legislative Council with rules implementing the changes.
In the House, Rep. Bob Ballinger, R-Hindsville, called the changes "a step in the right direction."
"Any entitlement that we offer as a state, it should be something that helps people and doesn't hinder them -- it doesn't create something that's for forever -- but yet bridges them to a job," said Ballinger, who has opposed Medicaid expansion.
Under the 2010 Patient Protection and Affordable Care Act, which authorized the expansion, states such as Arkansas that expanded Medicaid are responsible for 5 percent of the cost this year. The states' share then rises every year until it reaches 10 percent in 2020.
Restricting Medicaid eligibility to those at or below the poverty level would save the state at least $66 million from fiscal 2018, which starts July 1, through fiscal 2021, according to projections by the Department of Human Services. The annual savings would range from $792,172 in fiscal 2018 to $28.8 million in fiscal 2021, according to the projections.
In a letter, dated Friday, to Human Services Director Cindy Gillespie, Bo Ryall, the Arkansas Hospital Association's chief executive, said Medicaid expansion has reduced the cost to hospitals of providing unreimbursed care to the uninsured by about $150 million a year.
If half the 60,000 people who are removed from the Medicaid rolls don't find other insurance, Human Services Department projections show they would cost hospitals about $50 million in unreimbursed care a year in 2019 and 2020, Ryall said in the letter.
If 18,000 go without insurance, the projections show the cost would be about $30 million a year, Ryall said.
He added that those who find other coverage may have trouble paying for medical care with the coverage provided under their new plans.
"The combined effects on hospital finances would range from harsh to devastating," Ryall wrote.
Gillespie told members of the Senate public health committee on Monday that the state would work with the association to monitor uncompensated care and "figure out what some of our options are" if it starts to increase.
In his letter, Ryall said one option would be to establish a state program that would reimburse hospitals if their uncompensated care rises above a certain amount.
Most of the 60,000 people who would lose coverage are covered by private plans offered on the state's health insurance exchange, with the state Medicaid program paying the premium and providing other subsidies to reduce or eliminate enrollees' out-of-pocket costs for medical care.
Losing their eligibility for Medicaid would make most of those enrollees eligible for federal tax credit subsidies to pay for those plans, or other plans of the enrollees' choosing, on the state's health insurance exchange.
Since enrollees with expensive medical conditions would have the greatest incentive to enroll in the non-Medicaid plans, the change in eligibility could increase premiums for individual insurance plans, according to projections by Optumas, a Scottsdale, Ariz.-based consultant to the Human Services Department.
Assuming that half of those who are dropped from Arkansas Works do not enroll in non-Medicaid plans, and that the average medical costs for those who remain insured are 15 percent higher than for those who go without coverage, premiums would increase 1.7 percent, according to the projections.
Arkansas Blue Cross and Blue Shield spokesman Max Greenwood said Tuesday that that's the same percentage her company's projections show the Arkansas Works changes would have on premiums for her company's individual insurance plans.
"Our goal and our hope is that there will be minimal disruption to the marketplace and that we can make sure that our members and all other members have continuity of care," Greenwood said. "The whole goal is to keep these people insured."
Also clearing the House and Senate on Tuesday were identical bills that would abolish the Arkansas Health Insurance Marketplace Legislative Oversight Committee and shift that committee's duties to the Legislative Council.
Created by the Legislature in 2013, the marketplace established a state-run health insurance exchange for small businesses and approves plans offered in the health insurance exchange for individual consumers.
House Bill 1004 and Senate Bill 4 also would direct the council, the Legislature's governing body when lawmakers are not in session, to conduct a study of the marketplace's future. The legislation passed 79-6 in the House and 31-1 in the Senate.
A Section on 05/03/2017