BENTONVILLE -- Festival officials announced through the BFF app around 4 p.m. Tuesday "all outdoor venues will be closed Wednesday" because of the forecasted weather. All indoor panels and film screenings will proceed as planned. Outdoor venues will open at 1 p.m. Thursday.
[EMAIL UPDATES: Get free breaking news updates and daily newsletters with top headlines delivered to your inbox]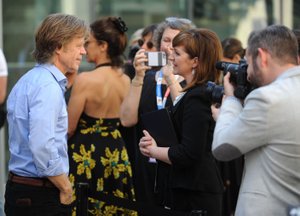 NWA Democrat-Gazette/ANDY SHUPE Actor William H. Macy is interviewed Tuesday on the White Carpet before the start of the opening of the third Bentonville Film Festival at Crystal Bridges Museum of American Art.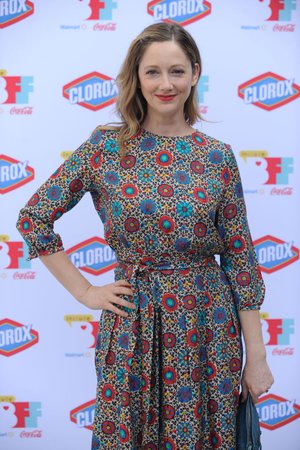 NWA Democrat-Gazette/ANDY SHUPE Actress Judy Greer pauses Tuesday before the start of the opening of the third Bentonville Film Festival.
• The National Weather Service is forecasting 90 percent chance of rain today with possible thunderstorms and between three quarters and one inch of new rainfall possible. Temperatures could reach 62 degrees and a low of 42 degrees.
• Crews were still working on creating the miniature ballfield in Lawrence Plaza Tuesday morning. Several free films will be shown in the plaza through out the week.
• Singer-songwriter-rapper Becky G, otherwise known as Rebbeca Marie Gomez, burst into song just off of the white carpet entryway into the Bentonville Film Festival opening ceremony at Crystal Bridges Museum of American Art on Tuesday night. Gomez was accompanied by four friends who said they were there to support the cause and empower women through positivity, and it remains fairly difficult for women to break into the music industry.
• Jennica Schwartzman, an actress who cofounded Purpose Pictures Productions with her husband, carried her week-old infant across the white carpet. Schwartzman is here promoting her film Parker's Anchor, which was filmed in Arkansas.
• Actor William H. Macy, accompanied by wife Felicity Huffman, greeted festival co-founder Trevor Drinkwater outside of Crystal Bridges and told him he was "pleased as punch" to be at the festival. Macy will be at today's 5 p.m. screening of Krystal, a comedy he directed and starred in with Grant Gustin, Rosario Dawson, William Fichtner, Kathy Bates, John Leguizamo, Nick Robinson and Huffman. Macy will participate in a question and answer session after.
• Actor Joey Travolta attended the opening ceremony and will participate in the panel "Lights! Camera! Inclusion!" today with actress Jane Seymour. Travolta founded Inclusion Films to support and empower individuals with developmental disabilities by creating custom-designed film making workshops and camps.
• Actress Judy Greer, who was known as Maggie Lang in Ant-Man and Karen in Jurassic World, attended the opening in a modest long sleeve dress and toted a light blue leather purse. Greer will be at Friday's 8 p.m. screening of and question and answer session for A Happening of Monumental Proportions, which she directed.
• Miss America Savvy Shields attended the opening in a mint green dress with large, bright florals.
• About 20 festival passholders queued up at the box office outside of 21c Museum Hotel by 9:30 a.m. Tuesday to retrieve their respective passes.
• For more information on the Bentonville Film Festival, download the BFF app, follow them at @BFFfestival or visit bentonvillefilmfestival.com.
NW News on 05/03/2017