FAYETTEVILLE — Former state Sen. Jon Woods along with two other men pleaded not guilty Tuesday afternoon to being co-conspirators in a kickback scheme involving state grants.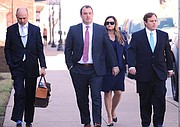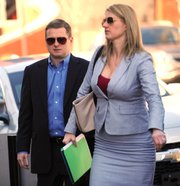 Attorneys for each said they looked forward to the trial with confidence in their clients' innocence. All three defendants asked for a trial by jury.
Fraud, money laundering
Fraud carries a maximum sentence to 20 years in prison and a fine of up to $250,000, according to federal guidelines. Money laundering has a maximum sentence of 10 years and a fine of $100,000. Either the prison term, the fine or both can be imposed for each count.
Source: U.S. Magistrate Erin L. Wiedemann
Woods, Ecclesia College President Oren Paris III and consultant Randell G. Shelton Jr. appeared before U.S. Magistrate Erin L. Wiedemann at 1:30 p.m. Woods was indicted on 12 counts of fraud and one of money laundering. Paris and Shelton were each indicted on 10 counts of fraud. The indictments were issued by a federal grand jury March 2.
The three defendants are accused of conspiring with then-state Rep. Micah Neal, R-Springdale, to pay Woods and Neal kickbacks in return for obtaining state General Improvement Fund grants for the college. The indictments didn't name the college, but stated Paris is the president of it. Ecclesia College in Springdale is the only private, nonprofit college in Springdale to receive improvement fund grants at the request of Woods and Neal, grant records show.
"The charges are baseless," said Shelly Koehler of Fayetteville, who represents Shelton. "We look forward to trial on this matter and Randell with be proven innocent." Patrick Benca of Little Rock is Woods' attorney and Travis Story of Fayetteville represents Paris. They also said their clients are innocent and can show it. Benca said, "We look forward to our day in court."
The three defendants are set to be tried together. Each was released on bond with a pre-trial hearing set for May 3 and a trial date set for May 8. Woods and Paris were released on $10,000 bonds for each. Shelton's bond was set for $5,000. The trial judge in the case is U.S. District Judge Timothy L. Brooks, Wiedemann said.
Neal pleaded guilty to one count of honest services fraud, a public corruption charge, on Jan. 4. Sentencing for him has not been set. Neal has agreed to cooperate with authorities as part of his plea, in which he admitted wrongdoing before any indictment against him was issued. No bargain for sentencing was reached in Neal's case. He received $18,0000 for his part in obtaining a grant for the college and another $20,000 for obtaining a grant to another nonprofit, according to his guilty plea.
In addition to up to 20 years in prison for the fraud counts and 10 years on the money laundering, plus fines, each of the defendants could face forfeiting any money or property obtained through their actions if found guilty. Kenneth Elser, U.S. attorney prosecuting the case, said after the hearing that any such forfeiture would not affect property bought by the college with the grants obtained, only money or property that ended up personally benefiting the accused.
Woods, Paris and Shelton all surrendered their passports in Tuesday's proceedings, a routine requirement for those awaiting trial in federal court. Paris' passport expired in 2013, he said, but was still turned over. Woods and Shelton also surrendered their state concealed carry weapons permits. All three had some restrictions placed on their travel, requiring them to notify authorities if they leave the area. Special permission was obtained for Woods to make trips to his attorney, whose office is in Little Rock.
More than a half-million documents are part of this case file, Benca said while asking for permission to travel to the law firm's offices in Little Rock. Those documents will have to be reviewed and his client consulted, he said.
The three defendants were told not to converse among themselves or with other witnesses or potential victims in the case. Limited exceptions were made for Paris and Shelton, who are business partners, to discuss business affairs. The men are partners in Shingle Resource Recycling, secretary of state business records show. Paris also received permission to talk to employees at Ecclesia who might be called as witnesses in the case, but only to discuss college business. Wiedemann warned him not to discuss the case with college employees.
Woods' indictment includes three counts related to that other nonprofit group, a work force training program that returned its $400,000 grant. Grant records show the only work force training program to receive and then return $400,000 was a Bentonville company called AmeriWorks. The company did business out of the Springdale offices of Decision Point, a nonprofit substance abuse and behavioral disorder counseling program.
Woods supported a $200,000 grant to Ecclesia in September 2013, grant records show. Neal supported a $50,000 grant to the college and Woods another $150,000 in December, 2014, also according to grant records. The amount of money Woods is accused of receiving as a kickback isn't specified in the indictment. It claims much of that money was paid in cash, except for one transaction made to Woods by wire transfer for $40,000.
Paris paid Shelton's consulting company $267,000 out of college funds from 2013 to 2015 without notifying his college's board until October 2015, according to the indictment. Paris paid Shelton's consulting company, which isn't named in the indictment, and Shelton would pass payments along to Woods while keeping a portion, according to the indictment. Shelton is described in court documents as a mutual friend of Paris and Woods.
The Legislature has not yet gone against the governor's wishes and appropriated money for local projects into the General Improvement Fund, spokesman J.R. Davis of the governor's office said Tuesday. The governor recommended no money for such projects in the 2015 General Assembly but legislators did appropriate some. This year, the governor included no money in the budget for these projects and the line is holding, Davis said.
"It's at zero, and there are some good examples of why it should stay at zero," Davis said of such an appropriation.
Doug Thompson can be reached by email at [email protected] or on Twitter @NWADoug.