Pamela Royal's first fitness tracker consisted of a sheet of paper, a pen and the stopwatch on her BlackBerry.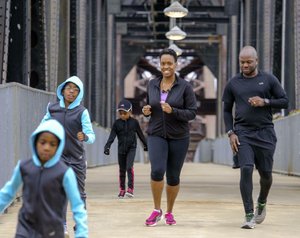 Photo by John Sykes Jr.
The Royal family takes a cold jog across the Clinton Presidential Park Bridge in mid-March. Pamela Royal relied on wearable devices when she fi rst got active and says they helped inspire husband Kijana (far right) and their children, including (from left) Parker, 7, Christian, 10, and Payton, 5.
Photo by John Sykes Jr.
Pamela Royal routinely uses a Garmin Forerunner 220 GPS (left) and a Fitbit Charge HR 2.
That was back in 2009 when she undertook a Couch to 5K program to get fit. Not only has her condition improved since, but her fitness trackers have become much more high tech.
Today, Royal runs long distances. She has done a marathon. She has been run coordinator of Black Girls RUN! Little Rock, organizing weekly workouts around North Little Rock and raising awareness about physical activity and health issues that affect black women. Last year, the 42-year-old mother of six did three half marathons, two 10Ks and a 5K. In March, she finished the 2017 Little Rock Marathon's 13.1-mile event.
She wears a Fitbit Charge HR 2 and a Garmin Forerunner 220 GPS to track her physical activity -- and inactivity.
Whether Fitbit, Apple Watch, Samsung Gearfit, Polar, Garmin, Jawbone Up, Misfit, Microsoft Band, Withings or another brand, wearable fitness trackers are more popular than ever. The wearables market reached $3 billion in 2016 and is expected to exceed $4 billion in 2017, according to a Forbes report. It's estimated that movement-tracking devices can be found on the wrists of one in five Americans.
Health experts say wearable fitness trackers can help people achieve their goals because the devices provide a realistic picture of activity level and make the user feel accountable. However, like any other aspect of diet and exercise, consistency is key, and users get out of these devices only what they put in.
And that is after they foot the cost of a device. Example: Royal's Fitbit Charge HR 2 sells for about $150, and her Garmin costs about $200.
There are less expensive and more expensive wearables, experts say, and paying more doesn't guarantee shoppers a more helpful device.
ALARMED
A moment of reckoning motivated Royal to change her habits. After the birth of her fifth child, she realized she'd become inactive. Then her doctor showed her some disturbing blood test results.
"I'd just had it," she says. "I thought, 'If I'm not careful I'm going to get diabetes.'"
She took up running. To track her time, she turned to her smartphone, which at that time was a BlackBerry. Using its stopwatch as a timer, she alternated walking for one minute and running for three, jotting down her records on a sheet of paper.
By the end of 2009, she'd completed her first 5K, a Jingle Bell Run.
As she read about newer fitness-tracking products, Royal decided to invest. Over the years, she has bought and used a Nike shoe pod sensor, a Nike SportWatch and different generations of Fitbit.
These days, she uses her Garmin Forerunner 220 GPS for running because it maps where she is, calculates distance and pace and doesn't have to be connected to a smartphone. She can turn on its tracking feature as needed. She likes seeing her pace when she's running. And having proof of her improvements is a big motivator.
A nurse in the Neonatal Intensive Care Unit at the University of Arkansas for Medical Sciences Medical Center, she feels like she runs a marathon with each shift. She doesn't though, and she knows that because although she can't wear her Fitbit on her wrist, she carries it in her pocket during shifts.
She wears that Fitbit daily, even when she sleeps, to monitor sleep patterns, heart rate, calories burned and number of steps -- so she can see her activity when she's not running. She also lifts weights and does a CrossFit-style workout to stay strong.
A device "gives you a reminder that you're not as active as you think you are or that you need to move," she says.
The changes she made "started a firestorm" for her entire family, she says. Her husband, Kijana, now uses a Fitbit and a Garmin, and was coordinator of Black Men Run Little Rock. Her children also enter races.
"The wearables keep me accountable, but you've got to let them keep you accountable," she says. "Some people wear them, and they don't move."
MAKING WEARABLES WORK
Brooklyn Pyburn, a registered dietitian who specializes in adult weight management at the UAMS Weight Loss and Metabolic Control Clinic, says a wearable fitness tracker works only as well as you work it.
"It's very surprising to a lot of my patients how little they move," she says.
Wearables "do make them more accountable. It gives them an extra goal that's with them 24/7 ...." Meanwhile, they only meet with her once a week. Monitoring themselves "keeps them honest."
While she doesn't specifically encourage patients to use a fitness tracker, Pyburn says, many do reward themselves with a Fitbit or other device after reaching a first weight-loss goal.
She recommends people new to trackers wear their device for a week to determine their baseline of activity before setting goals.
"You need to know what to do with the data it's spitting out," Pyburn explains. "If you get a fitness tracker, you may find out that you're actually walking three miles at work every day.
"If you weren't considering that exercise before you got a fitness tracker, it's not exercise now that you have a fitness tracker."
Pyburn notes that trackers sometimes overestimate calories burned. But using the devices as motivators, along with a helpful diet, will help anyone reach goals.
However, "just because you have Fitbit on doesn't mean you're going to lose weight," she warns.
Because most wearable fitness trackers have accelerometers that monitor the movement of the wearer's wrist, sometimes movement is incorrectly counted as steps, she says. For example, a bumpy car ride can be misinterpreted as steps.
In addition to counseling others on weight loss, Pyburn is a triathlete. She uses a Polar V800, a wearable that costs as much as $250. It has GPS and is specifically designed for triathlon training. She trains about 20 hours a week, participates in one or two events each month, and plans to do a half Ironman in May. She says her device has helped her reach distance goals and reminds her to keep moving throughout the day.
"Personally, it has made me realize how much I sit during the day," she says. "It breaks that halo effect of 'Well, I've worked out two hours this morning and so I can just sit down for the rest of the day because I have my workout done.' That's not how it works."
BEING HEALTH AWARE
Wearables are not one size fits all, Pyburn says. And their cost tends to rise with the number of features. She urges shoppers to think seriously about what activities they will do, and what information they want to track. For example:
• Some devices are water-resistant, which may be of particular interest to swimmers.
• Some solely track steps, like a traditional pedometer, which would help those wanting to get a handle on basic activity levels.
• Some track heart rate, which can measure a workout's intensity.
• Some measure sleep patterns.
• Some also measure pulse, blood sugar, calories and more.
This data that the trackers retrieve are invaluable, she says, because people can see where their efforts are lacking. This helps with goal-setting.
NUMBER, NUMBERS
Marci Buhajla of Little Rock wanted a heart rate monitor so that she could track the intensity of her workouts. For Christmas 2015, she asked for a Fitbit.
Fitness had not always been convenient for her. But after moving within walking distance of a gym, she says, she had no excuses. Two years ago, she took up CrossFit, which she does six days a week. She also swims laps twice a week.
She says her Fitbit HR Charge 1 inspires her to push harder. It tracks her heart rate, resting heart rate, steps, sleep and activities so that she can set short- and long-term goals. A self-proclaimed "data nerd," she says the information that her device gathers paints a picture of her overall activity. It also syncs with calorie counters, food trackers and other health-related apps.
"If you want to get an all-encompassing view of your fitness, I think a heart rate [tracker] is the way to go," Buhajla says.
When she began working out, she couldn't do situps or pullups but can now "bang out" her situps and do stretch band-assisted pullups. (The goal is do them without the band one day.)
Like Royal, Buhajla has inspired her two children and husband. He uses a Garmin Vivosmart with a heart rate monitor, which retails for between $100 and $150, and she bought her daughter a Fitbit HR Charge 1 to see how active she was during the school day.
Buhajla plans to continue using her device, and her goal is to lose weight, for health reasons and to perform better in fitness events.
"The Fitbit helps you stay honest with yourself," she says. "I think people sometimes exaggerate how much they've worked out and the level of their workout."
"I think we all move around really unaware of our health," she says. "We know we need to do better but it's not until we step on that scale that you realize, 'Oh my gosh, I've gained weight,' or you go to the doctor's office and they tell you your test results.
"Wearables are kind of the same thing. If you put it on and are willing to take an assessment of what it's telling you, you realize, 'Man, I've really got to start moving.'"
ActiveStyle on 03/27/2017