One of the Arkansas Arts Center's most-prized works, a long-hidden pastel drawing by Georgia O'Keeffe, will relinquish its exhibit space this month before it's sequestered in a dark room for at least three years, a curator said.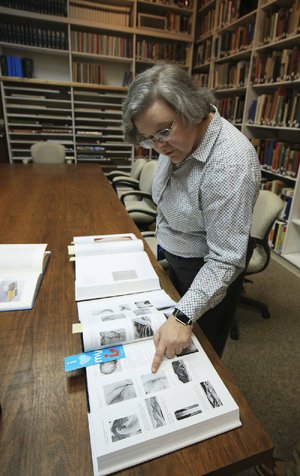 Photo by Staton Breidenthal
Arkansas Arts Center Curator of Drawings Ann Wagner looks through a reference catalog as she talks about Georgia O'Keeffe's From Pink Shell pastel.
The piece, called From Pink Shell, will complete its first public showing in 43 years after a three-month run ends March 26. O'Keeffe, whose drawings and paintings blended abstraction with nature, created the pastel after she discovered petrified mussel shells in New Mexico at a time of fame and transition in her career.
Before it was bequeathed to the downtown Little Rock museum in 2012, the pastel was publicly known only from a black-and-white photograph in a catalog of O'Keeffe's work. Few knew for certain that it remained intact, that its shaded curves carry hues of pink, purple and blue.
"This is a rare kind of an instance where somebody who is that famous -- at the time as well as now -- where a work just vanished off the face of the earth and reappeared," said Ann Wagner, the Arts Center's curator of drawings. "I assume [that is] probably because it had been in private hands, the vast majority of the time here in Arkansas."
Barbara Buhler Lynes' Georgia O'Keeffe: Catalogue Raisonne, published in 1999, introduced a picture of the pastel to the public. The catalog included several hundred O'Keeffe pastels, watercolors and other on-paper works that were previously hidden, according to the magazine ARTnews.
[EMAIL UPDATES: Get free breaking news alerts, daily newsletters with top headlines delivered to your inbox]
The Arkansas Arts Center received the piece as part of a broader gift from the estate of Louise and Frederick Dierks after Louise died in late 2011. The Dierkses, who had homes in Hot Springs, Colorado and Washington, obtained From Pink Shell in November 1970, Wagner said.
Wagner said she knows who the seller was but did not feel comfortable disclosing a name, citing privacy. A voice mail left with a phone number listed for one of the Dierkses' surviving daughters was not returned.
Lynes, founding director of the Georgia O'Keeffe Museum in Santa Fe, N.M., tried to persuade Frederick Dierks to donate From Pink Shell to the museum, she told the Arkansas Democrat-Gazette.
"He said he was going to give it to the Arkansas Arts Center," Lynes said, recalling that the conversation happened in the early 2000s after Dierks called her to discuss something else. "That's what he was going to do. I understood that. That's where he lived."
Lynes now works as a senior curator at the NSU Art Museum Fort Lauderdale in Florida.
The Arkansas Arts Center's current, short-lived exhibition of From Pink Shell is its fourth known public display and its first in decades.
The Arts Center exhibited the piece briefly in 1973 during a show of private Arkansas collections, Wagner said.
Before that, the piece was shown in 1931 and likely in 1952, Lynes said.
In 1931, O'Keeffe's husband and promoter, the photographer Alfred Stieglitz, showcased the pastel as part of a 33-piece exhibit in New York, Lynes said. Twenty-one years later, it probably appeared in a show of O'Keeffe pastels exhibited by O'Keeffe's art dealer, Edith Halpert, Lynes said.
It's possible that a buyer purchased From Pink Shell from the 1952 show, Lynes said. The Democrat-Gazette could not determine who held the piece for the next 18 years.
Lynes' catalog introduced the public to a second pastel of O'Keeffe's, also titled From Pink Shell and also exhibited in the Stieglitz show.
As was the case for the Arts Center's pastel for decades, the second pastel is in private hands and out of public view, Wagner said.
Lynes said the second From Pink Shell surfaced after the catalog's publication, that she saw it in New York and that it remains in a private collection.
O'Keeffe sometimes gave the same name to multiple works if they were based on the source, Lynes said.
"She was of the opinion that she could never quite get it right," Lynes said.
Like many of the Arkansas Arts Center's pastel, watercolor or charcoal pieces, the O'Keeffe piece is vulnerable to exhibit-hall lights. The Arts Center typically displays these fragile pieces only for six months before a three-year hiatus Wagner said.
From Pink Shell, 14-by-10.5 inches, was scheduled to run for six months, but its display was postponed because it took longer than anticipated to frame it, Wagner said. Its removal coincides with that of a larger exhibit of drawings.
"Being a responsible museum, you have to balance preservation with access," Wagner said. "It's not going to recover while it's [in storage], it's just that it's not going to be further endangered or faded. So when it is in storage, it will stay flat, in the dark, in its frame."
Lynes said it's common for museums to rotate on-paper works so that they're not damaged by light. Alternatives are to protect it from light with curtains, though that can affect the overall experience of an exhibit, or to shield it overnight in a box. Once a piece becomes faded, restoration is an option, but it can be controversial.
"The problem with doing that is that it's never the same," Lynes said. "You can restore something, but then you're looking at a restoration rather than what it was."
O'Keeffe, who died in 1986, was "certainly the most famous woman artist in America and one of the most famous artists in general" in 1931, when the pieces were completed, said Wagner, who studied O'Keeffe's early work for her doctoral dissertation at the University of Maryland.
At the time, O'Keeffe was shifting from painting vibrant, close-up depictions of flowers to paintings of animal bones she found in the Southwestern landscape, Wagner said.
"To me, it is a very sensual image," Wagner said of the pastel. "The colors and shapes are sensual. I think it is very beautiful and powerful, and it's from a very important time in her career, where she is finding the visual vocabulary that people are going to really enjoy -- had been and would continue to."
Wagner declined to estimate the piece's value.
Arts Center Executive Director Todd Herman, curator Brian Lang, longtime registrar Thom Hall and Wagner in 2015 named the pastel as one of the museum's 20 most important works in a list published by the Arkansas Times.
Wagner and Virmarie DePoyster, a museum school instructor, will discuss From Pink Shell at noon March 17 at the Arts Center. Admission is free.
"It's one of our most prized possessions," said Wagner, who said it is one of the Arts Center's top 10 pieces.
A Section on 03/10/2017