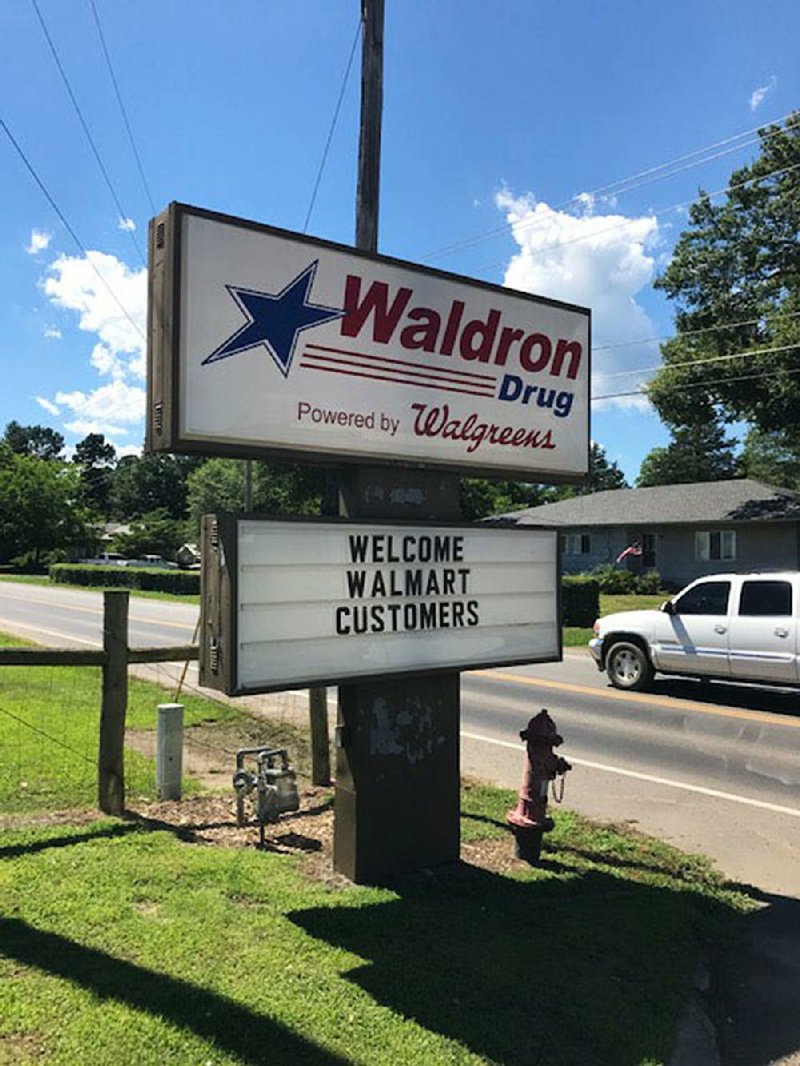 At Waldron Drug, employees have added space and chairs to serve the departing Wal-Mart's customers. - Photo by Robbie Neiswanger
WALDRON -- The sign outside Waldron Drug offers a helping hand to the stunned residents of this small Arkansas town facing the unsettling news that the local Wal-Mart store is closing next month.
"Welcome Walmart customers."
Inside the store, pharmacy manager Ed Humphrey and his staff were busy filling prescriptions as several residents sat patiently in the waiting area Tuesday. A couple of days earlier, Humphrey said he spent part of Father's Day extending the space to prepare for the influx of customers who were moving their prescriptions from Wal-Mart. He removed one display to open up the space, put in extra carpet to fill bare spots and moved in a few more chairs.
"I'm putting in extra hours," Humphrey said. "But I told my boss, 'I guess it's the health care professional coming out in me.' These people are shell-shocked. So if they can walk in here and know I can take care of them, that's a pretty good reward in my eyes."
[EMAIL UPDATES: Get free breaking news alerts, daily newsletters with top headlines delivered to your inbox]
Wal-Mart shook the Waldron community earlier this month when it revealed plans to shutter the store July 14, saying the decision was based on a review process that considers a number of factors like financial performance and its strategic alignment with the company's long-term plan.
The devastating announcement has left Waldron's leaders, local businesses and residents trying to cope with the loss of a store that has been open since 1982. They're searching for solutions to fill the impending retail void and bracing for the potential economic impact that could trickle through the rural town of 3,800 people and its surrounding community.
Waldron Mayor Neil Cherry didn't mask his disappointment with the Bentonville-based retailer Tuesday, saying his first goal was to persuade Wal-Mart to reconsider the decision because of the effect it would have on employment, sales tax revenue and way of life in the town. But the Wal-Mart store -- which has 98 employees in Waldron and is the city's third-largest employer behind Tyson Foods and the local school system -- said the decision is final and will not be reversed.
"I think it's a shame Wal-Mart is leaving," Cherry said. "I'm just personally hurt. I didn't like it when Wal-Mart moved in here. I had a small business at that time, and it hurt us. It put a lot of Waldron businesses out of business. They've accomplished that, now they're going out of business. ... They're not looking at the effect that it's going to have on Waldron, Arkansas."
The store is the only Wal-Mart in Scott County, which has about 10,200 residents, according to the most recent U.S. Census estimates. At 37,000 square feet, it is classified in Wal-Mart's portfolio as one of about 400 discount stores and is much smaller than supercenters that span roughly 180,000 square feet.
The store doesn't contain the number of items the larger supercenters do, but it has been a popular shopping destination for residents in the area. There are packaged and frozen foods, clothing, toys, kitchen appliances, pet products and other general merchandise. There also is a pharmacy, and a tire and auto center.
Wal-Mart said the decision to close the store came after a "careful and thoughtful review process." A decision to close a similar store in Perry, Okla., was announced the same day. The decision in Waldron now leaves the next-nearest Wal-Mart stores in Booneville, Mena and Greenwood, which are between 20 and 25 miles away.
WALDRON'S OTHER OPTIONS
Waldron still has a Harp's grocery store. There's a Dollar General down the street as well. But residents said losing Wal-Mart will be a blow because of the products and services available under one roof.
"It's going to just be a huge adjustment for Scott County," said Lisa Harrison, who has lived in Waldron for about 20 years. "I don't want to say I don't shop out of town. I do. But I don't make special trips to go shop out of town.
"For everyday, normal household items, to feed my family, I bought it at Wal-Mart. I shop at Dollar General and Harps. But the majority of my money is spent at Wal-Mart."
According to the U.S. Census estimates, nearly 20 percent of Scott County residents are 65 years old or older. In addition, an estimated 20.8 percent of residents live in poverty.
So traveling to another Wal-Mart is not possible for many.
"That's going to be a very big challenge, especially for those that have limited resources or for those that don't have a ride unless a family member takes them," said a resident who declined to provide her name. "You know the elderly, they really depend on Wal-Mart for their drugstore stuff, all their groceries. That's where they go.
"My mom and dad are one of them. They live on a limited income because they're retired. They have tons of prescriptions. They depend on Wal-Mart because they can get them cheaper."
LAST-MINUTE DISCOUNTS
The store remains open for business right now, but the countdown to the final day is evident, beginning with the large blue "store closing" banner that hangs outside on the building. At the entrance, smaller signs list the new store hours -- 7 a.m. to 7 p.m. -- and a 25 percent discount on remaining items.
Inside, shoppers push carts along aisles looking for last-minute deals. Most of the shelves are empty. Meanwhile, employees manage the remaining inventory and help customers, continuing to work through the store's final days.
Three banners made by local schoolchildren hang in the aisles and show the community's appreciation for the 98 Wal-Mart workers who are now looking for new jobs. One of them read: "From the bottom of our hearts thank you for all the wonderful care you have provided our families."
Marsha Nelson, who has worked at the store the past three years, said in a phone interview that the appreciation and outpouring from the community "brings us to tears." She said the past two weeks have been shocking and overwhelming for everyone affiliated with the store as they begin the process of looking for new jobs.
The company is giving each worker an opportunity to apply for positions at other Wal-Mart or Sam's Club locations, but it's not clear how many will transfer. Nelson said there are several who can't because of the distance. Some workers don't have transportation. Others live paycheck to paycheck and are not able to tack on additional travel expenses.
But she said most employees are more concerned about the customers who have depended on the store.
"They're devastated," Nelson said. "They knew they could count on Wal-Mart."
HUNT FOR NEW RETAILERS
Community leaders are working to ease the loss and move forward, including searching for additional businesses to make up for the anticipated loss in sales tax revenue.
Waldron relies on a 1-cent sales tax to help fund services like fire, police and parks, according to City Clerk and Treasurer Sherry Johnston. There's a 1-cent sales tax for revenue bonds that were approved last year for water and sewer equipment, as well. Waldron also receives 40 percent of a 1-cent tax for sanitation services it shares with Scott County and the nearby city of Mansfield.
Cherry said he is actively recruiting other retail businesses to fill some of the void. While the Wal-Mart building is probably too large for one retailer, he's hoping two or three will take portions of the space.
Cherry said there's one additional hang-up: Wal-Mart leases the property. So the owners of the property must decide whether to sell or lease it to another business.
"The owners of the building, you would think, would be just working right with us or faster than we are to occupy the building," Cherry said.
In the meantime, other businesses in Waldron have stepped in to prepare for the expected swell in customers.
Humphrey, whose Waldron Drug is affiliated with Walgreens, said technicians from Fort Smith now come over three days a week to help with the increased demand. Humphrey said the store fills about 1,300 prescriptions a week, while Wal-Mart has handled about 1,800. Wal-Mart is working with Waldron Drug to help move customers over.
Harps is opening a pharmacy as well, receiving emergency approval for a temporary facility that will open for customers sometime in August. A Harps spokesman said the company is in the planning stages of a remodel for the store that would incorporate a pharmacy on-site, but there is no exact timeline for completion.
"You will see a little bit of transfer of those dollars in the city," said Mervin Jebaraj, interim director of the Center for Business and Economic Research at the University of Arkansas, Fayetteville. "But there will probably be somewhat of a drop in the sales tax dollars the city receives."
There's hope that the expansion and expected increase in customers to the remaining stores will result in employment opportunities as well. Cherry said Subway hired at least two employees from the Wal-Mart store and indicated that Dollar General is considering additional workers as well. There's also optimism that the area's largest employer, Tyson, will be able to hire some of the displaced workers, although Cherry said it would have to take place over time.
LOCAL BUSINESS REVIVAL
City officials and several residents hope Wal-Mart's decision will result in the revival of local businesses. There are some in town like a women's clothing boutique, antique store and secondhand shops, but plenty of opportunity for others now that Wal-Mart is moving out. The plea circulating around town last week was "buy local."
"We feel like five years from now we're going to have a more community-based hometown," Johnston said. "That money will be circulating in our community instead of hot-shotting to Bentonville.
"Those things are real positive. It's just going to be painful getting there."
There will be other issues and details the community will need to address as the Wal-Mart store prepares to close. The search for supplies like printer cartridges or fishing equipment will be more complicated. Fundraisers and other charitable efforts that had been led or supported by the local Wal-Mart will likely require new partnerships.
But residents are optimistic that the community is capable of working through the challenges.
"In most situations it's not necessarily the action that defines the situation, it's the reaction," said Jimmy Russell, who owns the Charbroiler restaurant. "We're a very resilient community. I do know that.
"There are a lot of people that are very passionate here and will remain that way."
SundayMonday Business on 06/25/2017
Photo by Robbie Neiswanger
A sign announces the Wal-Mart store in Waldron is closing. Shoppers have until July 14 to make their final purchases.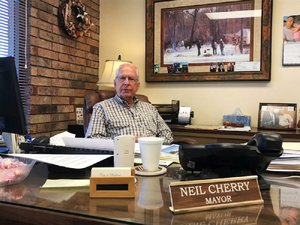 Photo by Robbie Neiswanger
Waldron Mayor Neil Cherry said he is "personally hurt" that Wal-Mart has decided to close its store in his city.
Print Headline: Wal-Mart closing dazes town
Sponsor Content
Comments