FAYETTEVILLE — An estimated 8,000 people danced, drove down and lined Dickson Street for the 11th annual NWA Pride Parade on Saturday.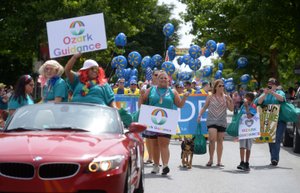 Photo by Ben Goff
NWA Democrat-Gazette/BEN GOFF @NWABENGOFF A group from Ozark Guidance marches Saturday during the Northwest Arkansas Pride Parade.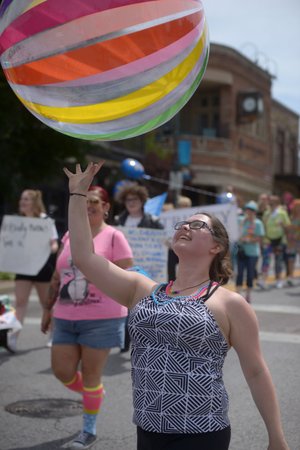 Photo by Ben Goff
NWA Democrat-Gazette/BEN GOFF @NWABENGOFF Jessica Shipman bounces a beach ball as she walks with the Pride at Northwest Arkansas Community College group Saturday during the Northwest Arkansas Pride Parade on Dickson Street in Fayetteville.
Photo by Ben Goff
NWA Democrat-Gazette/BEN GOFF @NWABENGOFF Saedi Ideas (left) and Kristi Stout watch the parade.
After the parade, booths crammed in the Fayetteville Town Center and Plaza outside offered T-shirts, face paint and plenty of goodies to the ever-flowing crowd of rainbow-attired residents and visitors. In front of the crowd Mayor Lioneld Jordan proclaimed it Gay Pride Week saying, "I encourage us to recall that the progress we have made is built on the word and deeds of ordinary people who do extraordinary things."
While the day was filled with fun activities and selfies with drag queens, some present said they felt concerned the progress made toward equal rights for the LGBTQ community was in jeopardy state and nationwide.
[EMAIL UPDATES: Get free breaking news updates and daily newsletters with top headlines delivered to your inbox]
The grand marshals of the parade, the ForFayetteville committee, spoke after Jordan about Fayetteville's Civil Rights Ordinance, which was passed in 2015 and has been fought about since. The city is being sued over by opponent group Protect Fayetteville and the state.
Some came not just to celebrate but to continue marching for a political change.
Wives Trella Leughlin and Marie Howard came from Eureka Springs, which has a diversity weekend but no parade, to ride in the parade. They have been married for 35 years "without permission and five years with permission," Leughlin said referring to their legal marriage in Iowa in August 2013.
"I love the number of people here in their weird colors and having fun, the fun of the parade," Howard said.
Leughlin, who came out as a lesbian in the '50s in Mississippi, said the parade gives her hope but her heart is broken because of President Donald Trump's hatred for gay people.
"The fact that we can march with each other in love, joy and diversity is life-affirming for me and many people, but we're still not home yet, because of 'Cheetolini,'" Leughlin said referring to Trump by her nickname for him. "He's destroying our beautiful, diverse county. Look at his actions, not just what he says."
Celebrations to unite the LGBTQ community in Northwest Arkansas date to 1975, according to the NWA Center for Equality, which organizes the parade and other week's events. Conway had its 14th Pride Parade, the oldest in the state, earlier this month. Little Rock has one in October during LGBTQ history month. Other cities such as Texarkana and Harrison also recently started hosting parades and others have smaller celebrations.
Kendra Johnson, state director for Human Rights Campaign, said pride parades aren't partisan, but have always been a march for civil rights as well as a celebration of inclusion. The organization had postcards at Saturday's event for people to fill out and it would send to Trump to voice the rights of transgender children in response to the president's administration withdrawing protections for transgender students in public schools in February.
"I think we are in a moment where there's open hostility toward otherness and a lot of the protections that have been extended to the LGBTQ community, which should just be civil rights, are being overlooked by the current administration," Johnson said.
"I think when people have the opportunity, even though it's a celebration, they are also expressing their angst in the current political environment. That's unavoidable. I don't think it's partisan, because there are LGBTQ Republicans and LGBTQ Democrats and I'm pretty sure they both want the same rights."
Remaining NWA Pride events
• Interfaith Potluck: 12:30 p.m. today at Spirit of Peace Metropolitian Community Church, 93 W Colt Square, Suite 1 in Fayetteville
• Stonewall Riots Celebration: 7 p.m. Friday at Lalaland Gallery, 641 W. Martin Luther King Jr. Blvd in Fayetteville
Source: NWA Center for Equality
Ashton Eley may be reached by [email protected] and Twitter @ NWAAshton