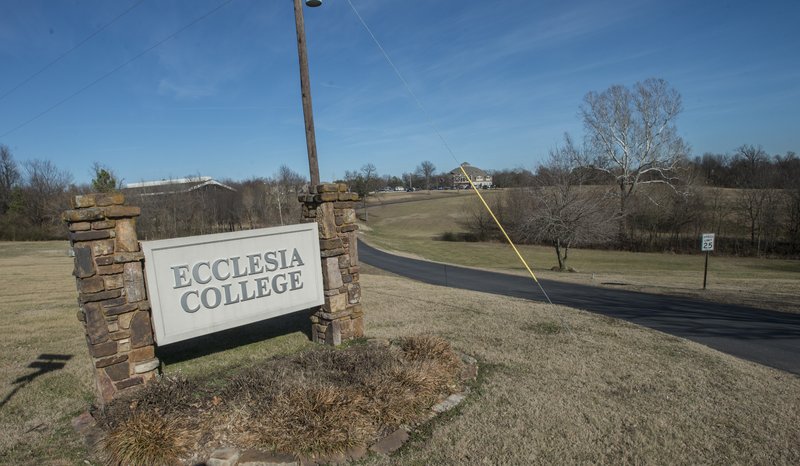 NWA Democrat-Gazette/ANTHONY REYES @NWATONYR Ecclesia, a private Christian college, Tuesday, Jan. 24, 2017 in Elm Springs.
FAYETTEVILLE -- Ecclesia College is misrepresenting a federal judge's order in refusing to release records under a state Freedom of Information Act request, according to a motion filed Monday in Washington County Circuit Court.
Arkansas legislators gave nearly $700,000 of taxpayers' money to the private Christian college in Springdale from the state's General Improvement Fund.
Motion to strike
A party's request to the court to delete insufficient defenses or immaterial, redundant, impertinent, or scandalous statements from an opponent's pleading. This can either be oral or written.
Source: uslegal.com
Jim Parsons' lawsuit, originally filed Feb. 9 in Washington County Circuit Court, seeks documents from the school related to those grants. The suit contends private organizations receiving public money, engaging in activities of public interest, carrying on work intertwined with a government body or receiving grants to promote economic development are subject to the requirements of the state law.
[EMAIL UPDATES: Get free breaking news updates and daily newsletters with top headlines delivered to your inbox]
Parsons, a former teacher and board member at the college who lives in Bella Vista, also says Ecclesia's recent claim to be a church rather than a college puts it in violation of the state Constitution by receiving state money.
Ecclesia counters the documents sought by Parsons can't be released because they're covered in a protective order issued by a federal judge hearing the corruption case of former state Sen. Jon Woods, Ecclesia President Oren Paris III and Randall Shelton Jr. Former state Rep. Micah Neal pleaded guilty earlier this year for his role in a kickback scheme involving the grants.
Joey McCutchen and Chip Sexton, Parsons' lawyers, argue U.S. District Judge Tim Brooks' protection order doesn't cover the documents requested. They say Ecclesia is misrepresenting the judge's order and perpetrating a fraud on Circuit Judge John Threet, who is hearing the Freedom of Information Act case. They seek to strike parts of Ecclesia's last filing.
The federal judge's order pertained to the individuals and not to the college itself, Parsons' attorneys contend. The motion contends Brooks' order doesn't prohibit Ecclesia from disclosing documents that were already in its possession prior to the protective order or that are business records of the school.
The motion says Ecclesia should be required to show Threet the documents in chambers to prove they are covered by Brooks' order or go to Brooks for help.
"To be completely clear and transparent, Ecclesia Inc., is invited and requested to 'put up or shut up,'" the motion says.
McCutchen and Sexton also continued their efforts to disqualify Travis Story and Bob Ballinger from representing Ecclesia. Ballinger, R-Berryville, is a lawyer practicing in Story's firm.
They claim Ballinger is a party to their lawsuit because he recommended Ecclesia get at least two grants, one of which he was the only lawmaker to make a recommendation.
The motion to disqualify says Ballinger was an active applicant for the grants not merely someone who recommended them.
Story is seeking sanctions against McCutchen and Sexton and dismissal of the lawsuit.
Ecclesia's receipt of the money entered the spotlight after Neal pleaded guilty in federal court Jan. 4 to taking a pair of kickbacks that totaled $38,000 for helping two entities receive grants through the state's General Improvement Fund.
Woods has since been indicted on 11 counts of honest services wire fraud, one count of honest services mail fraud and one count of money laundering involving the grants. Denying "honest services" by an elected official is a public corruption charge. Woods has pleaded not guilty.
Paris and Shelton, a consultant, also have been indicted on nine counts of honest services wire fraud each and one count of honest services mail fraud. Both have pleaded not guilty.
NW News on 06/14/2017
Print Headline: Motion claims Ecclesia misrepresenting judge's order
Sponsor Content
Comments