CENTERTON -- On April 30, Jose Lopez was scrambling.
Chosen to head the National Premier Soccer League's newest expansion team in Arkansas, Ozark FC, he had just one week to build a roster and field a team before the team's first scrimmage. On May 1, tryouts began.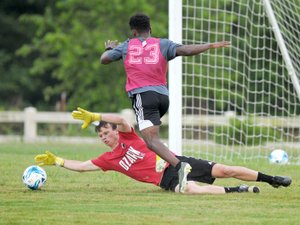 NWA Democrat-Gazette/BEN GOFF @NWABENGOFF Wes Holifield (bottom) makes a save as Corey Ferguson attempts to score Thursday during Ozark Futbol Club's practice at the Sporting Arkansas fields in Centerton. The amateur soccer team is entering it's first season competing in the National Premier Soccer League.
Founded in January and based in Springdale, Ozark FC became the second NPSL team in the state, joining the Little Rock Rangers, whose home matches are played in War Memorial Stadium. Lopez's club began behind the proverbial eight-ball when family health issues arose for co-owner Will Broyles, previously the owner of the Shreveport (La.) Rafters.
"It's been pretty hectic," Lopez said. "The first three weeks was pretty hectic as far as trying to get everything going."
But he did get things rolling. At the May 1 tryouts, more than 100 athletes showed for the two-hour trial. Twenty-eight players Lopez pinned were invited to the team's first scrimmage and, following the match, 18 were chosen to complete the roster.
Because of the late start, Lopez also had to hustle to find facilities, and came away shocked at the willingness to help from other clubs in the region. David Gough, director of coaching with Sporting Arkansas, provided a practice field in Centerton for Ozark FC's use, and John Brown University opened its soccer field for the club's home games in its inaugural season.
"We didn't have enough time to get everything situated where we want it to be so we can run it like a regular club does," Lopez said. "But people are excited to have a team in Springdale."
Lopez said Broyles is planning to build a stadium next summer in Springdale, a soccer-rich city he felt would be an ideal fit for a semi-pro club with potential to grow. The next step is setting up housing for players during the May-July season, which, in turn, will ease the recruiting process for Lopez.
In his last stop at FC Wichita, Lopez recruited Division I talent, NAIA All-Americans and junior college transfers and found success. He's hoping to do the same in Northwest Arkansas and build from there.
Irvin Sosa, a Fayetteville grad and the club's soon-to-be 26-year-old team captain, heard about tryouts through friends and decided to give the team a shot. With time, he believes Ozark FC can become very successful.
"You can see these guys here putting their hearts into it, and they want to see it grow," said Sosa, who devotes time to the club after his shifts at Wal-Mart. "It's our team now, and we've got to represent the people who live here and love the sport. We'll do it for ourselves, we'll do it for the community and for each other."
Shamus Jaeger, a 35-year-old project manager born and raised in Springdale, sees all of Northwest Arkansas embracing Ozark FC. The team also provides the opportunity for college players -- Lopez's target audience -- to return home in the summer and continue playing at a high level, he said.
For now, as the team battles through its first season, its all about laying a foundation for Lopez. The team is a step behind opposing clubs talent-wise, but he has already garnered buy-in from his players.
"Personally, I'm enjoying it," said Lopez, the oldest of six children growing up. "I've always kind of been in a leader role so I've always had responsibilities to deal with. Now, we just have to get the results to go in our favor. It's going in the right direction."
Ozark FC (0-3) hosts Dallas City FC today at JBU at 7 p.m. All home matches this season are free to attend.
Sports on 06/03/2017