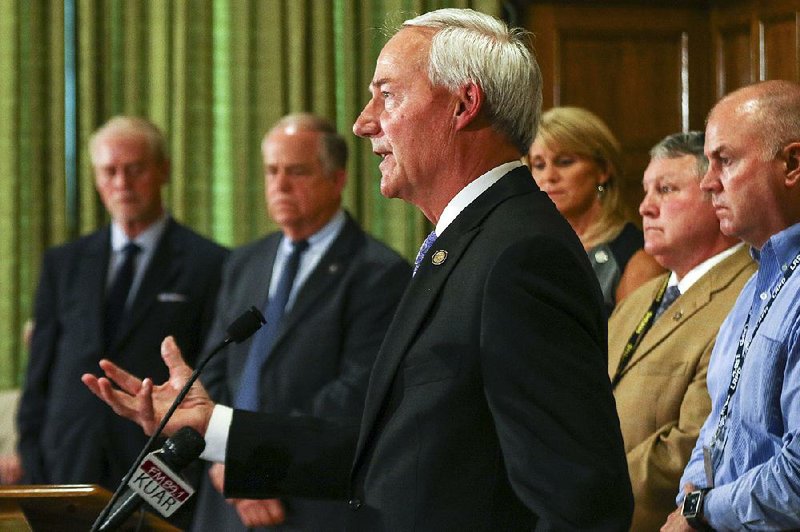 "The looming cloud of violence harms us all — not just Little Rock, but the entire state," Gov. Asa Hutchinson said Thursday in announcing a new anti-crime investigative group. - Photo by Mitchell PE Masilun
Gov. Asa Hutchinson on Thursday announced that state, local and federal authorities had formed an investigative force to stem violent crime in Little Rock, five days after more than two dozen people were injured in a shootout at a nightclub downtown.
He said the group will share information and resources to identify and arrest violent criminals in the city. The Little Rock Police Department, the Pulaski County sheriff's office, the Arkansas State Police, the FBI and the Arkansas Department of Community Correction are among the participating agencies.
Those agencies routinely work together on task forces and criminal investigations, but Hutchinson said "a more focused and coordinated effort" is needed to address an increase in violent crime in the state capital. Hutchinson said that effort also will include heightened supervision of parolees, particularly those convicted of violent offenses.
"The looming cloud of violence harms us all -- not just Little Rock, but the entire state," Hutchinson said. "And when you think about Little Rock as our seat of government, as a center for tourism, medical services and economic development, my focus as an economic developer is to bring people to the state of Arkansas who want to live and work here and see our incredible quality of life.
"And if Little Rock is not safe, then we cannot succeed at our goals as a state."
The shooting Saturday morning at Power Ultra Lounge at 220 W. Sixth St. -- blocks from Little Rock's financial district, cultural sites and tourist attractions -- left 25 people injured by gunfire. Three others were hurt as screaming clubgoers rushed for safety. The injured ranged in age from 16 to 35.
Police quickly reported that the shooting was not an act of terrorism but a dispute between people attending a performance by Memphis rapper Ricky Hampton. The department said it's investigating whether feuding Little Rock gangs, which police have connected to numerous other recent crimes in the city, were involved in the shooting.
Police on Thursday had made no arrests in the case and no warrants had been issued, according to a department spokesman.
Assistant Chief Wayne Bewley said at a news conference Thursday that an investigation is ongoing.
"We feel that we are doing a very good job in making progress in our investigation," he said.
The nightclub shooting is the bloodiest case in a surge of violent crime in Little Rock.
There had been 1,386 incidents of violent crime -- homicide, robbery, rape and aggravated assault -- this year in the city as of June 26, up 24 percent from what police reported through the same date in 2016, according to preliminary data.
City Manager Bruce Moore told Little Rock Mayor Mark Stodola and city directors Sunday that "the performer from Memphis was involved in a feud with another performer and was the shooter" at Power Ultra Lounge, according to an email obtained by the Arkansas Democrat-Gazette.
Moore released the email under the state Freedom of Information Act.
It was unclear Thursday whether the information in Moore's email was accurate. Little Rock police said Hampton, whose stage name is Finese 2Tymes, is a "person of interest" in the shooting. The department has not called Hampton a suspect.
Witness accounts of the shooting vary. A man who said he was sitting next to the stage when Hampton was performing said the gunfire came from the crowd. Others said someone on the stage was shooting.
Little Rock Police Chief Kenton Buckner, in a phone call Thursday, declined to comment on Moore's email.
"I'm not familiar with the email, nor have I seen the email," Buckner said. "As I stated to the [city Board of Directors] the other night, the Police Department does not publicly discuss active and ongoing investigations."
Pulaski County Prosecuting Attorney Larry Jegley also declined to discuss the email.
"I'm sorry anybody's commenting on anything that has to do with an open investigation at this point," Jegley said. "I'll have to withhold any comment on that."
Moore, who was appointed city manager in 2002, said in an interview that he was trying to keep elected officials informed. He sent the email with "Confidential Update" in the subject line and asked that recipients "not share this detailed information."
"Again, this was an evolving situation," Moore said. "I was also very clear that I didn't want to interfere with the investigation."
Moore said witnesses who were at the Power Ultra Lounge called him directly to report the information. He said it did not come from the Police Department.
"There has been multiple reports that there were people firing from the stage," Moore said. "Who that was, we're still trying to figure out."
Stodola on Thursday confirmed that he received the email but said he has not "corroborated" the information. The mayor said he has not spoken to any witnesses.
"I'm letting the police do their job," Stodola, a former prosecuting attorney, said. "I have not gotten any update from them other than the investigation is ongoing, it's very active and they're working a lot of different leads."
Moore sent the email at 9:58 a.m. Sunday, after federal authorities arrested Hampton in Alabama in an unrelated case. Hampton, 25, is accused of shooting a woman in a traffic dispute outside a nightclub in Forrest City in the early hours of June 25. He faces charges of aggravated assault and a federal charge of being a felon in possession of a firearm.
An attorney had not been lined up to represent Hampton in the federal case as of Thursday, according to the U.S. Eastern District of Arkansas' clerk's office.
Authorities also arrested Kentrell Gwynn, 25, according to reports. Moore, in his email Sunday, said Hampton's "bodyguard" also had been arrested in Birmingham.
Hampton was being held Thursday evening in the Jefferson County jail in Birmingham as a "fugitive from justice," and no bail had been set, according to the online inmate roster. He is scheduled to appear in an Alabama district court at 9 a.m. today, according to an online docket.
Hutchinson said at a news conference Thursday that the interagency group working to fight violent crime in Little Rock will work out of one building.
"There has not been agents and officers from each of the agencies that are co-located in one location, working side by side in a targeted fashion," he said. "Anyone in law enforcement will tell you there's no substitute for that ingredient."
Hutchinson, a former U.S. attorney, served as an undersecretary for the U.S. Department of Homeland Security and as director of the federal Drug Enforcement Administration under President George W. Bush.
No budget had been set for the group, but Hutchinson said the group's expenses will be monitored. Hutchinson said the state's Alcoholic Beverage Control Division will enforce closing times and monitor businesses more closely for beverage violations beginning this week in Pulaski County.
Pulaski County Sheriff Doc Holladay said the state's largest jail will hold those arrested in the joint crime-fighting initiative.
The jail, which is built to hold 1,210 inmates, has struggled with crowding in recent years and has closed its doors to all but the most serious offenders on several occasions. It continues to release inmates accused of low-level offenses before their court dates to control the inmate population.
"I want to assure you that the jail will be utilized to meet the needs of this task force, to meet the needs of the citizens of Pulaski County and all of law enforcement," Holladay said.
The FBI field office in Little Rock referred questions on the nightclub shooting to the Little Rock Police Department, which is leading the investigation.
Special Agent in Charge Diane Upchurch said the agency stands ready to help.
"I think we've all seen enough violent crime in this city," she said.
Little Rock police addressed the nightclub shooting Thursday evening at Chat with the Chief, one of its annual series of public forums. About 60 people attended the discussion at Hall High School.
One of those people, Stacey Allen, said he's a former gang member who works with anti-violence programs in Little Rock. He called on other attendees to join their efforts.
"It starts in your home," Allen said. "It starts with you."
A Section on 07/07/2017
Print Headline: U.S., state to help LR tamp violence
Sponsor Content
Comments