YARBRO -- Tom Burnham farms 7,500 acres of soybeans in Mississippi County and in two of Missouri's boot heel counties.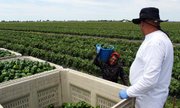 "Every acre that has been planted long enough to show damage has that damage," Burnham said recently from his farm shop in Yarbro (Mississippi County), an unincorporated town about 4 miles north of downtown Blytheville and an even shorter ride by tractor to the Missouri-Arkansas line.
The damage, he said, is from dicamba, a herbicide used by some farmers in their fight against pigweed, which has grown resistant to glyphosate, commonly known as Roundup.
Burnham is among hundreds of Arkansas farmers who have reported crop damage to the state Plant Board, a part of the Department of Agriculture. Nearly 500 complaints had been filed as of Thursday, compared to about two dozen last year.
The Plant Board voted 9-5 on June 23 to recommend an emergency 120-day ban on the sale and use of dicamba.
Working with other consultants, Ford Baldwin, a consultant from Austin in Lonoke County and a former weed scientist with the University of Arkansas System Division of Agriculture, developed a "conservative" estimate of up to 1 million acres of damaged soybeans.
Baldwin has made several trips into northeast Arkansas since the first complaints were filed in early June.
At a market rate of $10 a bushel for beans and with a 25 percent reduction in yield at harvest, the cost to soybean farmers alone could be $250 million, he said. "I've never seen anything like it," Baldwin said. "This is devastating. It will put a lot of people out of business. Farming can't take that kind of loss."
Further damage can be stopped now -- if the ban were in place, he said. If dicamba spraying continues into July, as plants move into the reproductive stage, the problems will worsen and move beyond yield loss into seed production, he said.
While soybeans are particularly sensitive to dicamba, farmers also are reporting damage to watermelons, vegetables and peanuts. Residents in towns such as Keiser, Bay and Rector have reported damage to their trees, shrubs and vegetable gardens.
Sue Gillihan, owner of Sue's Garden in Scott (Lonoke County), is not among them.
She lost 8,000 heirloom tomato plants to an off-target blast of dicamba last year, halting her sales to Kroger and Fresh Market grocery stores. "We were just too afraid to [grow them] again this year," Gillihan said.
"There are no winners in this big ol' mess," said Danny Dunigan, a farm consultant in Mississippi and Craighead counties, said recently during a lunch break away from the field.
The success of Roundup helped Monsanto become the corporate giant it is today.
"Roundup saved farmers who were only marginally talented to begin with," Dunigan said. "Roundup helped them become really good farmers."
But farmers' over-reliance on the herbicide led to tougher weeds, such as pigweed, that have developed a tolerance to it.
"Roundup was a silver bullet, but I can promise you, dicamba is not your silver bullet," Dunigan said. "We've got a lot of farmers -- true farmers -- just scratching their heads on what to do next."
With Roundup becoming ineffective, Monsanto genetically modified cotton and soybean seeds to be tolerant of dicamba. The company began marketing its Xtend technology -- the dicamba cotton in 2015 and the dicamba soybeans in 2016 -- despite not yet having federal approval for the accompanying herbicide.
Arkansas farmers planted only a couple hundred thousand acres of Xtend beans last year. Monsanto has said that its Xtend beans are on 1.5 million acres in Arkansas this year. With about 3 million acres devoted to soybeans each year, Arkansas consistently is among the nation's 10 largest soybean producers.
Increased acreage of the Xtend beans led to an increase in spraying of dicamba, and the increased use of dicamba led to the increase in complaints.
Xtortion beans
Only one dicamba formulation -- BASF's Engenia -- is registered for in-crop use in Arkansas. Monsanto's new dicamba herbicide, called Xtendimax with VaporGrip, won federal approval in December but wasn't allowed in Arkansas this year by the Plant Board because Monsanto hadn't allowed weed scientists with the state to study the herbicide's volatility.
That study was underway this summer -- until the UA's experiment field at Keiser in Mississippi County was hit by off-target drift.
"Monsanto never should have been allowed to sell the seed until the herbicide was available," Burnham, the Mississippi County soybean farmer, said. "A lot of people around here are calling the Xtend beans the Xtortion beans, because they're having to plant the dicamba crops as a defense mechanism."
The Plant Board, he said, is working hard to protect all farmers. "It's the most proactive board in the United States, and those UA weed scientists are the best in the business. And I say that as an ASU [Arkansas State University] man."
Burnham said the situation will get worse before it gets better.
"Once the fields dry up and with people thinking there's a deadline or ban facing them, they'll be spraying night and day," he said.
Burnham said few, if any, farmers believe the problems are caused by physical drift of the herbicide. Instead, on warm nights with no wind, the chemical is lifting off the sprayed plants and converting back to a liquid or gas form and traveling miles off target, Burnham said.
"This stuff is lifting itself off plants at night and moving," he said.
Some 16 days after the first signs of damage were spotted, his plants have yet to grow out of the damage, he said. "That's not a very good sign of things to come," he said.
Dunigan, the northeast Arkansas farm consultant, said he didn't doubt that some farmers are using the illegal, more volatile dicamba. Spraying Engenia, he said, costs farmers about $9 an acre, compared with about $2 an acre for other formulations.
"The overall farm economy is forcing farmers to cut corners and try to save money, but in doing so, they are destroying relationships and friendships," he said.
Asked if there is a solution, Dunigan said, "Either we all adopt the Xtend technology or none of us do, because there is no way both crop systems can co-exist without causing damage to somebody. But if we all go with the Xtend technology, that doesn't prevent damage to peanuts, melons and people's gardens and trees."
Dispute turned deadly
In Bay, on the southeastern edge of Jonesboro, Sharon Pagan said her tomato garden and trees have been damaged. "The Plant Board inspector said the tomatoes might not even ripen, so we're giving them out so people can have fried green tomatoes," she said.
A neighbor's plum tree also appears to be dead, after years of producing fruit, she said.
A couple of miles north of Leachville, near the Missouri line, workers with H-2A farm visas pick bell peppers at Hawkins Farms. Some 160 acres of cucumbers, squash, cabbage, cantaloupe, watermelons, peppers and zucchini and a test plot farmed by Cole Hawkins so far are unscathed, but the 1,200 acres of peanuts and 2,200 acres of cotton being raised by his three sons haven't been as fortunate.
The peanuts have been hit by dicamba, and the cotton by 2,4-D, Hawkins said. Any yield loss won't be known until closer to harvest this fall, he said.
Hawkins, whose family primarily raised cotton for decades, invested heavily in the produce business a couple of years ago, including the construction of a facility where vegetables are washed, sorted by size, refrigerated and packed for shipping.
Dicamba threatens that investment and hard work, he said.
Hawkins' brother-in-law, Mike Wallace, 55, of nearby Monette, was shot and killed last October during a dispute with a farm hand of another farmer over dicamba damage to Wallace's crops. The first-degree murder trial of Curtis Allan Jones has been set for September 11-15 in Mississippi County Circuit Court in Blytheville.
"No amount of crop damage can equal that (Wallace's death)," Hawkins said, "but this is getting really serious."
In Trumann, Gary Goodwin, 62, has all but shut down his produce stand after his 4-acre commercial garden of tomatoes, watermelons and cantaloupe was hit by dicamba. Almost everything is dead, putting an end to a business that brings in about $35,000 a year. His crops were damaged last year too, he said.
"They knew dicamba had problems last year, but they let it be sprayed again," he said. "I'm just a small farmer whose livelihood had been taken away."
Without Engenia, farmers who have planted the dicamba-tolerant seeds can still use Roundup, even though much of its effectiveness against pigweed has been lost. They also can turn to hoe-wielding crews to remove weeds from the fields -- a job that all but disappeared after the introduction, and success, of Roundup.
Danny Finch of Jonesboro, a Plant Board member and Jonesboro farmer whose crops have been damaged, said he had a seven-member crew who just finished hand-weeding 88 acres. At $9 an hour per worker, clearing that field of weeds cost $2,200, he said.
Reed Storey, a Marvell farmer, planted a few acres of the Xtend beans as a buffer around beans not dicamba tolerant but isn't spraying Engenia, to make sure he doesn't hurt neighbors' crops.
Storey had more than 400 acres of crops damaged last year, resulting in $70,000 in yield losses. Some 60-170 acres show varying signs of damage so far this year, he said. "Had we not planted some Xtend (crops), all we have would be damaged," Storey told the Plant Board recently.
Perry Galloway of Gregory in Woodruff County has seen the ups and downs of Arkansas agriculture in just three seasons.
In 2015, he won the state's soybean-growing contest, with a per-acre yield of 108.76 bushels. In 2016, he had to plow up about a hundred of acres of beans because of an infestation of pigweed. In 2017, he switched to Monsanto's dicamba-tolerant crops and, after one round so far of spraying Engenia on 4,894 acres of soybeans on 65 fields, he's free of pigweed.
"I'm sleeping a lot better at night," he said recently. "It's nice driving home, seeing all those clean fields."
Galloway said he doesn't agree with the Plant Board's recommendation to ban Engenia but recognizes its predicament.
He looked at damaged crops in Craighead and Mississippi counties and in the Missouri boot heel last week. "There was damage as far as the eye could see," he said. "I am definitely for the technology, but I will say we certainly have a problem," Galloway said.
Galloway accidentally hit a neighbor's farm with a dose of Engenia, likely because of a combination of physical drift and the chemical's inversion overnight into a gas.
"I followed the label and did the very best I could," he said.
SundayMonday Business on 06/30/2017