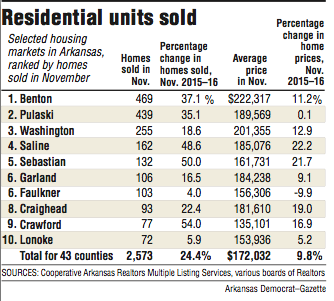 Information about residential units sold in November in selected housing markets in Arkansas.
Home sales in Arkansas jumped almost 25 percent in November compared with November 2015, the Arkansas Realtors Association said Wednesday.
The improvement indicates that the housing boom still is strong in the state, said Michael Pakko, chief economist at the Institute for Economic Advancement at the University of Arkansas at Little Rock.
Typically, November is one of the months when home sales drop off, Pakko said.
"October, November and December [normally] drop off dramatically," Pakko said. "And the lowest month of the year is always January."
Monthly increases of 25 percent in home sales have not been seen in Arkansas since 2013, said Kathy Deck, director of the Center for Business and Economic Research at the University of Arkansas in Fayetteville.
"If you look, it was across the board," Deck said. "All of the biggest counties [were up significantly]. Benton and Pulaski County had more than 100 more homes sold than in November of 2015."
Four of the top five counties in home sales beat November 2015's performance by more than 35 percent each. Sales were up 50 percent in Sebastian County, 49 percent in Saline County, 37 percent in Benton County and 35 percent in Pulaski County.
Benton County was again the top producing county in the 43-county area surveyed by the association, with 469 houses sold, followed by Pulaski County with 439 sold and Washington County with 255 home sales.
"When you look at the metro areas, there was a lot of activity," Deck said.
One reason for the big increases was the anticipation homebuyers had of mortgage rates rising, Deck said.
"The Federal Reserve had not raised rates [in November] but there was a lot of talk that that was coming," Deck said. "That combined with the consistent increases in home prices meant people could afford to change houses."
House prices were up almost 10 percent in November compared with the previous November. Prices rose about 22 percent in Saline and Sebastian counties, 13 percent in Washington County and more than 11 percent in Benton County.
The double-digit gains in home prices can't continue, Deck said.
"What should happen, of course, is that homebuilders should rush in and flood the market with new houses," Deck said.
For the first 11 months of 2016, there were almost 31,400 homes sold in the state, an almost 10 percent rise over the same period in 2015.
Benton County Realtors sold more than 5,600 homes through November, a 16 percent increase over the first 11 months of 2015. Pulaski County was second with more than 5,130 homes sold, up more than 11 percent, and Washington County was third with about 3,300 homes sold, a 16 percent increase.
"This is the third year that we've seen year-over-year gains consistently through the year," Pakko said. "2013 was a rebound and 2014 stabilized. Now we've seen continued increase since then. I think we're about back to the levels that we had before the housing bubble collapsed [beginning in 2007]."
Even discounting refinancing mortgages, 2016 was a busy year for lenders, said Scott McElmurry, chief executive officer of Bank of Little Rock Mortgage.
December and the first half of January were busier than the same periods the previous year for his firm, McElmurry said.
"Last year was not a record year by any means," McElmurry said. "There is some cautious optimism from the industry that sales will continue to increase relative to the past."
Mortgage rates are around 4 percent for a 30-year loan, McElmurry said. For a 15-year government mortgage, rates got below 3 percent through the summer, McElmurry said.
Business on 01/19/2017
Print Headline: State home sales rise by 25% in November
Sponsor Content
Comments