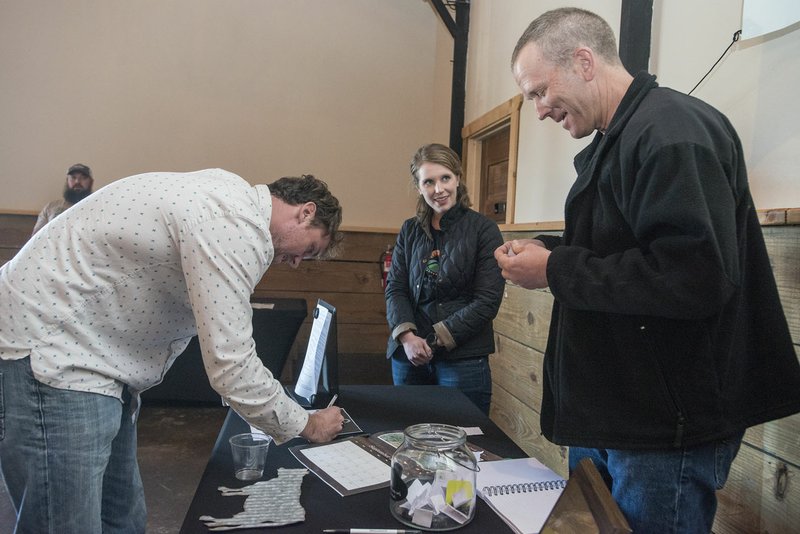 Adam Riley (from left), of Fayetteville, talks Thursday with Aubree Hays and Brent Fry, both with Osage Creek Farms, at the Arkansas Grown Program at Sassafras Springs Vineyard in Springdale. Osage Creek was one of the vendors available to talk with attendees at the event. The event was the final of four regional conversation events to establish connections between farmers, producers and potential buyers. - Photo by Anthony Reyes
SPRINGDALE -- Northwest Arkansas farmers and growers are hearing requests for more organic produce and protein, but providing those options can be tricky and expensive.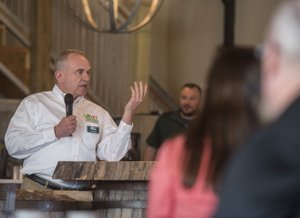 Photo by Anthony Reyes
Jerry Martin with Vet Veggies talks to the crowd Thursday at the Arkansas Grown Program at Sassafras Springs Vineyard in Springdale. Vet Veggies, based in Springdale, helps veterans start farming in limited space year round.
Transitioning farms to grow things organically can be a time-consuming endeavor. Once produce is ready, there's no guarantee restaurants will buy it. And in some seasons, their products are so highly sought after it's hard to meet demand.
Arkansas Grown Program
The program was developed by the Arkansas Agriculture Department to help potential buyers locate Arkansas producers. Any resident of Arkansas who produces an agricultural product in the state may list their marketing information on its website. A total of 918 product entries exist on the site.
Source: Staff report
More than 75 farmers and growers, chefs and restaurateurs, food product marketers and nonprofit workers gathered to exchange information about successfully getting their food to more restaurants and retailers during a regional "Local Conversation" event at Sassafras Springs Vineyard on Thursday.
Molly Behrens, a market grower who lives in the Rogers area, said she attended for information and to find out about other helpful events for someone in her new line of work.
"I wanted to grow food and good stuff, mostly produce and eggs, but I'd like to eventually do berries and other things too," Behrens said.
Attendees had ample time to meet each other and speak with a number of businesses and farmers with the same agenda to produce organic products, such as Ozark Herbal Creation, Osage Creek Farms, Keels Creek Winery and Hanna Family Ranch.
The event was the fourth hosted by the Agriculture Department's Arkansas Grown Program and included an expo and guest speakers on agricultural topics. Previous sessions were in Hope, Jonesboro and the University of Arkansas at Monticello. A final event to reflect on feedback from the regions will be in Little Rock this fall, said Adriane Barnes, director of communications for the Agriculture Department.
Adrienne Shaunfield, owner of the Farmers Table restaurant, spoke candidly about what farmers could do to establish working relationships with restaurant owners. She works with Northwest Arkansas growers and one beef farmer to supply her restaurant in Fayetteville.
[EMAIL UPDATES: Get free breaking news updates and daily newsletters with top headlines delivered to your inbox]
Shaunfield advised getting to know individual restaurateurs' and chefs' preferences, establishing what they pay for various products so the grower can match it, and providing samples and unique products.
"Figure out how they like the food to come," Shaunfield said. "They're looking for quality and consistency in delivery, produce size and pricing. Do they want it in a box or bag, by the pound, by the case, [know] what they're looking for and what works best for their storage situation."
Those marketing rarer products, such as berries, tumeric and herbs, would be more successful than starting with tomatoes and other produce commonly grown in the area, she said. Reliability and communication of how the farm's circumstances might affect the restaurant also are priorities.
"Communicating if something goes wrong is big," Shaunfield said. Restaurants "can't change their menu all of a sudden because greens caught on fire. If you tell us when produce is looking good and we can expect it in a couple of weeks, we'll plan around it."
Some growers and product makers said the process of making their businesses organic and more sustainable was time-consuming but worth the effort.
"I wanted to do a barbecue sauce and take out any high fructose corn syrup but not compromise on taste," said J.J. Lockhart, owner of JJ's All Natural BBQ Sauce.
He worked with officials on the University of Arkansas campus to develop what he hoped would be an organic and tasty product before securing space on the shelves of several natural food stores.
"I poured many gallons of sauce down the drain in the process," Lockhart said.
Aubree Hayes is a member of the fourth generation of her family to work on the Osage Creek Farm, which she has helped transition from being a conventional farm for 80 years to providing all grass-fed beef.
"We feel like it's better for people and the environment to switch to a grass-fed product," Hayes said. Her training as a dietitian enlightened the family's perspective, she said. "When [cows] can live in the pasture and eat grass their whole life, that has a lower impact. The meat is higher in Omega-3."
Jerry Martin, owner of Vet Veggies in Springdale, is using the freight farms model to employ veterans with hydroponic farming. The garden beds are in retired tractor-trailers. It allows the growth of a large amount of produce with only minimal water, such as 4,500 heads of lettuce with only 10 gallons of water per day, for example.
"This way we can get people into farming for a third of the cost" of traditional farming, Martin said. "They can have a cash flow and a livable wage, a good life."
Others have found once they began to offer an organic product, they struggled to keep up with market demand.
Will Hanna of the Hanna Family Ranch raises 40 hogs and 20 lambs in a year while restaurateurs such as Shaunfield struggle to find enough local bacon to serve.
"We sell to restaurants in Bentonville, and it sells out very quickly," despite the farm being only 3 years old, Hanna said. "One restaurant ordered 20 lambs, so I hope the girls can kick out a couple more [before then]."
If farmers find themselves producing more food than they know what to do with, there's an outlet for that, too.
Brandon Chapman, food sourcing and logistics programs coordinator for the Arkansas Hunger Relief Alliance, wanted to connect with farmers to further the nonprofit group's mission to prevent food waste. Arkansas Hunger Relief salvaged and redirected 2 million pounds of food in 2016 and expects the same amount this year.
"We have high food insecurity around the state," Chapman said.
The organization accepts and harvests farmers' excess products or leftovers and then delivers it to local food banks.
"In the food banks, there's a major deficit of fresh protein," Chapman said. "We're now taking cash donations to purchase brown beef, or if you have a bull jumping a fence or just have a calf and want to be charitable, we can put that ground beef in the food bank."
NW News on 02/27/2017
Print Headline: Farmers convene, speak about produce marketing trends
Sponsor Content
Comments