YELLOWSTONE NATIONAL PARK -- This park in winter is a picture-taker's dream. Even for amateur photographers who can hardly move for the multiple layers of clothes that keep visitors from the sunny South from nearly freezing to death.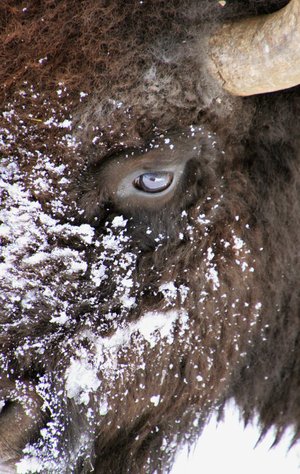 Photo by Frank Fellone
Yellowstone National Park is home to a wide variety of wildlife. Perhaps the animal most closely associated with the park is the bison. This bison's face is covered with snow from digging to find whatever vegetation is available in the dead of winter.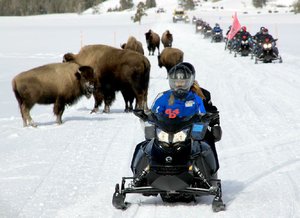 Photo by Frank Fellone
A line of snowmobilers passes by a cluster of bison in Yellowstone Park. The animals are said to be docile — until they're not. The bison are wild animals, guides repeat with great emphasis, and should be treated as such.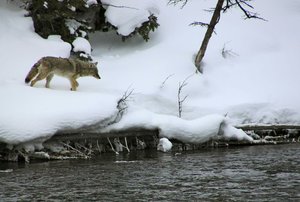 Photo by Frank Fellone
A coyote moves along the bank of the Madison River in Yellowstone National Park. Fox, coyote and wolves are described to visitors as small dog, medium dog and big dog. Guides advise people to give all of those wild animals their proper space.
Put it this way: Wear long johns or suffer the shivering consequences.
Driving from Little Rock to Yellowstone National Park would be a trip of about 1,600 miles. In the dead of winter, that would be interesting, to say the least.
Alaska, Allegiant, American, Delta, Frontier and United airlines fly into Bozeman, Mont., whose airport is 90 miles from West Yellowstone.
An alternative is to fly into Jackson Hole, Wyo., whose airport is served by American, Delta, SkyWest and United airlines. An advantage of flying here is that it lands right in Grand Teton National Park.
The drive from the airport to West Yellowstone is about 125 miles, and goes over Teton Pass, through part of Idaho and into Montana.
Information about what to do and where to stay in and around West Yellowstone can be found at destinationyellowstone.com.
Who goes to Yellowstone -- in the northwest corner of Wyoming -- in the dead of winter?
Not many people, and that's the charm.
Dave, our guide on an eight-hour excursion into the park, won't work as a guide during the summer, he said. Too many people.
The stats tell the story. Yellowstone gets about 4 million visitors a year, according to figures compiled by the National Park Service. About 900,000 of them come in July, about a quarter of all visitors. That's about 30,000 visitors a day.
Other busy months include May, June, August and September.
January barely moves the needle. Over the years 2012-2016, January averaged 29,991 visitors, or 0.73 percent of the total. February, March and April have visitor numbers similar to January.
Summers feature what Dave called bison jams. People stop their vehicles to see the bison. And then the bison, curious critters, will surround the vehicle. Given the sheer volume of traffic, bison jams are inevitable.
The only jam our group encountered was a sizable cluster of photographers who gathered near the Madison River after word got around about a bobcat. The animal had a kill, which looked like a bird, and was nonchalant about the nearby humanity. He would occasionally lift his head over the snow for a peek.
Yellowstone first surpassed 3 million visitors in 1992, park service numbers show, and fluctuated between 2.8 million and 3.1 million until 2009. Then came 2009, with a record 3.3 million. And 2015, with more than 4 million.
The park averages 150 inches of snow a year, so there's still time to go this year for winter. January is Yellowstone's coldest month, too. The average minimum temperature is 9.6 degrees. Subzero temperatures are common at night.
Boots, check. Wool socks, check. Hat, check. Gloves, check.
Long johns, double check.
AN EIGHT-HOUR DAY
Yellowstone is mostly closed to normal traffic in the winter. Travel is by ski, snowshoe, snowmobile and snow coach. Most roads close to traffic in early November. One road, between Mammoth Hot Springs and the northeast entrance, is open to regular traffic all year.
Our travel was by snow coach, a small one, a vehicle that carried about 10 people and resembled a can on skis. It had a name -- DeLacy -- and was manufactured decades ago by Bombardier Corp. of Canada, although now it was equipped with a Chevrolet V-8 engine.
DeLacy had two seats up front, benches in the back, and two hatches. One was in the front and the other, made of heavy plastic, was in the back. It was from this back hatch that eager photographers leapt, awkwardly, when wildlife was spotted.
There was a lot of leaping.
The first animal we saw was a magnificent elk snuggled into a snowy hillside. The second was a coyote, on the other side of the Madison River. Bald eagles are around and bison appear multitudinous.
Coyotes are one of three canine species in the park, including fox and wolf. They were described by Dave as small dog, medium dog and big dog. Stay away from all those dogs, he said, along with every other wild animal in the park. Bears aren't a problem in winter as they are hibernating.
Our tour started in downtown West Yellowstone, went through the gate through which most of those summer visitors enter, and essentially did a round trip to Old Faithful and back. Lunch was at the Old Faithful Geyser Grill, with a previous stop at a bathroom and a warming hut. Over the course of that eight hours, we only saw a small piece of the park. Yellowstone is about 3,500 square miles, roughly two-thirds the size of Connecticut.
About Old Faithful: It's the most famous geyser in the world. Better to see it in the winter, when the crowds are much smaller. That way, the disappointment won't be magnified by teeming humanity. It really is faithful -- erupting seven minutes into the 10-minute window the park service predicted. But the other winter sights surpass Old Faithful.
SAFETY FIRST AND ALWAYS
Yellowstone can be a dangerous place. Park historian Lee Whittlesey in 2014 updated his 1995 book, Death in Yellowstone: Accidents and Foolhardiness in the First National Park. He could have updated it again in 2016 when Colin Nathaniel Scott, 23, fell into a thermal pool. Scott was reported to have walked off the boardwalk at Norris Geyser Basin. The water in the 10-foot-deep pool was more than 212 degrees. The heat and acidity of the water dissolved the body.
Another hazard is wildlife. Dave, our guide, was especially upset at seeing a few snowmobilers stop, dismount and get very close to some bison. An adult bull bison can weigh up to 2,000 pounds. As Dave explained, bison are docile -- until they're not. Getting too close is asking for trouble.
The park recommends staying at least 25 yards from a bison. Or pop up through the hatch of a snowcoach for a photo. Be sure to wear a hat.
Travel on 02/26/2017