Given the contentious election cycle that ended in November and the continuing political intrigue of the new year, it's not at all surprising that both the University of Arkansas and the University of Arkansas at Fort Smith chose Aristophanes' politically themed comedy Lysistrata for their theater seasons. But neither school's theater department could have predicted how on-the-nose the Greek comedy would appear in today's world of women's marches and female-centered activism. The play details how Athenian women banded together to end the Peloponnesian War -- by withholding sex from their soldier husbands.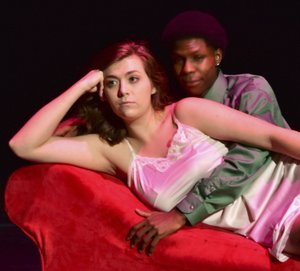 Photo by Courtesy Photo
"Lysistrata," Aristophanes' comedy chronicling Athens women's efforts to end the Peloponnesian War by withholding sex from their husbands and lovers, will be on stage this month in two different versions presented by the University of Arkansas and the University of Arkansas at Fort Smith (pictured).
The play and its theme -- women's activism -- might be the same, but the similarities between the two productions ends there. Each director has a unique take on the script.
FAQ
WHAT — Lysistrata by Aristophanes, directed by Morgan Hicks
WHEN — Feb. 17-18, Feb. 22-23 at 7:30 p.m.; Feb. 19 at 2 p.m.
WHERE — University of Arkansas Fine Arts Center, 340 N. Garland Ave., Fayetteville
COST — $5 to $20
INFORMATION — theatre.uark.edu
FAQ
WHAT — Lysistrata by Aristophanes, directed by David Harris
WHEN — 7:30 p.m. Feb. 23-25 and Feb. 27-28
WHERE — Breedlove Auditorium, 5120 Grand Ave., Fort Smith
COST — $6, General admission; free to UAFS students, faculty and staff.
INFORMATION— tickets.uafs.edu
"There are certainly nods to contemporary politics," laughs Morgan Hicks, adjunct professor and director of the University of Arkansas production. "We were working on a protest scene on the day the Women's March on Washington took place."
Hicks says she was determined to make the script relevant to the UA Theatre's audience, which includes a majority of college students.
"We want to make sure if we're doing a classic piece that it means something to them and has relevance to their lives."
Hicks routinely teaches Lysistrata in her theater history classes, where it is a popular script because of its frankness.
"[Students are] always sort of shocked by how aggressive the language is," she says. "It's not gentle. We're used to reading a lot of things with innuendos, but this has outright references to sexuality and that's always interesting to the students. They're surprised it was written in 411 [B.C.]. It's always fun to talk about that and how explicit the comedy was for the Greek audiences."
Hicks' Acropolis is an upscale mall in Las Vegas, gorgeously imagined by scenic designer Shawn Irish and scenic painter Susan Crabtree. She's carefully chosen a soundtrack of contemporary songs -- from 1960s pop to country to hip hop -- with applicable lyrics to substitute for the traditional Greek chorus. With Cece Marie's hip choreography, the group numbers infuse a frothy, bubbly feeling to the affair.
"We're looking at these women who would not have had a chance to run for office or even to vote, but they were able to decide for themselves that they wanted to have some power," notes Hicks. "They decided to negotiate with the only power they had and decided to go on strike. It's a hard idea for them because they love their husbands, and they love sexuality. In the play, there's not the idea that intimacy is something they're forced into -- and, to me, that's empowering."
Similarly, Hicks says, her production also flips the idea of objectifying women on its head.
"We decided to take that idea of sexuality and sexual representation -- where you see women objectified -- we've turned that on its head," Hicks says. "The men in the production are kind of close to Chippendale's or 'Magic Mike' characters.
"So there's a lot of male skin," she laughs.
Meanwhile, in Fort Smith, director David Harris has chosen the prohibition-era 1920s as the setting for his version of Lysistrata.
"When we were making the decision about where to set it, I remembered a story my grandmother told me about gangs during the prohibition era," he says. "The rival gangs went through a whole war between the two different groups, and women and children were being targeted. What ended up happening was, the women on both sides decided not to sleep with their husbands until the gangs stopped trying to target women and children. I said to myself, 'That's the plot of Lysistrata! OK, we're going to go with that.'"
Like Hicks, Harris has taken some liberties with the text to make the transition to a more modern setting work.
"We had to figure out some of the terminology to make things work," he says. "For example, in the text, the women keep talking about getting information from the Oracle -- I'm using a newspaper called The Oracle, and it is what disseminates information to the women. You just have to make little tweaks like that and think outside the box."
Harris says the ribald comedy of the text has presented some challenges.
"There are definitely some things that, in our culture, are not going to be acceptable when compared to Greek society back then," he says. "I'm going with more of an 'Anchorman' vibe on the gags. We can't present this play without the sexuality that is in the play, but we have to find a way to present it so that it's acceptable in our culture.
"There might be a few gags that go a little far. But as a student director, I have a professor over my shoulder telling me when I've gone too far."
Harris agrees the politics of the play are particularly topical right now.
"We're always talking about a woman's place in society," he notes. "It's something that's been discussed since the founding of our country. Even though this was written so many years ago, there are many feminist ideals in it. A major theme is 'What is a woman's place in [a] democracy?'"
Lysistrata, Harris says, is a reminder that "women have just as strong a place in society as men do."
NAN What's Up on 02/17/2017