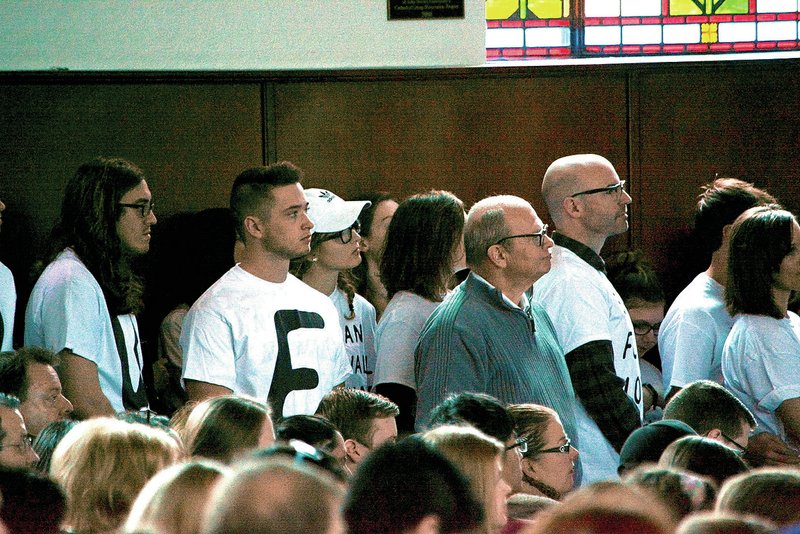 A group of about 50 students and alumni stood in protest Thursday while Mike Huckabee, former Arkansas governor and presidential candidate, spoke at John Brown University's chapel service. - Photo by Janelle Jessen
SILOAM SPRINGS -- Protesters and supporters greeted former Arkansas Gov. Mike Huckabee when he visited John Brown University on Thursday.
Huckabee addressed students during chapel as part of the Ray and Laurine Barnett Civic Leadership series. His speech was followed by a question and answer session with students at Simmons Great Hall.
About 50 demonstrators, including students and alumni, stood along the wall of the chapel while Huckabee spoke. Some demonstrators wore T-shirts that collectively spelled out "We Stand for Love." Others wore shirts that said "No Ban No Wall No Hate" and "Minority Rights are Human Rights."
A group of students on the other side of the chapel held a large banner with the words "Welcome," as Huckabee took the stage to thunderous applause.
University President Chip Pollard said the university set up a question and answer session after the chapel service so Huckabee could talk with students.
Huckabee, a former Baptist minister and presidential candidate, spoke about being the salt and light of the world, no matter the profession students decide to pursue.
He told students it isn't unusual for him to be protested and he enjoys talking with demonstrators. He thanked the demonstrators for their respectful demeanor and said he was grateful Americans have the right to express themselves.
A group of students and alumni planned the demonstration, said Matt Feyerabend, a leader of the alumni protesters.
Almost 600 people joined the Facebook group "JBU Direct Action: Stand Up to Huckabee" by Thursday morning, and 364 supporters signed a Change.org petition.
The petition said the group was concerned about Huckabee's support of President Donald Trump's vision for America. They also objected to Huckabee's Twitter messages the group said promote Islamaphobia, homophobia, nationalist Christianity, police brutality, racial injustice and neglect for refugees.
"I'm so proud of the students who chose to stand for love," Feyerabend said.
"Their ability to remain peaceful and respectful was very inspiring. Everyone listened, laughed and I believe clapped for him when he was done. The civil display of opposition to his divisive rhetoric was beautiful. I think we all realize, more than ever, that we must stand for love."
NW News on 02/03/2017
Print Headline: Group protests Huckabee at JBU
Sponsor Content
Comments