Wal-Mart Stores Inc. unveiled a new convenience store Tuesday in Rogers, opening the doors to a building that features an expanded selection of food and drinks.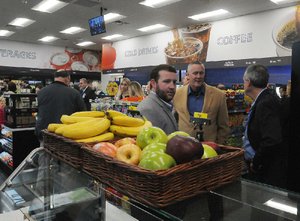 Photo by Flip Putthoff
Customers browse the offerings Tuesday at Wal-Mart's newly opened convenience store in Rogers.
The 2,500-square-foot building is the company's latest fuel station and convenience store concept, according to Ramnik Narsey, a senior vice president for Wal-Mart's U.S. fuel business. The retailer, based in Bentonville, spent about a year developing plans before building the convenience stores in Rogers and Crowley, Texas.
The Rogers store, which is at the entrance of a Wal-Mart Supercenter, replaces a kiosk previously at the existing fuel station. The kiosk was manned by an employee and offered a small selection of convenience staples like candy, chips and soft drinks.
But Narsey said feedback led the retailer to consider larger store formats the past few years.
"Customers were asking us, 'Why don't you offer more?'" Narsey said.
Wal-Mart has tested and considered a handful of convenience options in addition to the kiosks, but Narsey believes Wal-Mart has found a good fit with its latest pilot.
The Rogers store offers a hot food bar where customers can grab paninis, nachos, hot dogs or sausages. There is a walk-in cooler stocked with domestic, imported and craft beer. The store also includes a soft-serve ice cream machine with multiple flavors.
Wal-Mart has even stocked the store with a few grocery staples like milk, eggs, frozen meals and pizzas. In addition, pre-made sandwiches and salads are available.
Wal-Mart hopes the variety will lead to more sales. Narsey said value and speed is the goal, offering customers the chance to grab a variety of items quickly and at Wal-Mart prices.
"We'll do a little bit of fine-tuning as we go along and get feedback from customers about what they like, what they think we could do better," Narsey said. "But I think this is about the comfortable size."
Wal-Mart is hoping to make a bigger push in a convenience store space, which enjoyed a strong year, according to the Association for Convenience and Fuel Retailing. The trade organization published the results of a survey last month in which 68 percent of convenience retailers said their fuel sales increased in 2016 and 63 percent said food sales increased.
Brian Yarbrough, a retail analyst for Edward Jones, said it's difficult for convenience stores to make money on fuel. But Yarbrough said there's a good opportunity on the food side for Wal-Mart.
"It's a model that works because you have the gas that drives consistent traffic and if you get them in the convenience store, it's very high margin stuff," Yarbrough said. "But for Wal-Mart, does it move the needle? You could spread a couple thousand across the U.S. and it's probably not going to move the needle because Wal-Mart's revenue base is so big."
It's not unusual for Wal-Mart to test smaller-store formats. The company began opening Wal-Mart Express stores with an average size of 12,000 square feet in 2011, but decided to close 102 of them across the U.S last year. Wal-Mart also has opened college campus stores ranging from 3,000 to 5,000 square feet, although some of those have closed as well.
There are other types of convenience store tests underway.
Last year, the retailer began testing a concept called Wal-Mart Pickup and Fuel in Huntsville, Ala., and Thornton, Colo. In addition to fuel stations and convenience selections, customers also can order groceries online and pick them up at those stores the same day.
"We're trying that as a combination," Narsey said. "Again, it's all about convenience."
Joshua Nicholson, manager of the fuel station in Rogers, said 12 people will workthe store. The store is open daily from 5 a.m until midnight, but the gas pumps will operate 24 hours a day.
Like any test, Wal-Mart will decide whether to roll the convenience stores out to a larger audience based on results and customer feedback from Rogers and Crowley. But Nicholson believes there's a lot of opportunity in the format the retailer unveiled in Rogers.
"We're just going to focus on our customers right now and take that feedback and go with that," Nicholson said. "But I think we'll do pretty well. I think our customers will be impressed."
Business on 02/01/2017