Children stacked the blue, yellow and green Lego blocks that sat on each seat in the sanctuary where the Rev. Betsy Singleton Snyder was about to begin her sermon.
She was starting her advent series, beginning with Joseph, the carpenter who served as Jesus' father figure. She used Joseph's carpentry career as a metaphor for how society needs to be built back up, and how children need support at a time when several prominent cultural and political figures face accusations of sexual misconduct.
"We are in a moment in history when women are bringing up painful memories," Singleton Snyder told churchgoers. "This problem is presenting itself in all walks of life. We need men among us, brothers, to be brave and humble."
A committee from Women & Children First: The Center Against Family Violence named Singleton Snyder the 2018 Woman of the Year, an award that has been in existence since 2007. It honors a woman based on her professional, charitable and civic accomplishments.
"She just kind of gets up every day making a difference in people's lives, so when her name was suggested, it was amazing that we'd never honored her in the past," said Cindy Murphy, who founded the award.
Singleton Snyder is the associate pastor of preaching and missions at Pulaski Heights United Methodist Church, and calls on what she jokingly refers to as the "Christian force," to make their community better.
She started college as an art major, but discovered that wasn't a good fit. Now, art is confined to weekends with her sons, when they ask their mom to draw them a turkey or Pikachu.
She switched to advertising, and when it came time to decide what to do for graduate school, she was torn between creative writing and seminary.
"I mean I was interested in religion, but it wasn't really until I started -- you have to remember this was in 1983, and I hadn't seen a woman pastor," Singleton Snyder explained. "If you don't see it, it's really hard to see yourself in it."
She said she got over any hesitation stemming from her gender, and applied to three seminaries and three writing programs. She was accepted into one of each.
"I don't think God was saying 'You have to become a pastor. If you want to choose this path and write and be an academic, you can go this way, but you also have a full ride if you want to do this.' But I felt that I was being called to seminary," Singleton Snyder said.
During her four years of schooling at Southern Methodist University's Perkins School of Theology, she chose the ordination path, and then began an internship as an associate pastor at First United Methodist in Benton.
Her current congregation, which meets in the Hillcrest area for the nontraditional service, will also be helping to organize a Martin Luther King Day of Service, focused on health care.
Singleton Snyder also organized a Christmas giving drive for children at Wakefield Elementary School to give 150 kids supplies and uniforms.
Church members, under Singleton Snyder's leadership, also partner with Jericho Way, St. Francis House Ministries and the Compassion Center.
"So for us, our vision is: 'Love God, love neighbor, change the world.' So we try to change the world," Singleton Snyder said.
Singleton Snyder has also been a member of several boards and foundations including the Little Rock Zoo Foundation, the Women's Advisory Council and Arkansas Interfaith Alliance.
But, she said, one group she is particularly passionate about is Women & Children First, which provides shelter and supplies for families involved in domestic violence, because she has a personal story of abuse in the home.
Her father, who was an alcoholic, and diagnosed with Bipolar disorder later in life, was abusive to her mother, Singleton Snyder said.
"But again, food shelter and nurture -- aren't those the primary resources that all human beings need? And when you aren't even safe in your own home, how can you flourish?," she said.
Singleton Snyder, who has four sons, said she works hard to make sure her boys understand how to treat women.
"You don't get into a girl, young woman or any woman's space at any time in your life and make her feel uncomfortable, make her feel unsafe or bad or shame her or any of that," she said. "That's wrong."
Singleton Snyder and her husband went from a couple to having four children in less than three years. Their first son, Penn is 11, and they had triplets -- Wyatt, Sullivan and Aubrey -- through in vitro fertilization. Singleton Snyder said when she found out she was having three babies, she was shocked.
"Everybody was really surprised," Murphy said. "Betsy, I think, was the most surprised, but she handled it beautifully."
After she had the babies, who just celebrated their ninth birthday, Singleton Snyder had heart failure and was in the hospital for five more days.
"So that was real scary, and then the next day or two he [the doctor] came in, and he said that one-third of the women who get this get better, one-third stay the same and one-third get worse," she said. "And only time can tell."
Singleton Snyder has since healed, and wrote about the experience in her parenting book Stepping on Cheerios: Finding God in the Chaos and Clutter of Life.
"It's about what it's like to be up to your eyeballs as a parent and the early years in particular," she said. "But it really is a lifelong issue of how to balance work, your marriage, your family. Because really, you can't balance them."
In the early years, she said, things were difficult. Several of her friends came over to help her feed the triplets, whose toenails were painted different colors so she could tell them apart, in the early mornings, because her husband was working out of town.
Singleton Snyder's willingness to embrace the less-than-perfect parts of life makes her relatable as a friend and pastor, said Jessica Ford, a member of Singleton Snyder's congregation.
"She's human," Ford said. "As a mom, as a wife, as a woman and somebody who cares about her community, it's like she's not afraid to show a little of her messiness."
Natalie Rockefeller, another member of the committee that selected her as Woman of the Year, said Singleton Snyder also is willing to embrace the messiness in others' lives.
Rockefeller met Singleton Snyder when she was working on her husband's congressional campaign in 2004. Vic Snyder served in the House of Representatives from 1997 to 2011.
One weekend, when the Snyders were out of town, Rockefeller said she took care of their dogs. The couple had adopted several, almost all of which had special needs.
"She just has this way of being there for those who need her," Rockefeller said. "It could be someone in her congregation, her community or just a bunch of special needs dogs."
Betsy Singleton Snyder now has two dogs -- Norrie and Nyla -- who are greeters at her church. They stand at the entrance to the sanctuary each Sunday, happily welcoming worshippers.
Singleton Snyder bustled around the church before her sermon, hugged parishioners and prepared for the task ahead. Her lesson began the process of preaching the Christmas story and touched on current social issues.
"It's a scary time," Singleton Snyder said. "But, it's a good time because we're talking. This is part of my spiritual belief, and this is part of the season. The light shines in the darkness and the darkness does not overcome."
Tickets for the Woman of the Year gala Jan. 20 can be purchased by calling (501) 960-0945 or online at www.wcfarkansas.org/WOYTickets. Tickets will not be sold at the door, but can be purchased through the week of the event. Individual tickets are $300 per person.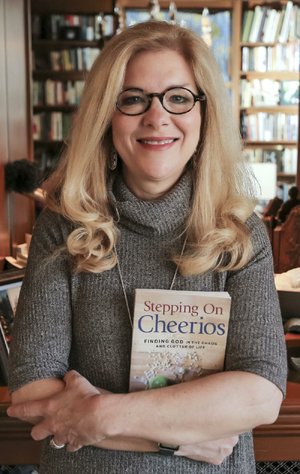 Photo by John Sykes Jr.
"She's human. As a mom, as a wife, as a woman and somebody who cares about her community, it's like she's not afraid to show a little of her messiness," Jessica Ford said.
High Profile on 12/31/2017