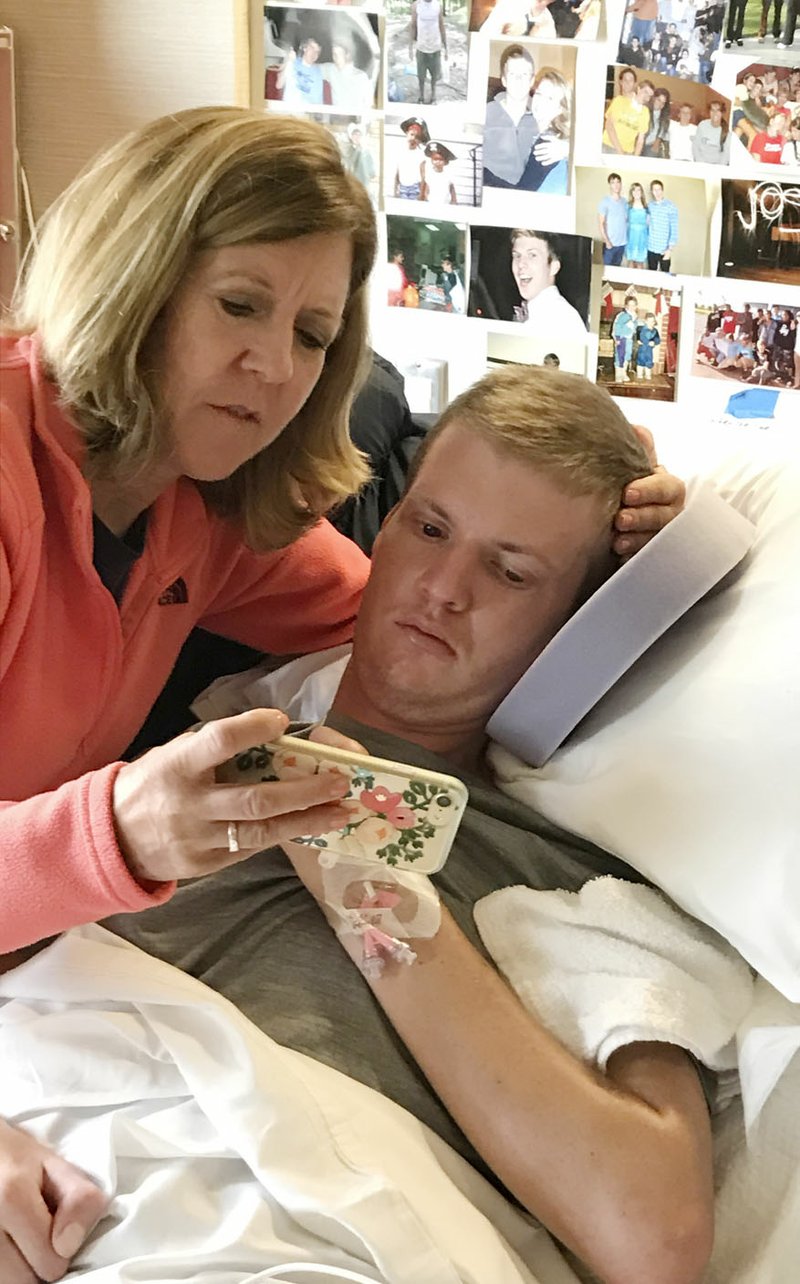 Kelly Fohner shares a phone message with her son Josh at the VA Polytrauma Rehabilitation Center at Audie L. Murphy Memorial Veterans Hospital in San Antonio, Texas in March. Josh Fohner spent several months at the center following his cycling accident before returning home in May.
Darkness still gripped the Colorado sky when three men began a routine run last year on a chilly September morning.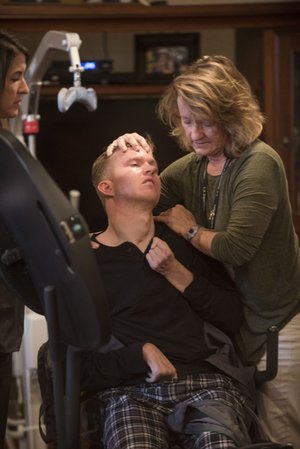 Photo by Spencer Tirey
Tammy Graham, an occupational therapist (right), and Amy Bradley, a speech pathologist (left), work with Josh Fohner in hopes that he regain some motor skills Dec. 19 at his home near Elm Springs. Josh suffered a brain injury after an accident and has shown signed of improvement.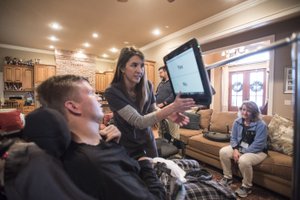 Photo by Spencer Tirey
Amy Bradley, a speech pathologist (center), talks with Josh Fohner (left) while working with him Tuesday to be able to communicate using a screen that tracks his eye movement near Elm Springs.
As they neared Buena Vista High School about 30 minutes later, the three saw a small group huddled over a young man who lay crumpled in the roadway. An older gentleman was frantically calling for help. A riderless bicycle lay in the roadway next to a Jeep.
The Fohner family has a blog, allinforjosh.org, where they provide updates on Josh's progress.
Lucas Smith, one of the runners and the owner of a local pharmacy, said the injured cyclist wasn't breathing. The trio couldn't find a pulse. They began administering CPR with Chris Nicewarner taking the lead.
"Chris jumped in and said 'We gotta help this guy,'" said the third runner, Micah Salazar. "He is a special forces veteran and has seen a lot of things in his time of service. We just followed his lead."
Josh Fohner regained his breathing, and the runners continued to work on him until medical personnel arrived. Fohner was flown to a nearby hospital in Colorado Springs because of the severity of his head injuries.
Mike and Kelly Fohner got the call about Josh's accident later that morning. Mike said he picked up Kelly, a teacher at Central Junior High School in Springdale. They grabbed a few personal items and began the long drive to Colorado Springs.
Josh, 28, went to Memorial Hospital with multiple head fractures and broken bones. He was on life support, in a coma when the Fohners arrived. The prognosis was bleak, Mike said.
"It was Wednesday, I believe, when the trauma doctor, the chaplain and the neurosurgeon came down and took the family into a room down the hall," Mike said. "The trauma doctor said it was his opinion that we remove Josh from life support and let him go."
Kelly said she felt faint and laid down on the floor. The neurosurgeon, Dr. Michael McKisic, laid down with her. He offered a differing opinion.
"Dr. McKisic held his thumb and index finger about an inch apart and said, 'There's about this much chance," Mike recalled. "He said there was always hope that Josh could come back from this. That's what I equate to having all your chips on the table and going all in.
"That's where the 'All In For Josh' blog came from."
FOOTBALL STANDOUT
Josh was the kind of football player coaches love, said Gus Malzahn, his former coach at Springdale High School. The current Auburn University coach first met Josh when he was a student at Central Junior High.
"My oldest daughter, Kylie, broke her ankle at school, and Josh sat with me at the hospital while they were treating her," Malzahn said. "He'd broken his ankle before, and I guess he wanted to be there for her when she came out."
Josh played just one season for Malzahn, but what a season. The Springdale team of 2005 is regarded by many as the greatest prep team in state history, winning the state title with ease behind Gatorade National Player of the Year Mitch Mustain and a host of Division I college prospects.
"He was the only sophomore to start on that team," Malzahn said. "He was a big-time player for us."
In the state championship game against West Memphis, Josh scored a touchdown when he recovered a fumble in the end zone.
Malzahn left after that season for the University of Arkansas. Fohner left for crosstown Har-Ber High School when it opened its doors. For two seasons, Josh was a standout for coach Chris Wood and earned all-state honors as a senior in leading the Wildcats to the state championship game in just the program's second season.
"He was a dynamic player, just a great personality and a hard worker," Wood said. "Every day for Josh was a great day. Just full of energy. I never remember Josh having a bad day."
Josh always felt a connection to Malzahn, so when the coach left Arkansas after one season to go to the University of Tulsa, Fohner decided to walk-on with the Golden Hurricane after his senior season at Har-Ber.
He played well enough to go on scholarship as a sophomore. When Malzahn went to Auburn, Josh left football and finished college at Arkansas, earning a degree in international relations.
Mike said his son considered the medical field and moved to Wyoming to join the National Outdoor Leadership School Wilderness Medicine and Rescue program. Josh's career path took a turn in Wyoming that few saw coming.
"The guy that was conducting the training was a Navy SEAL," Mike said. "He got to know that guy really well, and I think that's what got him moving in that direction."
BUD/S FOR LIFE
Ian Lussier said he and Josh hit it off almost immediately when they arrived at Navy boot camp in Great Lakes, Ill. Both wanted to become members of the elite special forces unit and were determined to complete the grueling training program.
"You meet a lot of different people in that training," Lussier said. "You go through some pretty tough stuff that brings out someone's true character. I will tell you hands down, he is the most genuinely good, decent people I have ever known."
A major part of SEALS training is Hell Week, 5 1/2 days of intense training and usually where most participants "ring the bell" to leave.
Josh and Lussier were partners in the Basic Underwater Demolition/SEALS -- or BUD/S -- training when they arrived at the Navy Special Warfare Training Center in Coronado, Calif., but neither was able to complete the program due to injury. Josh badly injured his shoulder during Hell Week, which required surgery, and Lussier injured his hip.
"Injuries are not usually a reason people leave the program," Lussier said. "Most just quit."
Josh also injured his back in the program, which led to a medical discharge from the Navy.
"I think he struggled with that for quite a while," said Lussier, who now captains a lobster boat in Maine. "It wasn't just the injury, but the mental side of having a lifelong dream not happen."
A Fohner family member contacted him about the accident the day after it happened.
"I don't understand God's plan sometimes," Lussier said. "But it is what it is, and we don't always know why everything happens, but it happens for a reason."
NEVER MADE IT HOME
Josh stayed in San Diego and worked for a time before returning home. Mike said he thinks adventure lured his son to Colorado.
"He was also a kind of an entrepreneur. He liked to dream and come up with ideas, so I think when he went out there he wanted to be an outfitter of some kind or maybe get into real estate. He was playing with a lot of things," Mike said.
Buena Vista is a small community of 3,000 west of Colorado Springs. Josh became a resident in the early summer of 2016 and took a job working as a landscaper. He also planned to become a personal trainer and was working on getting the certifications to open his own gym, Mike said.
Josh rose early Sept. 27, jumped on his bike and headed to the gym for a personal workout. He loaded his backpack and took off, leaving his cycling helmet behind.
He finished his workout around 6 a.m. and began the short ride home, pedaling through the darkened streets of Buena Vista with the chilly wind offering a respite from the workout.
Josh and the Jeep collided at the intersection of Railroad Street and Marquette Avenue. The accident case remains open. The Buena Vista Police Department and the Chaffee County District Attorney's Office denied requests for police records pertaining to the accident.
The police and the Colorado State Patrol honored the three joggers with both a Certificate of Honor, the highest award a resident can receive, and a Lifesaver award. Nicewarner, who has turned down numerous media requests about his role in saving Josh's life, didn't attend the ceremony.
"Obviously it was an accident, what happened, but I don't think it was a coincidence that we were there," Salazar said. "With Chris' military training, and I was in the outfitting industry for 20 years, and Lucas has experience, so I think we were put there at that moment to help intervene.
"That's how I look at what we did. His time on Earth wasn't done at that moment."
FIGHTING BACK
Josh underwent five surgeries in his five weeks at Memorial, including a procedure that fused his neck on each side and surgeries to repair the damage to the fractured bones in his face. He now has three steel plates in his face. His spinal cord wasn't damaged in the accident, and he has no paralysis.
"Dr. McKisic said Josh could go snowboarding if he wanted to," Mike joked.
Josh was transferred to Audie Murphy Memorial Veterans Hospital in San Antonio in the world-renowned Polytrauma Rehabilitation Center. This unit is one of five facilities in the U.S. that treat veterans and military service members who have severe injuries, including brain injuries.
Josh spent the next seven months there before he was sent home to Northwest Arkansas in May.
On a recent Monday morning in December, almost 15 months after the accident, Mike and Josh arrived at Immanuel Clinic in Springdale. It's a ritual they have been doing for several weeks. Mike wheels Josh into a large room that is dominated by a hyperbaric chamber almost large enough to fit a small car.
Mike takes a seat on the far end of a gurney, and Josh is lifted and placed in his father's lap with his head lying on Mike's chest. They resemble an Olympic bobsled team as they are both pushed into the pressurized chamber for an hourlong session.
They breathe in 100 percent pure oxygen, flooding their blood cells with three times more oxygen than normal air. The more oxygenated cells help repair the damaged tissue in Josh's brain and promote healing.
[Hyperbaric treatment can prove beneficial in some cases]
Dr. Kathy Krantz has been Josh's primary health care provider since he returned home, and his case was transferred to the Veterans Health Care System of the Ozarks in Fayetteville. Krantz said she sees Josh about every six weeks. She said he's made significant improvement since May.
"When he first arrived, his parents could tell that he was aware of his surroundings, but it was hard objectively to tell whether he knew that I was talking to him, that he could process what I was saying to him," Krantz said. "Over the last eight months, he is definitely understanding, and he has developed ways of communicating with us."
Amy Bradley, a speech therapist, helped Josh display his cognitive skills the next day by using a device where he can answer simple questions by focusing his eyes on a computer screen with large yes and no blocks.
"Do you remember coach Malzahn?" Mike asked.
"Yes."
"Did you enjoy your time in the Army?" Mike teased. (Josh was in the Navy.)
"No." Josh replied.
"Does four plus five equal eight?" Mike queried.
"No" Josh answered. Asked if the correct answer was nine, he said yes.
HOME FOR THE HOLIDAYS
Kelly Fohner didn't return home for seven months after Josh's accident. The Fohners spent last Christmas by his bedside in San Antonio as he recovered from his sixth bout of pneumonia since the accident. Since the tracheal tube was removed, he has not had an issue, she said.
The family, including Josh's brother, John Michael, and sister, Maggie, were together in the hospital. Kelly said it was the first time the family had been together since the accident.
"That was a very, very emotional time," she said.
This holiday season, they will spend the day at their Elm Springs home.
"This time of year is all about hope and family," Kelly said. "It's a great time to remember what's important. Home is where your heart is, with your family. The rest doesn't matter."
Sports on 12/24/2017
Print Headline: All In For Josh
Sponsor Content
Comments