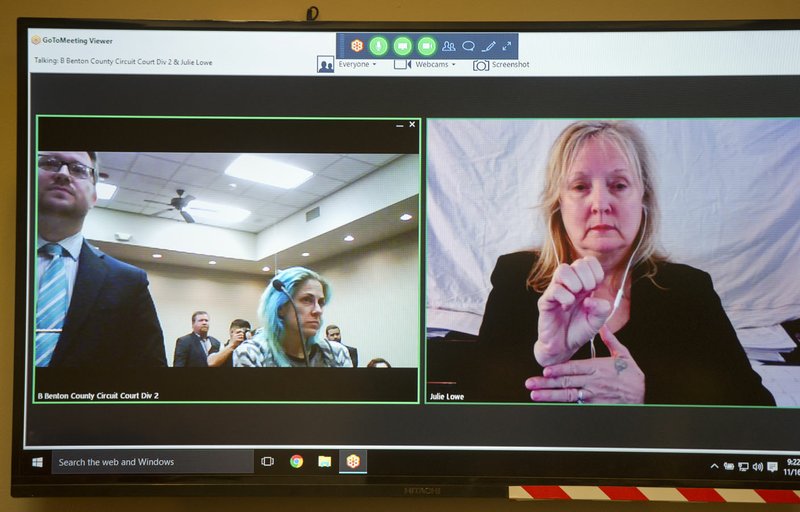 Julie Lowe, American Sign Language interpreter, signs for a client Nov. 16 at the Benton County Courthouse Annex in Bentonville. The court provides sign language and Spanish interpreters. - Photo by Charlie Kaijo
Benton County Circuit Judge Tom Smith remembers occasionally seeing interpreters in court when he started working as a lawyer in Benton County in 1995. Now he uses translators in his courtroom at least three times a week.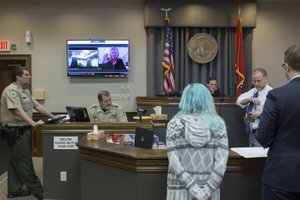 Photo by Charlie Kaijo
Julie Lowe, American Sign Language interpreter, swears in Nov. 16 at the Benton County Courthouse Annex in Bentonville. Certified interpreters are used in circuit, district and city courts throughout the state.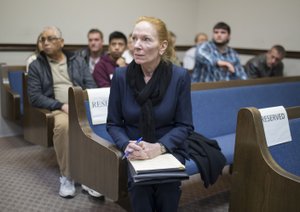 Photo by Charlie Kaijo
Laura Gordon, Spanish interpreter, waits for her clients to arrive Nov. 16 at the Benton County Courthouse Annex in Bentonville. Interpreters must be certified for court proceedings.
"Courts could not operate without the use of interpreters," Smith said. He presides over juvenile court and hears some domestic cases.
Registry
The Arkansas Administration Office of the Courts Interpreter Services maintains a registry of certified court interpreters who may be contracted directly by lawyers, law enforcement officers, jail officials, other state agency employees, social workers or mental health workers.
Source: Staff report
Requirements
A competent interpreter will have the ability to:
• Think analytically and make quick linguistic decisions regarding wording or terminology selection
• Concentrate and focus
• Apply short-term memory skills in retaining manageable units of information
• Use effective note taking techniques to supplement short-term memory
• Provide transference from one language to another and select appropriate equivalents for vocabulary or phrases
• Accommodate for lack of equivalents in vocabulary or phrases
• Perform case preparation
• Self-monitor and self-correct on the record if necessary
• Switch back and forth among the various modes of interpretation appropriately
• Preserve intent, tone, style, and utterances of all messages, including accurate reflection of register
• Think and react communicatively in all working languages
• Listen to and comprehend different rates of speech in all working languages; monitoring environmental factors such as fast speech or auditory distractions.
Source: Arkansas Interpreters Handbook
About 99 percent of the youths appearing in Smith's court are fluent in English, but often the parents aren't, he said. Smith also uses the services in drug court and for domestic cases.
"As our area has grown and changed we have used interpreters in an economically efficient way," Smith said. "You have to use interpreters to run an efficient courtroom."
The Arkansas Administrative Office of the Courts provided services 8,054 times in 30 languages in 2016 and the office provided interpreters 9,180 in 25 languages in 2015.
Certified interpreters are used in circuit, district and city courts throughout the state.
Mara Simmons has been the voice for many in courtrooms for 16 years.
She's one of five certified interpreters employed by the state Office of the Courts. The agency provides certification and services for court interpreters. She also is the director for the department's interpreter services.
"We are not advocates for anyone in court," Simmons said. "It's important for people to have a voice and trust whatever they say in their language will be accurately repeated in court."
Interpreters must be certified for court proceedings. They might be one of the five from the Office of the Courts or from a registry of certified interpreters the office maintains.
The office has a $340,000 budget to hire freelancers.
A Benton County case working its way through the court system has a defendant who speaks a language not commonly used in the state. Mie Ka Sin, 23, of Springdale is charged with capital murder and speaks Burmese. He's accused of killing his roommate and the case is assigned to Circuit Judge Robin Green.
Sin's hearings have used a telephone interpreter, which is something Simmons said works well for shorter hearings. She said her office is promoting the idea of using video systems in court and will have equipment delivered if the court isn't already equipped.
Simmons said the translator needs to be present at longer hearings and trials.
Benton County Prosecutor Nathan Smith said he's never had one of his assigned cases with an interpreter go to trial.
Jay Saxton, chief public defender for Benton County, said he's handled cases with Spanish, Marshallese, Vietnamese and German speakers.
Circuit Judge Brad Karren recently had a case requiring American Sign Language.
Spanish and Marshallese are the two most common languages needed, several Northwest Arkansas judges said.
Circuit Judge Doug Schrantz, who handles lawsuits and domestic related cases, said he's dealt with several different languages, and some have been unique. They once needed Mandarin translated.
Smith said he's used Persian and Korean speakers by telephone for hearings.
Washington County Circuit Judge Stacey Zimmerman said she has a Families in Need of Services officer who speaks Marshallese and several who speak Spanish. They work with the families, but not in court, because that's the responsibility of someone who is certified, she said.
Rogers District Judge Chris Griffin said he once had a case requiring a Polynesian translator. The only person who was certified lived in a different time zone and connecting was a challenge, he said.
Getting a Spanish interpreter has never been an issue for Smith, but he said there's difficulty getting one who speaks Marshallese because there's only one certified in the state.
Judges said they schedule specific days for cases with Marshallese or Spanish speakers.
Simmons said the need for such a variety of languages often requires bringing someone in from out of state, such as California.
California and Arkansas interpreters are certified through the National Center for State Courts. A reciprocal agreement allows someone in California to work in courts in Arkansas and vice versa.
Tracy Clark, manger of court interpreting services for Ventura County, Calif., said they have a very diverse population and are faced with more than 200 languages. She is a certified in American Sign Language.
California pays for language services, but individual counties are responsible for scheduling workers for court, Clark said.
According to compensation policy of the Office of the Courts, circuit and municipal courts are responsible for paying interpreters if they scheduled them instead of going through the state office.
There's always a need, but people don't become certified overnight, Simmons said. The process can take up to a year.
Certification includes two assessment exams -- one in English and the other in the foreign language. Applicants must pass a background check and an oral proficiency examination.
Some potential translators may be strong with the literal meanings in a language, but struggle grasping phrases or sayings, Simmons said.
For example, if someone said in court "I caught you red-handed," the meaning would be confusing if it was translated word-for-word in Spanish. Simmons said interpreters have to know to say "I caught you in the act."
According to the Arkansas interpreter services' compensation policy, those on the registry are paid $50 for the first hour with a guaranteed one hour minimum and $40 for each additional hour.
Certified sign language interpreters on the registry are paid $80 for the first two hours in court with a guaranteed two-hour minimum and $40 for each additional hour.
"Our office coordinates the interpreter request in all languages, develops policy, and training," Simmons said. "I consider this a huge strength for the judiciary since they don't have to do extra work in finding qualified interpreters."
NW News on 12/10/2017
Print Headline: Diversity creates need for court interpreters
Sponsor Content
Comments