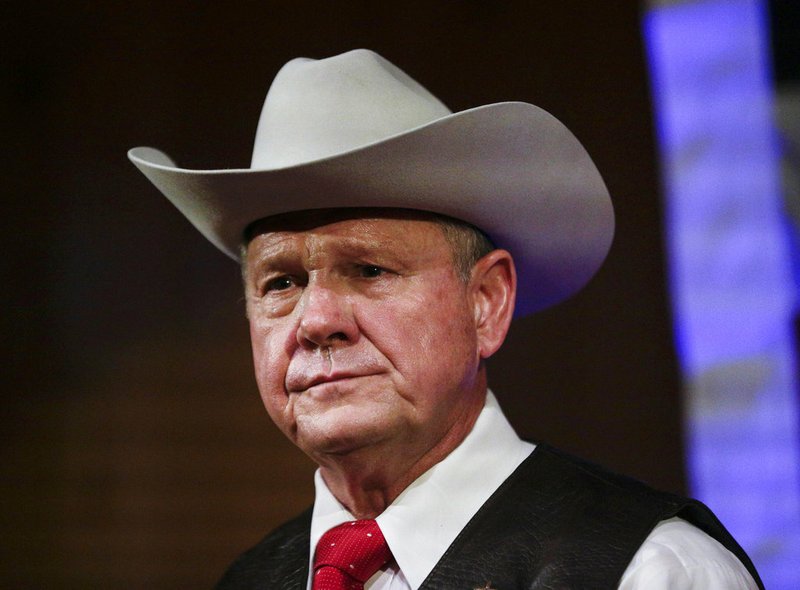 Associated Press file photo/BRYNN ANDERSON In this Monday, Sept. 25, 2017, file photo, former Alabama Chief Justice and U.S. Senate candidate Roy Moore speaks at a rally, in Fairhope, Ala. In the face of sexual misconduct allegations, Moore's U.S. Senate campaign has been punctuated by tense moments and long stretches without public appearances. Moore faces Democrat Doug Jones for Alabama's U.S. Senate seat in the Dec. 12 election.
WASHINGTON - President Donald Trump on Monday offered his most explicit endorsement to date of Roy Moore, the embattled Republican Senate candidate in Alabama who stands accused of making unwanted sexual advances on teenagers when he was in his 30s.
"We need Republican Roy Moore to win in Alabama," Trump declared in an early morning tweet, leaving no question that he was supporting a Senate nominee that many other Republican leaders have repudiated and called upon to quit the race.
Trump tweeted: "Democrats refusal to give even one vote for massive Tax Cuts is why we need Republican Roy Moore to win in Alabama. We need his vote on stopping crime, illegal immigration, Border Wall, Military, Pro Life, V.A., Judges 2nd Amendment and more. No to Jones, a Pelosi/Schumer Puppet!"
Trump has delivered similar messages in recent days, attacking Democratic nominee Doug Jones as a liberal beholden to House Minority Leader Nancy Pelosi, D-Calif., and Senate Minority Leader Chuck Schumer, D-N.Y.
But in his past comments Trump has stopped short of naming Moore and unequivocally endorsing him in the special election, to be held Dec. 12.
The White House has said Trump would not travel to Alabama to campaign for Moore, but the president is planning to stage a campaign-style rally just across the state line, in Pensacola, Florida, on Friday night, four days ahead of the special election.
Pensacola is in the same media market as Mobile, Alabama. Many Alabama voters may travel to Pensacola to see the president speak, and many more likely will hear about the rally in local news reports.
The Alabama race has drawn national attention in the weeks since The Washington Post first reported accusations by multiple women that Moore initiated unwanted sexual encounters with them while he was in his 30s and they were teenagers. Moore has denied the allegations.
The contest is neck-and-neck, with 50 percent of likely Alabama voters supporting Jones and 47 percent backing Moore, according to a Washington Post-Schar School poll released over the weekend.
moore-endorse
NW News on 12/05/2017
Print Headline: Trump: 'We need Republican Roy Moore to win in Alabama'
Sponsor Content
Comments