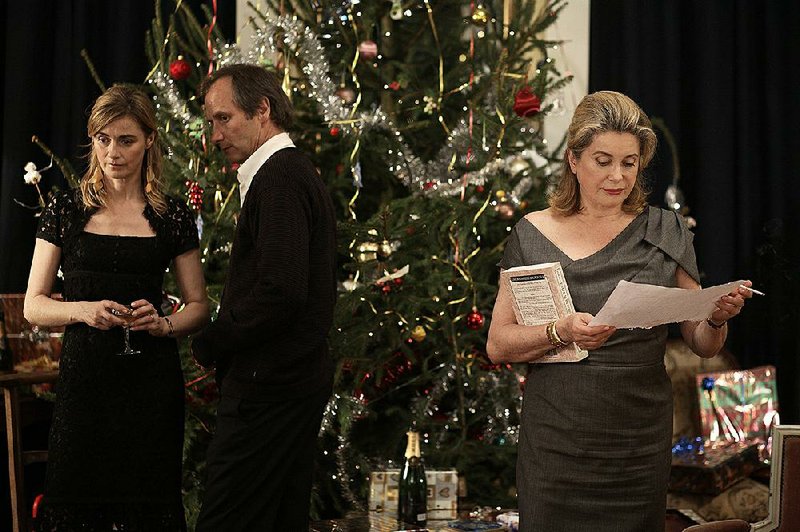 The family in A Christmas Tale has its problems but manages to honor the spirit of the season. It stars Anne Consigny (from left), Hippolyte Girardot and Catherine Deneuve.
While I try not to indulge the (boring, reflexive) newspaper columnist's curmudgeonly instinct in these pages, I just don't care for most traditional Christmas movies.
More than once I've written about my discomfort with Frank Capra's It's a Wonderful Life, which has always struck me as a bizarre and patronizing meditation on suicide, a downbeat rewrite of A Christmas Carol that essentially marked the end of Capra's creative urgency. He did make some very good films, including 1941's Meet John Doe, which also is marked by his preoccupation with self-extinction and -- if you squint -- could be seen as a kind of Christmas movie itself.
I know that many of you love It's a Wonderful Life. I'm sorry I've failed you. Save your letters. Or maybe watch the best Jimmy Stewart Christmas movie -- 1958's Bell Book and Candle, in which he plays a book publisher (literally) bewitched by Kim Novak during the holidays.
Nor do I care for Leo McCarey's The Bells of St. Mary's, the 1945 Bing Crosby/Ingrid Bergman vehicle (it's a sequel to the previous year's Going My Way), the film that's playing in the Bedford Falls theater when George Bailey retraces his steps near the end of It's a Wonderful Life. (Check the marquee when George pauses to shout "Merry Christmas, movie house!")
I'm not particularly moved by Miracle on 34th Street (1947) or Christmas in Connecticut (1945) or just about any other classic Christmas. And while I'm glad such atrocities as Santa Claus Conquers the Martians (the low-budget 1964 fiasco that starred a prepubescent Pia Zadora) and Silent Night, Deadly Night (the 1984 slasher that spawned four sequels and has been given the primo DVD re-release treatment) exist, they can't really be defended as even campy fun. (Like I was telling someone the other day about my lack of enthusiasm for the legendary Tommy Wiseau bad movie The Room -- now the subject of the James Franco-starring The Disaster Artist -- I don't have enough time and energy to engage with all the good movies; I'm not so jaded and decadent enough to enjoy earnest failure.)
I expected to like Bill Murray in Scrooged (1988), but it turned out to be bloated and tedious, somewhat redeemed by a bright turn by Carol Kane as the Ghost of Christmas Present.
Bob Clark's A Christmas Story (1983) had some charm and finesse -- it was about the last thing you'd expect from the guy who brought us Porky's and Porky's II: The Next Day. But there's no need to revisit it. I also remember mildly liking Tim Burton's The Nightmare Before Christmas when it came out in 1993. But they've both achieved cult status, which has more to do with their offbeat approach than any inherent movie value.
And I can't even recommend the weird and creepy The Christmas Tree (1969), which starred William Holden as the father of a child poisoned by radiation who dies on Christmas Eve.
. . .
Yet there are plenty of movies that might be classified as holiday fare of which I'm quite fond. Danny Boyle's Millions, for instance, which was inexplicably released in this country in February 2005 (it opened in Arkansas in April of that year, reportedly because Fox Searchlight was nervous about releasing it against Christmas With the Kranks. (I've mercifully forgotten that film but my review ended thusly: "It's too much to call CWTK a disappointment because we can see from the trailers what kind of movie it is -- an opportunistic project designed to capitalize on the dearth of good family films. It's an easy score for filmmakers banking on the holiday season good will and the mass hallucination that Tim Allen qualifies as a movie star .... American families deserve a better effort than this.")
Millions is a beautiful, tender movie with the air of a genuine holiday classic. The rare family film that doesn't condescend to its audience, it earns its sweetness without stooping to sentimentality. Set around Christmas, it tells the story of two brothers, 7-year-old Damian (Alex Etel) and 12-year-old brother Anthony (Lewis McGibbon) who, while living in a sterile prefab housing development outside Liverpool with their widowed father, happen upon a bag of money. Damian, who has taken to hallucinating conversations with various Catholic saints (he invariably asks them if they've run into his mom), immediately sees the windfall as a gift from a higher power. The more pragmatic Anthony understands the need for the poor to help themselves.
A bad man is looking for the money. Complicating the situation is the impending (and fictional) conversion of the English economy from pounds sterling to euros, which means the boys have a limited window to convert the funds. A sophisticated and charming children's fable rendered by responsible empathetic adults with genuine respect for religious ardor, Millions is the great lost Christmas tale of the 21st century.
. . .
The same cannot be said of the 2002 independent feature Santa Smokes, which stars cult German-American filmmaker Till Schauder (better known as Till Terror) as an aspiring actor who works at handing out fliers on New York's Broadway while dressed as Santa Claus for $100 a day. In the course of his employment he meets a young woman (Kristy Jean Hulslander) dressed as an angel in a white robe with translucent wings who criticizes him for smoking and cursing while in uniform. They bond and have risque adventures -- the film feels like a spiritual precursor to similarly rude and enjoyable Bad Santa, released the following year.
And while Bad Santa -- like Die Hard and Love, Actually and a few other mainstream films that incorporate holiday themes -- may be too obvious for the sort of alternative Christmas movie list I've been asked to provide, there's another Billy Bob Thornton film that should be considered by anyone looking to blast the sentimentality out of their season. Harold Ramis' The Ice Harvest (2005) is hardly an obscure film, but the "insanely violent" heist movie is, as the late Ramis once explained to me, a "fun, nasty, smart alternative to either the glossy Christmas movies or the very, very artsy studio movies" released around the holidays.
"It's for people who are willing to look at reality without sugar-coating it and consider their own moral culpability," Ramis said. It's black and dry and unleavened by uplift. And though I didn't like it all that much when it was released, I have to admit it's stayed with me.
. . .
Set in "Manhattan, Christmas Vacation, not so long ago," Whit Stillman's 1990 film Metropolitan follows a group of well-heeled members of the "urban haute bourgeoisie" as they return to their family's Fifth Avenue homes from college in time for holiday parties. Witty and unapologetically patrician, it's the sort of movie some people adopt as a holiday tradition just because they enjoy the clothes and banter.
Or you could check out the French entry Joyeux Noel (2005), which dramatizes the spontaneous Christmas truces that broke out along the Western Front in December 1914. In today's world it might seem impossibly quaint that enemy combatants might lay down weapons and meet to exchange tins of beef and play soccer, but it actually happened -- amply documented with photographs and contemporary newspaper accounts. Paul Fussell, author of The Great War and Modern Memory, called the truce "the last twitch of the 19th century ... the last public moment in which it was assumed that people were nice, and that the Dickens view of the world was a credible view ... Nobody could believe that after the First World War and certainly not after the Second."
Joyeux Noel fortifies the truth with extra sugar, but Christian Carion's movie has at least one hair-raising moment that isn't too far from the truth when a lone German soldier begins singing "Silent Night" and the troops across No Man's Land respond appreciatively.
Those looking for something more adult might opt for Arnaud Desplechin's A Christmas Tale, the story of an involuted French family with problems that nevertheless manages to honor the spirit of the season, invoking old films like Funny Face and A Midsummer Night's Dream even as it shrugs at the serial disappointments of modern life.
At least the family is gathered for the holidays.
. . .
If your definition of Christmas movies is loose enough, you can incorporate any film that takes place in December or flashes a little red flannel. Some people consider Terry Gilliam's time-travel mindbender 12 Monkeys (1995) a holiday film because it's largely set on Dec. 12, 1996, and Madeline Stowe delivers a memorably sarcastic reading of the line "Have a Merry Christmas!" It's a good film, worth revisiting for any reason. (Gilliam's classic Brazil is also set around Christmas time.)
Similarly, Shane Black's 2005 irreverent neo-noir Kiss Kiss Bang Bang features lots of Santa hats (and Michelle Monaghan in traditional seasonal fishnets). Another cast member is Robert Downey Jr., who also starred in the 1987 film Less Than Zero which, like Metropolitan, was about what privileged college students get up to during Christmas break. Just on the other coast.
Another film adapted from a Bret Easton Ellis novel, Mary Harron's American Psycho (2000) is also set around the holidays.
If you're looking for something even more disturbing, consider Stanley Kubrick's Eyes Wide Shut (1999), which, though you may not have noticed, has a Christmas tree in nearly every scene.
. . .
While White Christmas (1954) -- directed by the incredible Michael Curtiz, a studio workhorse who's best known for Casablanca but who directed more than 170 films in all sorts of styles and genres in a career that spanned nearly 50 years -- isn't considered in the first rank of classic Christmas movies, I like it better than any of the other midcentury classics (including 1942's Holiday Inn, in which Bing Crosby sang a little number called "White Christmas," which is the entire reason the later film exists).
Hollywood had been trying for a decade to get Crosby in a movie called White Christmas, a backstage musical in which Der Bingle plays a Broadway song-and-dance man named Bob who is joined by his old Army buddy and performing partner Phil (Danny Kaye) in the amorous pursuit of two singing sisters (Rosemary Clooney and Vera-Ellen). They all wind up in Vermont at a lodge run by the boys' old general, genial Dean Jagger.
With songs by the inimitable Irving Berlin (the film was originally released as Irving Berlin's White Christmas), the movie rises above the usual seasonal treacle. Though it's not generally considered among the great movie musicals, it's got a cool sequence where Vera-Ellen literally dances circles around Kaye. Kaye's part was originally offered to Fred Astaire, who turned it down, necessitating a minor rewrite for the nimble but still-human Kaye. And you get Crosby reprising his huge hit at the beginning and end of the proceedings.
A slightly more adult sensibility permeates this film, and it's notable as the first film to employ VistaVision, which was Paramount's wide-screen process. It's also got that deeply saturated -- and gorgeous -- Technicolor look to it; Crosby's eyes were never bluer than they appear here.
If you want to stay within the nostalgic lines, 1934's The Thin Man holds up as well as an extra-dry martini. The Lion in Winter (1968) can certainly be read as a Christmas movie; it stars Peter O'Toole as Henry II and Katharine Hepburn as his estranged and hateful wife Eleanor of Aquitaine. Still, they get together during the holidays for appearances' sake and spend the holiday arguing about who will succeed the king. It's a great film, or at least a very good film with a couple of great performances.
Then there's Billy Wilder's wonderful 1960 dark comedy The Apartment in which Shirley MacLaine, playing pathetic elevator operator Miss Kubelik, overdoses on sleeping pills on Christmas Eve after a tryst with Jack Lemmon's loutish boss. Lemmon (C.C. Baxter) grabs his physician neighbor to pump her stomach out. The two spend Christmas playing gin rummy. In a memorable line, Lemmon allows that it's better than the previous Christmas, when he went to the zoo and ate at the automat.
Finally, Barry Levinson's 1982 film Diner -- a movie that stands up to repeated viewings -- begins on Christmas Day.
That's more than a dozen holiday-themes movies I like. That ought to be enough to inoculate me against charges of Grinchhood. Merry Christmas.
Email:
blooddirtangels.com
Style on 12/03/2017
Print Headline: Hollywood humbug: Christmas movies mostly lumps of coal, but once in a while there's a gift
Sponsor Content
Comments