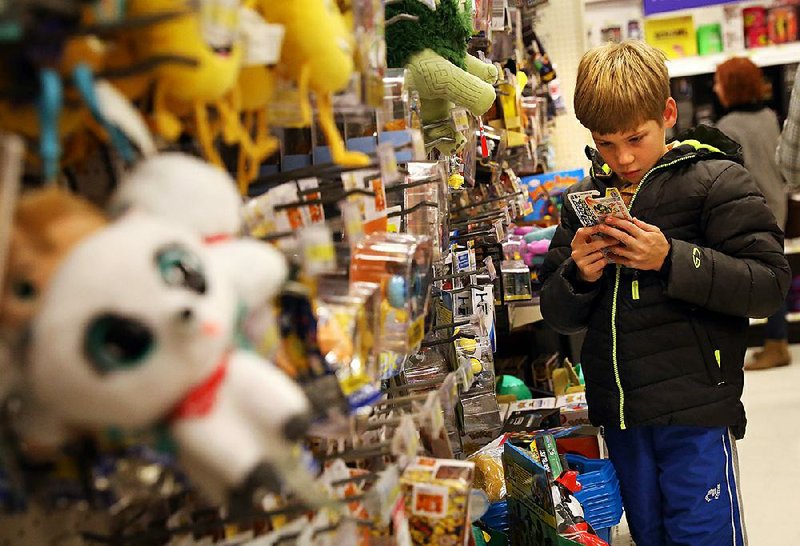 Aaron Mizerny, 9, shops in the toy section at Target in Ballwin, Mo., on Black Friday. Retailers had a good Thanksgiving weekend, but keeping customers coming into stores is a challenge as Christmas nears.
The retail industry is in a festive mood after the Thanksgiving weekend shopping spree produced larger-than-expected traffic in stores and record-setting online sales.
Now comes the hard part, according to retail experts and analysts. Retailers have to find ways to convince consumers to continue spending over the next two or three weeks.
"This is where it gets tougher, and you'll probably see sales dramatically slow," said Neil Stern, senior partner with Chicago-based retail consulting firm McMillan-Doolittle. "The big issue for retailers always is, even if you have that good momentum coming into that first weekend of shopping, what happens in the next couple weeks as you build back up to Christmas?"
Throughout retail, navigating the post-Thanksgiving shopping lull has become a predictable challenge, which analysts largely attribute to Christmas shopping creep.
Consumers have been bombarded with sales and promotions since Nov. 1, when retailers like Wal-Mart Stores Inc., Amazon.com and Target Corp. kicked off the holiday shopping season with events that took place online or in stores.
The early appetite continued into the holiday weekend, which the National Retail Federation said drew 174 million consumers to stores and online sites over the five-day period that stretched from Thanksgiving through Cyber Monday.
In-store sales data were not available, but the retail trade group said the turnout topped its expectations of 164 million shoppers. Adobe Analytics said consumers spent a record $6.59 billion online on Cyber Monday, marking the biggest day of online sales in U.S. history. The retail analytics firm said consumers had spent $50 billion online since Nov. 1.
So Ken Perkins, president of Retail Metrics LLC, said it's no surprise to see shoppers take a break -- especially in stores.
"That has been the pattern," Perkins said. "It's been eerily quiet, with a few little bump-ups on the weekends. ... So I think we're going to see some modest sales, I would say, through the rest of the first 2 1/2, three weeks of December. Then we'll see a frenzy that last week or so."
Perkins said there isn't much retailers can do to reverse the trend, but added there's potential for an uptick in traffic and sales this year because the economy is in better shape and consumer confidence is relatively high.
Retail research firm ShopperTrak said store traffic was down 1.6 percent on Thanksgiving and Black Friday, which analysts said was a sign traditional retailers and department stores held their own. Perkins expected a "steep drop-off" in store traffic because of the continued rise of online shopping, but it didn't materialize.
He believes incremental traffic can still be lured in by those who have unique or special offerings that flow into the stores in limited quantities over the next couple of weeks. It probably won't be enough to break the post-Thanksgiving weekend lull, but Perkins added most retailers have planned for it with four full shopping weekends remaining until Christmas.
One example: Wal-Mart is attempting to attract more shoppers to its 4,700 U.S. stores by throwing holiday-themed parties and offering more product demonstrations throughout the season. The retailer held its second themed party in stores Saturday with a third planned for Dec. 16.
"It doesn't mean they're not going to do anything," Perkins said about retailers. "They've got planned promotions they're going to implement and try to drive traffic onto websites and stores. They've got targeted social media marketing to their customer base. They're ramping up their loyalty programs and using those to try and drive interest and traffic as well."
McMillan-Doolittle's Stern said the next few weeks are important as retailers move past their Black Friday promotions, which had been planned for months.
"Where it really gets interesting for retail is what starts to happen on unplanned promotions," Stern said. "When you're looking at inventory you have in your stores and you're trying to get rid of it, at what point do you blink and say, 'I've got to start doing markdowns that weren't part of my plan.'"
Matthew Shay, president of the National Retail Federation, was optimistic the retail industry is set up for "one of the best seasons we've had in a long time" after a solid start over Thanksgiving.
He acknowledged the gap in sales that takes place between Thanksgiving and Christmas, but said retailers are concentrating on inventory, promotions and pricing as they move into the next part of the shopping season.
"I think we'll see a variety of tactics employed between now and the holidays," Shay said. "I would expect multiple big shopping days and big weekends between now and Christmas Day."
SundayMonday Business on 12/03/2017
Print Headline: Happy retailers know it won't last
Sponsor Content
Comments