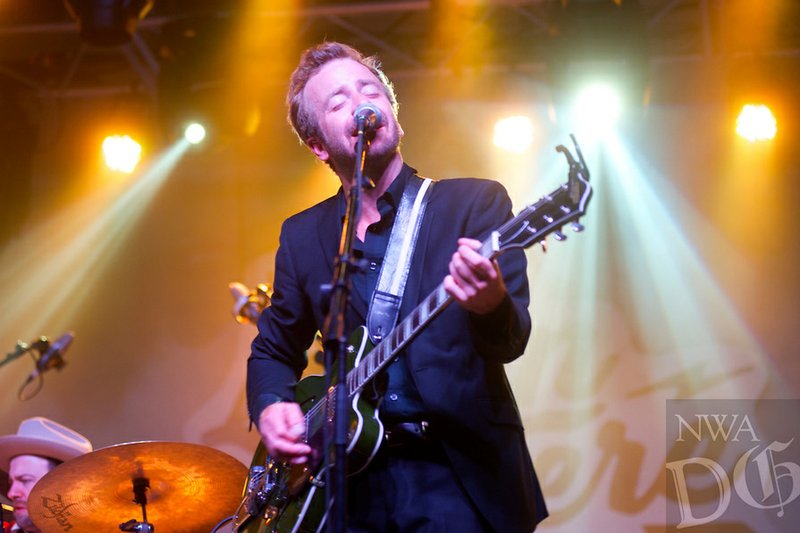 Dead Man Winter performs during the 4th day of the 2017 Fayetteville Roots Festival.
Day 4 of Roots Fest 2017, Saturday, was the only day the festival plaza -- location of the pop up bistro, festival merchandise, and art works created throughout the weekend -- was open to the public. The entire morning's schedule was open to the public, in fact, with music acts performing on the plaza and at the Fayetteville Public Library, a yoga class in the Pryor Center off the square, and back-to-back Taste & Talk panel discussions. This popular series that pairs chefs, farmers, brewers and other food experts with each other for discussions on their respective crafts was expanded from last year and hosted at intimate venue Stage Eighteen. The most noteworthy program of the morning, though, was the annual chef cook-off, which took place during the Farmers' Market.
• Starting at 11 a.m., four pairs of chefs each have $50 and a limited amount of time to buy their ingredients at the Farmers' Market for a dish that will win over the judges during the "Iron Chef" style cook-off. A crowd of festivalgoers and market shoppers gathered around the tent outside the Town Center as Case Dighero -- emcee and director of culinary programming and events at Crystal Bridges Museum of American Art -- chatted with chefs, the competition judges and festival organizers, kept time updates and generally gave everyone a teasingly hard time. This year's winners were William McCormick of Bentonville's MOD and Chrissy Sanderson of Fayetteville's Mockingbird Kitchen. An inside tip: viewers who hang around even after the winners are announced sometimes get sample tastes of the chefs' plates. Get up close to the action early, as the competition is always over well before the 1 p.m. time listed on the festival website.
• Another free program happening Saturday morning -- unfortunately, at the same time as the cook-off -- was the first festival screening and Arkansas premiere of a 2017 Sundance Film Festival selection, the documentary "Look & See: A Portrait of Wendell Berry," hosted by the Walton Arts Center. The film is "a cinematic portrait of the changing landscapes and shifting values of rural America ... seen through the mind's eye of writer, farmer and activist, Wendell Berry ... undoubtedly one of America's most significant living writers," says the press release. It was produced by Robert Redford, Terrence Malick and "Parks & Recreation" star Nick Offerman.
A longtime fan of Berry's writing and supporter of the conversations raised by the film, Offerman was in attendance to participate in a Q&A with Saturday's audience (as well as Sunday's audience at the showing at Crystal Bridges Museum). The audience brought thoughtful questions for Offerman -- "Do you see the film as more to preserve Berry's work, or more of a call to action against the plight of the farmer?" "So we want to make a change. Where do I start?" -- and he in turn led an interesting discussion on industry, agriculture and society's complicit contribution to consumerism as well as the destruction of the planet.
It wasn't all doom and gloom, though. "I've seen this film 10 times now, and it always makes me cry. It's so moving," Offerman shared with the audience as he took the stage. He also gave some advice for those wondering where to start. One place, he said, lies in supporting the local economy. Like his "Parks & Rec" character Ron Swanson, Offerman is a well-known carpenter. When his woodwork was mentioned in the discourse and was followed by cheering from the audience, Offerman responded with, "Take that notion of what you think you're applauding and find people who make things around here." Whether it's woodwork or a leather belt, or food from the farmers, Offerman insisted supporting local makers is a good first step toward getting back to the "right way" to live.
• FYI -- "Look & See" will eventually be available on Netflix. Offerman implores those who did not see it this weekend to look for it there and on other streaming services soon.
Saturday's mainstage in the Town Center opened at 1:45 p.m. with Blind Boy Paxton, followed by Mandolin Orange.
• The third act of the evening, Dead Man Winter (with Dave Simonett of Trampled by Turtles), gave a spirited performance -- which included several brand new songs -- inspiring several listeners to get up and dance. Between songs, lead singer Simonett shared a story with the audience of the last time he played in Fayetteville -- at George's following a big snow storm that closed down the city. Those who did show up for the concert were so happy they didn't have work the next day, Simonett said, that everyone had a great time, and he and his band have loved Fayetteville ever since. After the next song, he earned a laugh from the audience with, "I told all my prepared stories in that last break ... Does anyone have any questions?"
• After a break for dinner, festival organizer -- and one half of Fayetteville band Smokey and the Mirror -- Bryan Hembree introduced the next act as one of his favorite acts he's ever seen. Folk group Elephant Revival took the stage with their smattering of standard and nontraditional instruments -- mandolin, fiddle, washboard, djembe -- to an enthusiastic crowd. After several well-received songs -- led by Oklahoma native Bonnie Paine on vocals, washboard and djembe -- members of the Symphony of Northwest Arkansas joined Elephant Revival on stage for a special collaboration with some truly magical moments.
• Sticking around after his Q&A at the WAC earlier in the day, Nick Offerman took the stage just before 8 p.m. to a room buzzing with anticipation. There may have been a few people who chose to take a drink break during his set, but I know more than a few people who were looking forward to Offerman's set as a highlight of the festival. Anyone familiar with Offerman's stand-up would not have been surprised by his opening story of a request to keep his material PG-13 ending with the promise that his time spent with the audience that night "could never be PG-13." The singer/actor/comedian/woodworker switched between telling stories in his deep, no-nonsense style of speaking, and then performing a comedic song about the topic he was just discussing. These included his disdain for people changing or in any way diminishing the hair of their nether regions -- "Although I feel the audience of the Fayetteville Roots Festival may not be the best place to express my anger over this; I'm sensing a bit of the choir here." -- how attractive his wife, actress Megan Mullally, is, and making things with his hands ... like a little wooden ukulele and orgasms in his hot wife. You can understand why I did not tweet any video footage of this performance...
NAN What's Up on 08/31/2017
Print Headline: Roots Fest Day 4
Sponsor Content
Comments