Long-haul truck driver Dale Warren has felt the squeeze of the hours of service regulations, the rules that govern how long a trucker can drive -- and how long he or she must rest.
"It's like having your boss with a stopwatch hovering over your shoulder," he said.
The purpose of the of HOS regulations is to prevent commercial drivers from becoming too tired behind the wheel, prevent crashes, and to keep traffic moving safely.
After roughly 10 hours, truckers must pull over, no matter where they are at the time, and rest for about eight hours. Truck stops are not always an option because they fill up fast around dusk. Some truckers park in vacant lots. Some risk being towed or ticketed for parking on the shoulders of highway ramps. In Arkansas it is illegal to park on the ramps.
Bridgette Pineda, 23, from North Carolina, started driving in April. She drives at night because fewer trucks are on the road with many parked in the congested stops and rest areas. It just makes more sense, she said, to avoid the hassle altogether.
"Some people usually have to shut down early just to get a parking spot," Pineda said.
Surveys by the American Transportation Research Institute (ATRI) show parking is among the top three concerns for drivers. In 2012, it was the eighth most urgent problem among drivers. The ATRI said in 2013, the hours of service crunch even "exacerbated" parking shortages, because drivers began pulling over more frequently to meet regulatory standards.
Driver safety is also an issue. Earlier this month, Tennessee-based Travis Brown Trucking driver Keith Odom, 49, was robbed and fatally shot in Baton Rouge while stopped in a parking lot not far from his delivery point. No arrests have been made.
Many drivers save hours by parking close to their destinations rather than driving around to look for parking elsewhere.
Leanna O'Riley, a writer from California whose father was a truck driver, pays close attention to issues like these and posted a note on a website mourning Odom's death.
"We all want to order on Amazon and have stuff delivered to our houses ... yet when it comes to that truck, we don't want it anywhere near our neighborhoods," O'Riley said. "These truckers are going through a nightmare with their parking and with their hours of service."
Travis Brown Trucking co-owner David Brown drove to Baton Rouge to pick up Odom's truck. In his 45 years behind the wheel, he has watched as parking lots of malls and retail outlets became off-limits to weary drivers.
Brown said the company's 11 drivers normally sleep in their customers' lots "because we've learned there's no place to park. That was a tragedy what happened to our driver."
Brown fears the implementation of electronic logging devices, or ELDs, will lead to more drivers pulling over in risky areas, because drivers will be forced to stop. In-cab alarms will sound until the driver's engines are turned off.
In mid-December, all trucks will have to be equipped with ELDs, which will automatically track and report drivers' hours. This is a change from paper logs, which are easier to manipulate. One driver from Alabama, who did not want to give his name, admitted he used to keep three log books so he could cheat the hours of service and make more money.
As supply chains become more synchronized, truck drivers feel more pressure to be on time. If they arrive too late, they can be penalized. If they arrive too early, they may have to wait for hours to unload. Though shipping technology is increasingly more sophisticated -- with automation on the rise -- there are still no solutions for big-rig parking.
Shannon Newton, president of the Arkansas Trucking Association, said lawmakers view parking as an infrastructure issue. It's a budgetary concern, and is not viewed from a safety perspective. She said the association, which works closely with lawmakers, does not lobby the issue of trucker parking with legislators, prioritizing instead talks with the Arkansas Department of Transportation and highway officials.
"Unfortunately, most of the solutions are hamstrung together by a lack of funding," Newton said.
From her view, it will take a combination of private and public investment to address the problem. She said state-owned property next to highways could be used to provide more parking. But these ideas, she said, are up against billions of dollars worth of infrastructure projects at a time when President Donald Trump is looking at which projects nationwide need the most urgent attention and investment.
Without attention to parking, Newton said, "we are certainly putting drivers in a difficult position."
Erik Chaney, a driver from Kansas City, Mo., travels all over the Midwest. He passed through Arkansas on Interstate 49 this week, stopping at a truck stop to reset his hours. He started his day at midnight.
With hands full of energy drinks and food for the road, he laughed when asked what he does to find safe parking.
"Lock your doors, and do what you need to do," he said. "I haven't been anywhere much worse than what I've seen in Kansas City."
Pineda, the driver from North Carolina, moves cautiously through truck stops and rest areas. She has prepared herself for almost anything in this male-dominated industry. Pineda said she has been followed, and when she notices someone tailing her, she walks past her truck, circling the parking lot until the figure behind her disappears.
"They ain't met crazy yet," she said confidently before jumping into her bob-tail truck.
Warren describes himself as having a "gypsy soul," and the life of a trucker on the go matches his urge to travel. But the freedom to roam around the country, he feels, is disappearing, and the perils of truck driving are starting to offset the benefits.
Truckers are targets, he says, of regulators meaning to make highways safer and of people looking to steal from them. Warren said people have tried to break into his truck while he has been parked.
"If someone knocks," he said, "I just won't answer."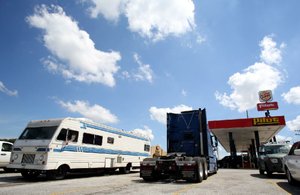 Photo by David Gottschalk
Dale Warren, a professional truck driver, parks his recreational vehicle in the front lot of the Pilot Travel Center in Springdale. He uses the RV when he needs to take some time off for rest.
SundayMonday Business on 08/27/2017