Ballet Arkansas' new artistic team, not yet two months on the job, is already on its toes.
Michael Fothergill, the artistic director, and his wife, Catherine Garratt Fothergill, the associate artistic director, officially took over July 1 from Michael Bearden, now director of the School of Dance at the University of Oklahoma.
Bearden, a Searcy native, danced with Ballet Arkansas in his teens -- he made his debut at 13 in 1993 as Clara's brother in The Nutcracker and the following year was the lead in the ballet's Chinese Variation. After several years dancing with Ballet West, he returned in 2012, first as an artistic adviser (while dancing lead roles in Nutcracker and other works) and became artistic director in 2013.
The Fothergills, meanwhile, are "stepping down" from dance careers in Birmingham, Ala.
"Catherine and I have just retired from Alabama Ballet," Michael Fothergill says, "seven years for me, nearly 10 for Catherine."
Bearden got in touch with them about the pending vacancy in Little Rock "on the day we were going on stage for our final performance, and asked if it would be OK to put my name in the hat."
He, of course, was already familiar with Ballet Arkansas, and vice versa. He was one of four choreographers who created works for the company's 2017 Visions Winter Choreographic Competition at Fayetteville's Walton Arts Center. He had applied for the inaugural Visions Competition in Little Rock in 2014 but didn't get the paperwork done in time.
Normally, he says, a dance company board takes time and considerable consideration in choosing a new leader. It took them only about two weeks.
He'd been eyeing becoming a full-time traveling choreographer -- in fact, he has just gotten back from an extended summer "tour" that has taken him, among other places, to Michigan, San Diego and Japan, but "this turned out to be a much more viable alternative." He'll continue to guest-choreograph in the company's summer off months.
The 2017-2018 season, dubbed "Reborn," highlights "our diversity and commitment to collaboration," Michael Fothergill says on the newly redesigned website.
The Fothergills have already increased the number of Ballet Arkansas' season offerings and the number of performances per main-stage show to encompass a new children's series. Each show will feature a Saturday matinee geared more toward young audiences, Michael Fothergill says.
The ballet's "Big Bands & Ballet," Nov. 10-12 at the Center for Humanities and Arts at the University of Arkansas-Pulaski Tech in North Little Rock, will couple a narrated version of Sergei Prokofiev's Peter and the Wolf and Benjamin Britten's Young People's Guide to the Orchestra. "Tour de Force," will be onstage Feb. 16-18 at the same venue.
The annual Nutcracker production will be at Little Rock's Robinson Center Performance Hall from Dec. 8-10 with members of the Arkansas Symphony Orchestra in the pit. Expect to see some reworking of the first and second acts this year, the Fothergills say, with an eye toward creating "our own unique Nutcracker" for future seasons that will involve collaborations with area artists on set and costume designs.
The season gets underway with "Emergence," Oct. 13 at Fayetteville's Walton Arts Center (the program will primarily consist of works the company performed in Little Rock in 2016-2017) and conclude with "Ballet Arkansas in Concert: An Evening With Drew Mays," May 4-6 at the Arkansas Repertory Theatre, across Main Street from the ballet's "Creative Corridor" offices and studios, 520 Main St.
That's where the new "Motion on Main" series will "combine the elements of visual art, live music and the best that the food scene in Little Rock has to offer with exhilarating dance performance," Michael Fothergill promises on the website. That lineup: "Director's Welcome," Sept. 9; a "Halloween Masquerade Ball," which the Fothergills hope will become an annual event, Oct. 28; "Winter Wine Taste," Jan. 20; and "DanceWorks," April 28. Not yet officially on the schedule: A Feb. 14 "red-hot Valentine's event," for which they hope to strike a balance between romantic and sassy, so as to attract couples and "anti-Valentine's" attendees.
They're also planning a March 23 ballet-and-art collaboration, called "Art Movement," with their next-door neighbor, artist and gallery owner Matt McLeod. He and artists affiliated with his gallery are drawing and photographing company dancers throughout the season, and the resulting artwork will be auctioned off at the event.
The annual "Turning Pointe Gala" fundraiser, Feb. 24, will mark the start of a new sponsorship program in which each company dancer will be "sponsored" for the season, the Fothergills say.
The program worked at Alabama Ballet, the Fothergills say, and allows donors to develop relationships with the dancers that will show off "a more human side of ballet."
Michael Fothergill says the goal is to create more performing opportunities for the company, reaching a larger area of the state and to continue to blend new and "paramount" works for coming seasons. To that end, Ballet Arkansas will maintain its recently forged link to the George Balanchine Trust, which has made it possible for the company to stage two Balanchine works since 2015 and raised the company's dance world profile. And, Fothergill says, they'll explore links with other distinguished choreographers and groups when such an effort will provide the "right fit at the right time for the best programming options moving forward."
The current 11 professional company dancers are all veterans of at least one year with Ballet Arkansas. "It's nice that there's not as much turnover as there is for a lot of regional companies of this size," Fothergill says. Ballet Arkansas also has an apprenticeship program to train advance-level dancers. Its focus is likely to be on area students, but it has so far attracted 90 applications, from as far away as Australia and Turkey.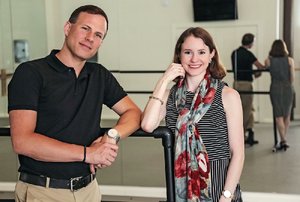 Photo by John Sykes Jr.
Michael and Catherine Fothergill are guiding their fi rst season at the artistic helm of Ballet Arkansas.
The level of performance is a guiding force toward programming, Catherine Fothergill says. "Repertoire is important. We want the company members to also develop as individuals, and we want to program things that will force them to grow" as dancers.
Style on 08/27/2017