A new Arkansas law that went into effect last week alters the way the state and its school districts -- including the newly designated Level 5 Little Rock School District -- will use the 2017 results from state-mandated student exams.
Act 930 of 2017 calls for multiple measures of student achievement and academic growth that will be the basis of "success plans" developed for every eighth-grader and above -- regardless of academic prowess -- to prepare the students for college and careers.
The old system focused on individual improvement plans only for students who needed help to achieve at their grade levels.
The state, school district and campus-by-campus results on the ACT Aspire exams, which were given last spring to more than 287,000 third-through-10th-graders in five subjects, were made public in July by the Arkansas Department of Education. The individual student score reports will be distributed to students and their parents after school starts later this month.
[RESULTS: Search Aspire test results by Arkansas school and subject]
The state's new school accountability law doesn't focus solely on the students who score below proficient, or their grade levels, in a subject, said Stacy Smith, the Arkansas Department of Education's assistant commissioner for learning services.
"With the new vision for student-focused learning for the state, it's really about every student," Smith said recently. "We want to get to the point in the state where .... we have plans for every one of our kids, not just this kid or these kids because they failed one test. We're transitioning away from 'one test, one plan' to 'all students and multiple measures.'"
The change in the state accountability system comes at a time when Arkansas students overall achieved higher on the Aspire tests in 2017 than in 2016. The Aspire exams are given in 48 states, but only four states have required that the tests be given statewide.
In Pulaski County -- the state's most populous county and home to four traditional school systems, 12 open-enrollment charter school systems and one online virtual charter school academy -- the 2017 Aspire results were mixed from system to system.
Within the traditional districts, test results also varied greatly, with some campuses showing very high percentages of students meeting the desired "ready" or better levels, to other campuses with low percentages of students meeting the standards.
Arkansas students took the Aspire tests -- created by the same company that produces the ACT college entrance exam -- for the second consecutive year this spring. They took the Partnership for Assessment of Readiness for College and Careers, or PARCC, exam in the spring of 2015 and the Arkansas Benchmark and End of Course exams for many years before that.
The now former Arkansas Comprehensive Testing, Assessment and Accountability Program law required school employees to write individual academic improvement plans for just the students who fell short of scoring at proficient or better levels on the state-required exams in math or literacy.
A proficient score indicated that the student had demonstrated knowledge and skills appropriate for his grade level.
The old academic improvement plan required a description of the parents' role and responsibilities, as well as the consequences for a student who failed to participate in the plan. The improvement plans, subject to Arkansas Department of Education review, had to be updated annually to assist students in reaching proficient achievement levels.
Additionally, school leaders had to use the individual improvement plans as resources in creating and revising comprehensive school improvement plans.
Act 930, passed by lawmakers earlier this year, calls for the Department of Education staff to collaborate with school districts during the 2017-18 school year to move to an accountability system that pushes for achievement and academic growth for all students, Smith said.
"We've been traveling the state doing professional development this summer on what does it mean to have a student-focused system," Smith said. "By the end of the 2018-19 school year, school districts are required to have for everyone in eighth grade and above, a student success plan."
That plan is supposed to put students on the path to high school graduation, including the coursework a student needs, as well as the need for any remediation of skills or opportunities for accelerated learning. It should also include college and career planning components.
The student success plan, according to the law, is to be a personalized education plan to assist students with achieving readiness for college, careers and community engagement.
"We will be talking to the students about 'Where are you heading?'" Smith said, adding that while the new system will absolutely continue to rely on the results from state exams, it will also take into account subject-area grades, results from other tests and student work samples.
It is "bigger than one test," she said of the system, and the approach could differ from district to district.
The new accountability law authorizes the state Board of Education to establish rules and criteria for identifying the level of state support that a district needs to support its campuses.
The levels of support start at Level 1, which consists of general support. The levels progress to collaboration at Level 2, coordinated support at Level 3, directed support at Level 4 and intensive support at Level 5.
The state rules determining the level of support needed in a district must take into account the performance of subgroups of students at a school -- as identified by race and ethnicity, family poverty, English-speaking skills and handicapping conditions -- as well as the achievement levels of schools that feed students into another school, graduation rates and academic growth calculations.
The Little Rock and Dollarway school districts are both designated as Level 5 districts because they have been operating under state control, with state-appointed superintendents and without locally elected school boards. Act 930 includes language requiring the intensive support Level 5 designation for such districts.
The Little Rock district has been operating under state control since January 2015 because six of its 48 schools were labeled as academically distressed -- the result of three and four years of low student achievement on state math and literacy exams. The number of such labeled schools has since been reduced to three -- Hall High, and Cloverdale and Henderson middle schools.
Mike Poore, superintendent of the Little Rock School District, has said that of the three, Henderson is closest to meeting the standard to be removed from the list. That standard calls for 49.5 percent or more of test-takers over three years to achieve at proficient or ready levels in math and literacy. The state will do those calculations later this year after school districts identify any errors in their test results.
Hope Allen, Arkansas' director of student assessment, said about 2 million students from 48 states took the Aspire exams this spring. Test-takers in four states -- Arkansas, Alabama, South Carolina and Wyoming -- are heavily represented in that number because the exams were given statewide in at least some grades, and not just in some school districts.
Wyoming's contract with ACT is for ninth and 10th grades only, said Allen, who also said Alabama will no longer give the Aspire exams starting this school year.
Arkansas shifted from the PARCC exams to the Aspire exams in 2016 partly in anticipation of being better able to compare the achievement levels of Arkansas students with those of students nationally.
"I hope to see more states come on in different capacities that would allow us better comparability," Allen said. "There are several states that I have spoken with that are considering Aspire, and ACT does respond to states' requests for bids on testing programs. ACT is 100 percent committed to the Aspire assessment and is trying to expand into more states."
Additionally, Allen noted that the Aspire exams are designed for progression from third grade to the long-standing ACT college entrance exam that is taken by many students in grades 11 or 12. The ACT exam results are a good way of comparing Arkansas students with students nationally, she said.
The Aspire exams in 2016 and 2017 provide an apples-to-apples comparison of student achievement because so little changed in the online testing program, Allen said.
The state used the same minimum numerical "cut scores" in 2017 that it did in 2016 to differentiate between students achieving at the "needs support," "approaching," "ready" and "exceeding" levels on exams. The Arkansas Board of Education set those cut scores for the four categories last year. Students scoring at the ready level are considered to be achieving at their grade level and ready to move to the next grade in school and on track to score well on the ACT exam.
The one change in the test administration in 2017 was additional time for students to respond to the writing prompt, Allen said. That extended time was provided to test-takers across the nation, not just in Arkansas. Arkansas students, who on average scored better in 2017 than in 2016, did best in English but made the greatest improvements in writing.
The state writing results for 2017 ranged from 19.2 percent ready or better in third grade to 59.3 percent in sixth grade. The English results ranged from 60.1 percent ready in the 10th grade to 78.6 percent ready or better in seventh grade. Reading ranged from 37 percent ready at third grade to a high of 48.9 percent ready at the eighth grade. In math, 24.7 percent of 10th-graders scored at ready or exceeding levels, as compared with 62.1 percent of sixth-graders.
Nationally, the percentage of students scoring at ready or better levels in writing ranged from 17 percent in third grade to 52 percent in 10th grade.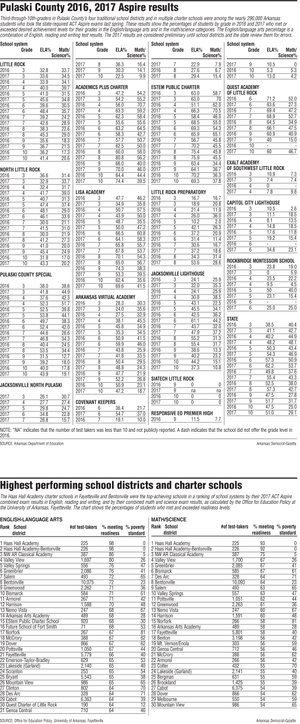 Photo by SOURCE: Arkansas Department of Education SOURCE: Office for Education Policy, University of Arkansas / Arkansas Democrat-Gazette
Pulaski County 2016, 2017 Aspire results/Highest performing school districts and charter schools
In English, the national results ranged from 61 percent ready or better in ninth grade to a high of 75 percent in seventh grade. Reading was lower, ranging from 38 percent ready at third and 10th grades to 50 percent in eighth grade. In math, the national results ranged from 32 percent ready or better in 10th grade to 60 percent ready in third grade.
Metro on 08/06/2017