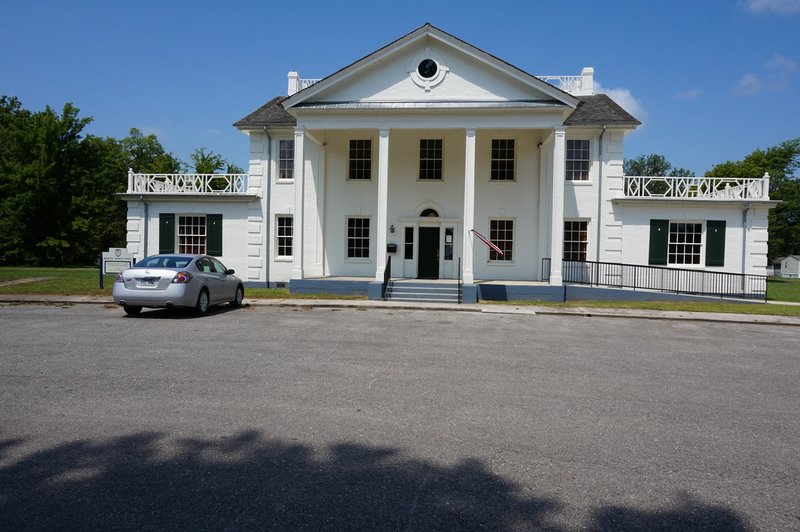 NWA Democrat-Gazette/LAURINDA JOENKS The Dyess Colony Administration Building, completed in 1936, has been restored to house the Dyess Colony Museum, along with municipal offices for the city of Dyess. Exhibits focus on the history of the colony, lifestyles of colonists, the Cash family as typical colonists and the impact of growing up in Dyess on Johnny Cash and his music.
House No. 266 on Road 3 in Dyess, a small white frame house with green shutters, stands by itself, surrounded by crop-filled fields, seemingly far from everywhere. But this humble home helped shape the life and music of an American legend.
This house has been restored by Arkansas State University as the "Historic Dyess Colony and Johnny Cash Boyhood Home." It is open to visitors in Dyess, on the Tyronza River in northeastern Arkansas, about an hour from Memphis. But the story of Johnny Cash is only a small part of the history here.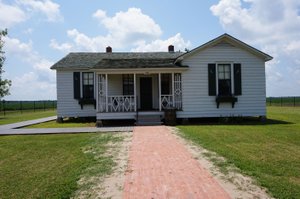 NWA Democrat-Gazette/LAURINDA JOENKS Johnny Cash's boyhood home is open for tours through the Historic Dyess Colony and Arkansas State University. Cash's family came to Dyess during the Great Depression to farm for subsistence, income and the purchase of their house and 20 acres. This five-room house was one of about 500 built by men working through the Works Progress Administration.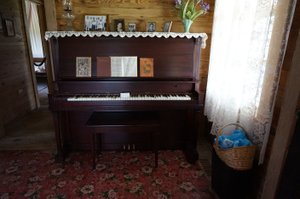 NWA Democrat-Gazette/LAURINDA JOENKS The piano of Carrie Cash (Johnny's mother) sits prominently in the living room at Dyess. "We'd gather around mother's old upright piano," said Joanne Cash Yates, Johnny's sister, in the book A New Deal in Dyess. "Mama played the piano. She didn't know a note of music, but she could hear a song once and play it."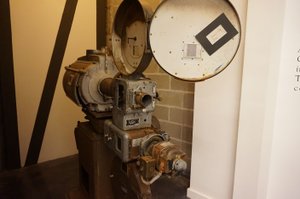 NWA Democrat-Gazette/LAURINDA JOENKS Johnny Cash's youngest brother, Tommy, ran the projector at the Dyess Colony theater in the 1950s, and his name is carved into this projector with the date Oct. 5, 1955. Tommy Cash pursued his own music career, with top 10 and top 20 singles in the 1970s, according to a panel in the Dyess Colony Museum. He continues to perform around the world.
Visit
What: Historic Dyess Colony: Johnny Cash's Boyhood Home
When: Tours 9 a.m. to 3 p.m. Monday to Saturday
Where: 110 Center Dr., Dyess
Admission: $10, general admission; $5, students to age 18; free, children younger than 5; $8, seniors.
Upcoming: Johnny Cash Heritage Festival, Oct. 19-21
Information: (870) 764-2274, dyesscash.astate.edu
New Deal in NWA
The Shiloh Museum of Ozark History in Springdale has recorded 235 projects completed in Northwest Arkansas as part of the New Deal federal relief programs during the Great Depression. The jobs ranged from planting grass to building roads to repairing schools. Some of the remaining familiar sites in Northwest Arkansas include:
The Beely-Johnson American Legion Post 139, Springdale. Built in 1934.
Devil's Den State Park; cabins, roads, lake, dam; 1936
Lake Wedington; lake, cabins, lodge; 1936-38
University of Arkansas; Chemistry building, 1935; Home Economics building, 1940; Ozark Hall, 1940; Vol Walker Hall, 1935
Arkansas State University
Heritage Sites
• Southern Tenant Farmers Museum, Tyronza
(870) 487-2909, stfm.astate.asu
• Hemingway-Pfeiffer Museum, Piggot
(870) 598-3487, hemingway.astate.edu
• Lakeport Plantation, Lake Village
(870) 265-6031, lakeport.astate.edu
• Rohwer Japanese-American Relocation Center Cemetery, McGehee
(870) 222-9168, rohwer.astate.edu
• Arkansas State University Museum, Jonesboro
(870) 972-2074, museum.astate.edu
Cash spent much of his boyhood in Dyess, an experimental agricultural colony, a part of the New Deal relief efforts during the Great Depression.
BOYHOOD BASE
"The bed on the right was Johnny's," said Amy Ulmer, an ASU graduate assistant in heritage studies, who led a tour of the house last month. "He slept there with his brother, Jack."
The front bedroom was one of two in the house, which also included a porch, living room, dining room, kitchen with wood-burning cast-iron stove and bathroom with a large, claw-footed tub. Additionally, the homestead included a barn, a smokehouse and an outhouse.
In the other bedroom, on the bed covered by a quilt made from a flour sacks, Carrie Cash's black purse is displayed. It includes some change and maybe lipstick, Ulmer said, "just as if she had left it there earlier today."
The size of the Cash family earned them a five-room house, one of the largest in the Dyess colony, Ulmer said. Carrie and Ray Cash moved to the house in March 1935 with five children, and two more were born in Dyess.
"This was a normal-size family," Ulmer continued. "Everybody had lots of kids, and everybody worked.
"The (Cash) kids moved in and out of here. They were not all under one roof at the same time. Roy slept on the couch, and he was only here for a few months before he got married and moved out. For a short time, (the family) used the dining room as a bedroom."
During the restoration, historians found the house's original linoleum under carpet, dated to the Cash family's time -- bright pink with large flowers. And the original pine boards remain on the walls. "The Cash family never painted the walls," Ulmer said. Out front, visitors enter the home via a restored brick path, originally laid by Ray and his youngest son, Tommy.
The Cash house was restored with parts from other colony houses, about a dozen of which still exist, Ulmer said.
Despite promises and utility hookups in the house, it was 10 years before any colonists received power lines, said tour guide Jessica Ross. Water lines were run to the house but never hooked up, she said. The family got its water from a well and a pump.
Ross walked to the center of the living room and pulled a string, attached to a bare light bulb hanging from the ceiling. Click. "And that's the only one," she said.
"Before we got electricity, we used old coal-oil lamps," recalled Johnny's sister Joanne, in the book A New Deal in Dyess: The Depression-Era Agricultural Resettlement Colony in Arkansas by Van Hawkins (2015).
Ross pointed out oil lamps placed throughout the house. "Daddy wouldn't let us burn them all night long because coal oil cost a dime a gallon," Joanne continued.
The acquisition of electricity also made the Cash family one of the first to get a television, the book reads.
Next to the front door stands Carrie Cash's piano, with some of her song books open, ready to play. "I imagine it was Mom's peaceful escape from the drudgery of hard work on the farm," Ulmer said. "It was healing. I bet this piano could tell so many stories."
Across the room, on top of a Singer treadle sewing machine, sits a radio -- a stand-in for the family's Sears Silvertone model. Carrie Cash would move it when she needed to sew, Ulmer said.
"Johnny kept his ear to it," says Joanna Cash Yates, Johnny's sister, in a video taken when she and Johnny visited the house in 1968.
Johnny -- known to his family as J.R. -- lived in the house until he graduated from Dyess High School in 1950 and volunteered for the Air Force during the Korean War.
CHEAP LAND
Large earthquakes along the New Madrid fault line in 1811 and 1812 opened wide crevices and dropped the land as much as 50 feet. The mighty Mississippi River -- just 6 miles to the east -- had flooded the land for centuries, re-creating the wilderness to suit its whims.
The first settlers to the river delta and their slaves drained and burned the land for clearing, leaving new ground, with rich soil ready for cultivation. But the area of Mississippi County that would hold the Dyess colony remained untouched by man.
Hard times for share croppers who sought land in Dyess began when farm commodity prices dropped about 10 years before the financial crisis that sparked the Great Depression.
Then, a record-setting 1927 flood of the Mississippi backed up into its tributaries. "The flood brought varying degrees of ruin to 200 counties in eight states," according to A New Deal in Dyess.
Into the perfect storm came a record drought in 1930-31 gripping 23 states, with Arkansas hit the hardest. "Between 30 and 50 percent of the crops were lost, and 74 of Arkansas' 75 counties lacked sufficient food for people and livestock to make it through the winter," reads a panel in the Historic Dyess Colony Museum. "By January 1931, 35 percent of the state was on relief. Those who tried to plant a crop received less yield than the cost of production."
Ray Cash lived as an example of the times. He served in the Army during World War I but returned with few prospects. Living a hardscrabble, tenant farming existence, the family went on the county's relief rolls in 1934, A New Deal in Dyess records.
During his first 100 days in office, President Franklin D. Roosevelt created -- among others -- the Federal Emergency Relief Administration, which became instrumental in the creation and support of the Dyess Colony. Similar colonies were created around the country, including those in Alaska, South Carolina and West Virginia.
(In fact, traveler Mary Jo Brown from Cornwall, Pa., visited the Historic Dyess Colony in July because she was interested in WPA projects, she said. The fact that this colony was also home to Johnny Cash came as a surprise when she arrived.)
Poor families on relief could purchase farm land with a 30-year loan, and the Works Progress Administration was created to put unemployed to work on public service projects -- including the building of community centers, roads, drainage and houses in Dyess.
"Administrator of both FERA and the WPA in Arkansas, William R. Dyess, obtained federal funds to turn thousands of acres of Mississippi County wetlands into what he hoped would become a model agricultural community," writes Hawkins in A New Deal in Dyess. "Work on the colony formally began on May 22, 1934," when crews arrived to clear the wilderness.
The colony was laid out with a town center at the hub and farmsteads stretching out from that hub. The crews built an administration building as well as commercial buildings.
The "Colonization Project No. 1" was renamed in his Dyess' honor after he died in a plane crash in 1936.
PROMISES
Ray Cash learned about the opportunity in the Dyess Colony from a radio announcement.
"We heard we could buy 20 acres without any money down, a house and a barn, and they would give us a mule, a cow, furnish groceries through the year until we had a crop and could pay it back," Johnny Cash was quoted in A New Deal in Dyess.
"Prospective Dyess colonists had to fill out a detailed questionnaire, followed by an extensive personal interview and evaluation by a field worker," reads a panel in the museum. "Referrals came from county supervisors, and preference was given to those ages 25 to 45, who did not have more than six children, given limitations on house sizes. Once tentatively approved, prospective colonists were brought to Dyess on an inspection tour, where they could pick out their house and get their required physical examination in the colony hospital. If all went well, government trucks were dispatched to move them to the colony, where they were on probation for a year."
"Colonists who arrived at Dyess had lots of surprises, beginning with the difficulty of converting the land to agricultural production," reads an accompanying panel. "It could take 30 days to clear an acre. While the soil was indeed fertile, it presented challenges few had previously encountered.
"Known as 'black gumbo,' with a high clay content, it could only be worked under certain weather conditions. If too wet, it was a sticky tar and clogged up the equipment. If too dry, it cracked wide open and was like chipping away at a rock."
"After their two-day journey in a truck (from Kingsland, northwest of Fordyce, Johnny's birthplace), the Cash family pulled into Dyess in March 1935," reads A New Deal in Dyess. Like other colonists, they saw there a chance to lift the financial desperation that hung over them like a burial shroud.
"Though perched on soggy ground and surrounded by swamp, the recently constructed white house with green trim looked to the Cash family like the Promised Land Johnny sang about."
"Mom cried when she saw the house. This was the first new house she'd every owned," Johnny Cash says in a remembrance video.
The Cash family's first harvest include three bales of cotton, seed corn and garden vegetables -- sufficient for their first annual payment for land and improvements amounting to $111.41. The family also managed to pay its other outstanding debts, according to A New Deal in Dyess.
"The first requirement for the Dyess colony members was creating a garden, along with a potato and corn patch, for producing and canning for the family," reads a panel in the Historic Dyess Colony Museum.
"Colonists were encouraged to grow tomatoes, snap beans, limas, beets, cucumbers, peas, peppers and spinach. Everyone was expected to have a flock of chickens (40 to 60 per family), a brood sow and at least one milk cow. The cash crop was cotton, but colonists also grew alfalfa and sorghum to feed livestock."
At the colony's formal dedication on May 22, 1936, many major improvements had been completed, including 500 farmhouses, reads A New Deal in Dyess. A permanent administration building stood at the colony's center, and nearby, a cannery, cotton gin, commissary, community building, post office, cafe and hospital. First Lady Eleanor Roosevelt visited Dyess a month later, giving her support and praise.
But the times weren't all good. Politics invaded the colony's support organizations, and colonists were belatedly given varying terms for the purchase of their houses and farms.
A 1937 flood found many of the colonists evacuating, some never to return. The Cash family evacuated, but Ray and his oldest son Roy stayed and later bought the 20-acre farmstead adjoining his, Ulmer said. This flood led to Johnny Cash's hits "Five Feet High and Rising" and "Big River Blues."
"Dyess Colony had reached its peak in the late 1930s" with a population of 2,500, "and steadily declined thereafter," compared to today's 400, Ulmer said.
"As private sector employment grew during the industrial ramp-up to World War II, the size of the relief rolls decreased," Hawkins wrote in his book. "The federal government grew less and less interested in resettlement programs as its focus shifted to threats posed by Germany and Japan."
"Most people soon forgot that Dyess, Arkansas ... had been a part of a large social experiment. Desperate farmers who sought a place there believed the colony offered life in a promised land -- and many said it did. However, after moving to the community, some considered it a land of broken promises.
"Although Dyess Colony came and went that way, it is still remembered fondly by many men and women who lived there, and what they endured survives in songs sung by a man dressed in black."
NAN Our Town on 08/03/2017
Print Headline: Cash crop
Sponsor Content
Comments