The Bentonville Film Festival answered a prayer for Jennifer Deaton, screenwriter and co-producer of the movie Jack of the Red Hearts.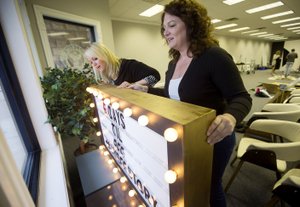 Photo by Jason Ivester
Elisha Alas (left), office manager, and Rebecca Elkins, co-owner, set up a marquee Friday for the Bentonville Film Festival at Elkins Design in downtown Bentonville. The festival begins Tuesday.
Her male agent saw no value in the script, which told the fictional story of a kid tricking a desperate mom into hiring her to be a live-in companion for her severely autistic daughter, because he couldn't relate to it, Deaton said.
Festival Information
The third Bentonville Film Festival will be Tuesday through Sunday. Nearly 80 films will be shown. Download the festival app for up-to-date information about the schedule, tickets, film summaries, venues and more, or visit online at www.bentonvillefilmfestival.com.
Source: Staff report
Past Winners
2015 Competition Winners
• Jury Award: Jack of the Red Hearts
• Best Documentary: In My Father's House
• Best Family Feature: A Brilliant Young Mind
• Highest Diversity: Meet the Patels
• Best Ensemble: Big Stone Gap
• Best Protagonist: Stephanie Linus in Dry
• Audience Award: Thao's Library
2016 Competition Winners
• Best of the Fest: No Greater Love
• Best Narrative: It Had to Be You
• Audience Award: Floyd Norman: An Animated Life
• Best Family Film: Lost & Found
• Best Documentary: A Journey of a Thousand Miles: Peacekeepers
• The Dernsie (feature film screenplay competition): Alice Coulthard - Josephine
• Best Ensemble: Fair Market Value
• Highest Diversity Score: Tested
Source: Staff report
"And I believed him and thought, 'Well OK, I guess I have to go back to the drawing board and write some other story that would appeal to him as opposed to it finding its right audience,'" Deaton said.
She made the film anyway, thanks to producers Lucy Mukerjee-Brown and Stefan Nowicki.
[EMAIL UPDATES: Get free breaking news updates and daily newsletters with top headlines delivered to your inbox]
The Bentonville Film Festival, whose mission it is to champion women and diversity, gave the film a platform to be seen. Jack of the Red Hearts premiered at the inaugural festival in 2015 and won the Jury Award, which was one of three categories where awards came with a comprehensive distribution package offer.
Some winners have accepted the distribution package prize over the first two years and some haven't, but said they have benefited from the festival in other ways such as the overall exposure.
Regardless, filmmakers and industry researchers agree the festival is addressing an issue in the entertainment industry and believe it plays a role in working toward a solution.
Unconscious bias
Trevor Drinkwater, chief executive officer of ARC Entertainment, partnered with Academy Award-winning actress Geena Davis and her Geena Davis Institute on Gender in Media to create the festival as a way to tackle the unconscious bias in the media entertainment industry.
"When children see movies and TV without women, without people of color in them, they get the message that they're not as valuable because they're not there," Davis said during last year's festival. "They're not well represented. I'm a big believer in 'If they see it, they can be it.'"
Women seem to feel like they need to be overqualified for a job, whereas men don't seem to have that same pressure, Deaton said. She's seen it in herself and in women colleagues.
She said the work of Davis' institute is important because it works to promote strong female and minority characters as role models for children.
"There's a confidence level in men that we need to be better about as women. Hopefully we can socialize them to be more confident," she said of girls.
The gender disparity also prevents boys from investing in female protagonists like girls do with male protagonists simply because there is more of them on screen, Deaton said. What children see in the media can affect the way genders view their roles as adults, she said.
Director Valerie Weiss said she doesn't feel a bias when working on a project, but sees it in the larger Hollywood ecosystem.
"I've only had positive experiences and felt supported by the men in my crew," she said of being on set. "But when you look at how fast men advance when they've done comparable or less comparable work verses women, it's obvious that there's something going on, even if it's unconscious bias. It's really powerful."
Weiss' film The Archer will screen at this year's festival. The coming-of-age feminist film follows a competitive high school archer who's sent to a prison-like reform camp for girls, but escapes with a friend she meets there.
Women are able to tell stories of female characters more authentically and completely, Weiss said.
"We do see things differently, and we do let you in to the emotional life of the character in a different way than men do," she said. "It's really important that people see that."
The numbers
Davis created her institute in 2004 after noticing how few women and girls were included in the casts of the television shows she watched with her daughter. Her institute found female characters are outnumbered about three to one in terms of speaking roles on prime-time TV and children's programming despite the fact women and girls make up 51 percent of the population, according to its website.
"Media greatly influences children's social and cultural behaviors," according to the institute's website. "Omission or negative gender stereotypes in media can generate lifelong imprints that can shape feelings of self-worth and behavior."
Numbers reflect the same trends behind the scenes as men outnumbered women film directors more than six to one for the top 200 theatrical film releases in 2015, according to the 2017 Hollywood Diversity Report. The Ralph J. Bunche Center for African American Studies at UCLA has done the study annually for four years.
The report considered the top 200 theatrical film releases in 2015 and about 1,200 broadcast, cable and digital platform TV shows from the 2014-15 season. It documents the degree to which women and minorities are present in front of and behind the camera.
The national conversation regarding racial disparities in Hollywood flooded headlines in 2015 and 2016 as all 20 Oscar-nominated actors in the lead and supporting roles were white, which hadn't happened since 1998.
Oscar voters were 94 percent white and 77 percent male, according to a 2012 report by the Los Angeles Times. Blacks made up about 2 percent and Latinos less than 2 percent of the academy's 5,765 voting members.
The Academy of Motion Picture Arts and Science's governing board unanimously voted after the 2016 nominations were released to double its female and minority members by 2020.
Guaranteed distribution
Film distribution guarantees more exposure and provides an entry point into the larger conversation of gender and inclusion, said Paul Prado, director of filmmaker relations for the festival.
Bentonville Film Festival officials pride themselves on being able to offer distribution packages to film winners in certain categories. This year, they include jury award for Best Narrative Feature, jury award for Best Family Feature and a Best of the Fest narrative or documentary film, decided by the audience.
The package includes theatrical, television, digital and retail home entertainment platforms. Sponsor relationships allow the festival to offer distribution packages to winning films, Prado said.
"We're the only festival with a guaranteed distribution prize," he said. "Nobody else has that."
Distribution is difficult for independent films to get, Deaton said, adding winning the package simplified the process.
Jack of the Red Hearts was screened in AMC Theaters in 25 cities nationwide, aired on Lifetime and is available on DVD and digital streaming platforms such as Amazon Video and Vudu.
"It was an amazing package," Deaton said. "For years, filmmakers have always seen certain established film festivals as like the Holy Grail -- if they could just get to those festivals, then they would have it made. But those festivals don't offer this kind of opportunity."
Providing Exposure
Erik Sharkey and Mike Fiore's documentary film Floyd Norman: An Animated Life won the Audience Award in 2016. Fiore decided to forgo the prize and self-distribute his film, which tells the story of the first black animator at Disney.
It premiered at the Santa Barbara Film Festival in February 2016 and was also shown at the Walt Disney Family Museum in San Francisco. Audiences at both locations were familiar with Norman, so it was difficult for Fiore and his team to know if the positive feedback was because people loved Norman or if the movie was one of quality, Fiore said.
The Bentonville Film Festival was the first place the film was shown where people weren't familiar with Norman.
"For the first time, we went 'Wow, we have a movie with something very universal that people are really excited about,'" he said.
The positive response from the Bentonville festival gave the Floyd Norman team confidence to organize their own theatrical releases in New York, Los Angeles, San Francisco and Orlando, putting the film in consideration for an Oscar nomination.
The positive reviews from the theatrical release caught the interest of Netflix, which released it worldwide in November.
"That all came out of the response we got in Bentonville, which was amazing," Fiore said.
The 2016 Best Family Film winner Lost and Found self-distributed, and 2016 Best Narrative Film winner It Had to Be You was picked up by Samuel Goldwyn Films. Neither took the distribution package.
"Self-distribution is becoming more prevalent and is more filmmaker-direct-to-the-outlet," Fiore said. "If you've got the time and the energy, you can make anything happen. But first and foremost, you have to have a great movie."
The end goal is the same whether a filmmaker wins and takes the distribution package or doesn't and is picked up by another company or decides to self-distribute, Prado said.
"No matter how you get there, the ultimate goal is to normalize diversity and inclusion," he said. Exposure, saturation and awareness of these films help achieve the festival's mission, he said.
Wider impact
Films at the Bentonville festival get wider exposure than a lot of other festivals because Geena Davis backs it, Weiss said.
The Archer had three sold-out screenings when it premiered at South by Southwest Film Festival in Austin, Texas, in March. Before The Archer, her film A Light Beneath Their Feet showed at 30 festivals.
Deaton said the Bentonville festival stands out because of the mission of the Geena Davis Institute.
"That's huge," she said. "The more press that covers this festival and the more people who know about these films, the more they have a chance to infiltrate society."
The festival also inspires people to make diverse films because there's an outlet for them to be seen, Weiss added.
Prado echoed Weiss' point.
"We're not just here to change the lives of those watching movies, we're here to embolden the filmmakers making them," he said.
Then major buyers, studios and distributors are likely to invest more in films with strong women and diverse influence after seeing the success of some already made, Prado said.
Sustainable change
Film festivals are a good point of entry into the industry for filmmakers. They can also help create a culture where mentorship and guidance can be given to women and people of color to help elevate them in their careers, said Ana-Christina Ramon, co-author of the Hollywood Diversity Report.
There have been advances made for women and minorities in film and television since the first report was released four years ago. But the two groups still are largely underrepresented, according to the 2017 report.
Minorities posted gains relative to their white counterparts from the 2016 report in five of the 11 industry employment areas the study considers: film leads, broadcast scripted leads, broadcast reality and other leads, digital scripted leads, and broadcast scripted show creators.
They lost ground in four arenas -- film directors, film writers, cable scripted leads and digital scripted show creators -- and held their ground in two -- cable scripted show creators and cable reality and other leads, according to the report.
Women, relative to their male counterparts, showed gains in all the arenas except for two -- broadcast reality and other leads, and cable reality and other leads.
Both groups remained underrepresented in every arena. Studio heads weren't included in the 2017 report.
Systematic and sustainable change won't come until there is more gender and ethnic diversity among executives in the film and entertainment industry, Ramon said.
"Until it gets to a point where executive suits at the very top are diverse with women and people of color, then you probably won't see the product be completely diverse or there won't be this sustainable product in terms of diversity," she said.
"You really have to keep pushing for that change in front of and behind the camera."
NW News on 04/30/2017