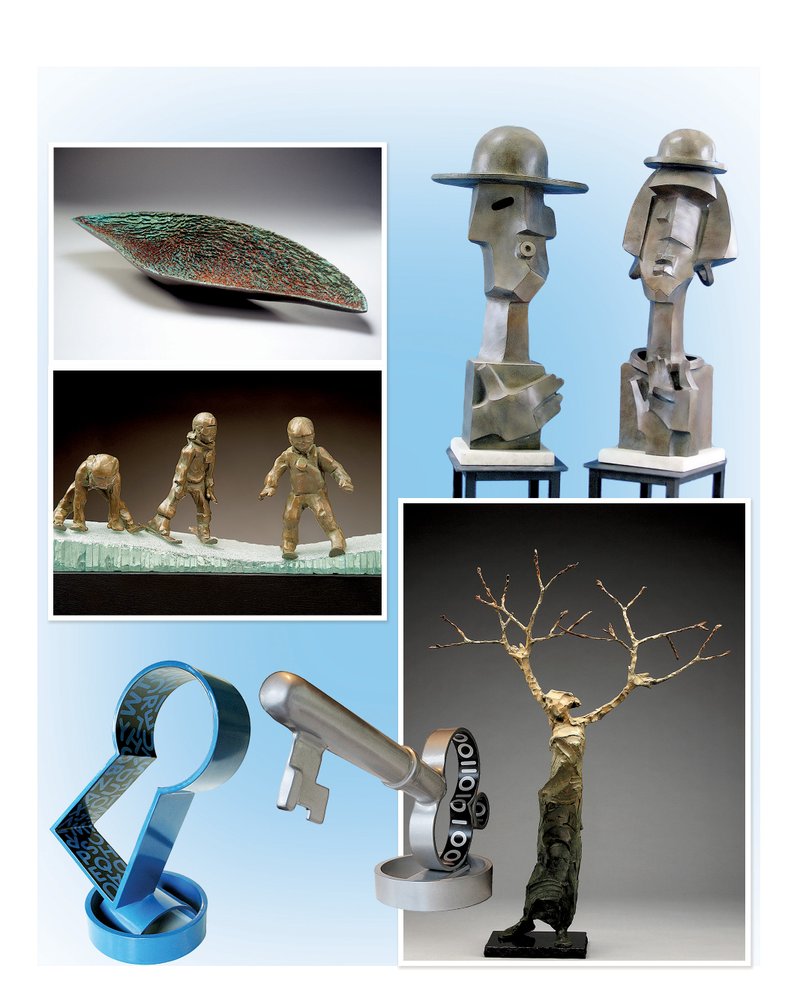 Among the works at the Sculpture at the River Market event Friday-April 23 in the River Market pavilions will be (clockwise, from top left) Vessel 2 by Michael Warrick, Benito and Amellia by Wayne Salge, Daphne II by Jane DeDecker, Language Is the Key by Tod Switch and Ski School by Clay Enoch. - Photo by Kirk Montgomery
There's a giant rabbit at the corner of President Clinton Avenue and Sherman Street in Little Rock, directly across from the Museum of Discovery. Its bronze form stands not in a typical hunched bunny pose, but in a stretch, its belly elongated and low to the ground.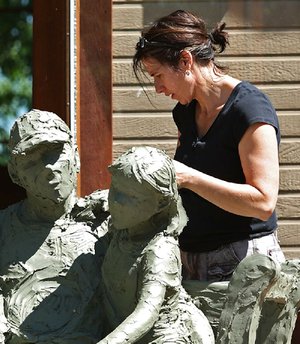 Photo by City of Little Rock
Jane DeDecker is one of the returning sculptors for the Sculpture at the River Market Show & Sale.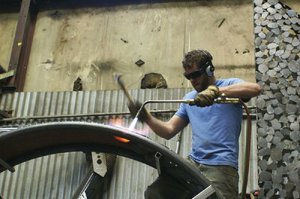 Photo by City of Little Rock
Stephen Shachtman, one of the sculptors at the 10th annual Sculpture at the River Market Show & Sale, uses welding equipment on his pieces.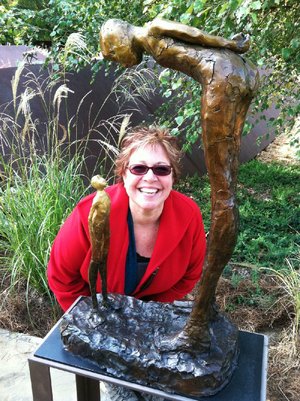 Photo by City of Little Rock
Colorado sculptor Lorri Acott's Conversation With Myself sculpture can be found in the Vogel Schwartz Sculpture Garden in downtown Little Rock. Acott returns to the Sculpture at the River Market Show & Sale this year.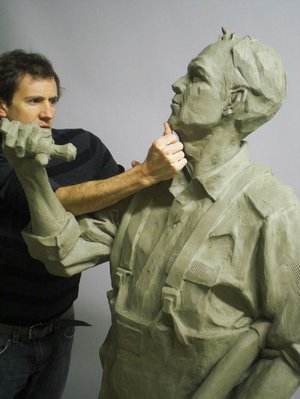 Photo by City of Little Rock
Sculptor Clay Enoch works on Steady, a sculpture of Bill Clark that is the centerpiece of the Bill Clark Wetlands. The sculpture is along the Arkansas River, adjacent to the Clinton Presidential Center.
Called Rabbit Reach and created by Tim Cherry of Branson, it has only been there since 2008 but is already showing definite signs of being well-loved, with the patina rubbed away from its ears and stomach by hundreds of curious little hands.
Sculpture at the River Market
Show & Sale
Preview party, 6:30-9:30 p.m. Friday, $100
Show & Sale 9 a.m.-5 p.m. Saturday, 10 a.m.-4 p.m. April 23, free admission
sculptureattherivermarket.com
While some people might be upset to see a piece of quality sculpture worn down, the organizers of Sculpture at the River Market, who are responsible for putting it there, are downright thrilled. The rabbit and its placement were not incidental.
"It was put there for kids who were going to the museum to play on and sit on," says Sculpture at the River Market founder Dr. Dean Kumpuris. "That's what we want."
Chairman Jane Rogers agrees. "That's what we're looking for, that subtle appreciation of art."
The rabbit is just one of dozens of sculptures that has sprung up downtown and all over Little Rock in the last decade thanks to the efforts of Sculpture at the River Market. And while some people's perception of sculpture and art may be as something pretentious, intimidating or stuffy, the pieces around the capital city belong to everyone and they're meant to be enjoyed, not just admired.
In a way, the nonprofit 501(c)3 organization owes its existence to the Clinton Presidential Center.
In order to persuade the Clintons and their team to put the Center in the River Market district, organizers promised to improve Riverfront Park and the surrounding area to make it more attractive for visitors. While efforts were put into beefing up the River Market District and improving landscaping, Kumpuris, Rogers and others felt more needed to be done.
"We said, 'We need to put some pieces of art up so when people come to town they don't think we're hillbillies,'" Kumpuris says.
Several pieces, like Anglers, which shows a grandfather and granddaughter going fishing, were bought by individuals and groups and placed throughout the area.
The art was so well-received, the organizers got the idea to start inviting sculptors to town to sell their pieces. The money raised could be used to buy more art to fill the new Vogel Schwartz Sculpture Garden and other locations in and around Riverfront Park.
So, Sculpture at the River Market Show & Sale was born.
Now 10 years old, the event welcomes sculptors from across the country who are selected for the juried show and come with pieces of art of all styles, shapes and sizes to sell.
"We encourage people to bring pieces that will entice the beginning collector to the sophisticated collector," Kumpuris says.
The show and sale starts with a ticketed Friday night preview party with drinks, food, and the chance to get first dibs on the sculptures. On Saturday and Sunday, the sale is free and open to the public with other activities such as garden docent tours and a gathering of food trucks.
The committee is well aware that an art-theme party and purchasing event could seem stuffy or intimidating to some. So, they make sure the festivities are relaxed and fun.
"I think that breaks the ice for the educational aspect of it and learning more about art," Rogers says.
...
Their goals are not just to make it appealing for attendees, but for artists as well.
So, they make an extra effort to make the show a unique, rewarding event in other ways. Instead of just showing artists to their booth spaces and wishing them luck, they host special breakfasts and dinners, have state Department of Parks and Tourism workers on hand to help them set up and encourage a welcoming atmosphere.
Their efforts are appreciated, says Lorri Acott, a Colorado-based sculptor who has participated several times.
"I love Little Rock," Acott says. "We really look forward to going there. The people are always so nice. I enjoy catching up on the lives of people who have collected my work over the years."
University of Arkansas at Little Rock professor Michael Warrick, who has entered the show every year, agrees.
"It's a real treat to be there and participate. I'd go there even if I wasn't in the show."
Most of the sculptors are from out of state, although Arkansas-based artists are encouraged to participate and receive invitations to enter the competition. Rogers and Kumpuris say they hope to start programs to encourage more local artists. But since it is a juried show, Rogers says, there are never enough spaces for all the submissions.
A portion of the proceeds goes back to Sculpture at the River Market, which uses the money to buy more art for the sculpture garden and the city. But people are also welcome to look and admire.
Part of the purpose of Sculpture at the River Market, its sculpture installations and the show and sale is to educate the public about art, particularly sculpture. The committee has made efforts to encourage young people to attend. There are also docents to show people around the garden and even conduct scavenger hunts.
It is, Kumpuris says, a long-term process.
"Our hope is that over time, they will start out and buy some smaller things and learn to appreciate the bigger things. As time goes on, they end up budgeting for bigger things."
Sculpture at the River Market has expanded well beyond the initial goals. Now, there are pieces throughout the River Market District and the city itself.
"When we started this, we thought, 'We'll have the show. We'll buy a few pieces of art," Kumpuris says.
Then, in 2011, Rogers suggested they start moving more out into the community.
The result was the contest, where sculptors submit proposals for a monument-size work. Attendees at the show and sale vote on their favorite and the winner is commissioned and placed somewhere in the city within the year.
The 2016 winner will be placed at Little Rock Central High School as part of the 60th anniversary of the Central High desegregation crisis. This year's winner will go up at the Southwest Community Center on Baseline Road.
...
Acott's sculpture Peace won the 2014 competition and stands at Second and Main streets. She also has pieces at the Little Rock Animal Village and in the Sculpture Garden and says her work is "about encouraging and inspiring people. The hope in everything I do is to encourage and inspire people to become the best versions of themselves."
Out at Chenal Parkway and Chenal Valley Drive, the 2015 winner, Mockingbird Tree by Warrick, stands as a playful representation of the Arkansas state bird.
"They did a wonderful job of landscaping around it and putting lighting around it," Warrick says. "It looks great at night and day."
While the larger works have been drawing some attention, the Vogel Schwartz Sculpture Garden in Riverfront Park, filled with mostly smaller pieces all labeled and detailed in brochures, is a little more of a hidden gem.
"That's been one of our biggest challenges: to get people to know about it," Rogers says. "Because you don't drive by and see it. You have to know it's there and make an effort."
People who are aware of it, or who stumble across it during a day in the park, are rewarded.
Rogers and Kumpuris are quick to share stories and photos of people relaxing in the garden or of families stopping and posing for pictures with some of the park's more whimsical figures, like Boris, the little dog by Daniel Glanz.
The sculpture garden is undergoing a major expansion, quadrupling its size. The larger area will allow the committee to install some bigger pieces among the new walkways and sidewalks.
They're also working on an app for the garden where visitors can type in a number, and get information on a particular piece of sculpture. For instance, learning that the two rabbits dancing is Bunny Bump by Laurel Peterson Gregory and has been there since 2010.
While many garden sculptures have been paid for with money raised at the show and sale, many have also been bought and donated by groups or individuals.
No matter where the pieces come from, though, their ultimate purpose is the same. Just as with Rabbit Reach at the Museum of Discovery with its well-loved ears, the committee wants this art to be for everyone to appreciate, admire and love. That applies to whimsical, realistic pieces like the turkey Lord Featherwick as well as more abstract ones like Open Window.
...
There's a unique accessibility to sculpture, the organizers say. Composition of stone, steel and other hardy elements mean they can be kept outside. They don't have to be protected in the same way as a painting.
"It's durable," Kumpuris says. "It's there all the time."
Rogers agrees.
"They don't have to go into a museum. They don't have to go to the theater. They don't have to go anywhere. It's free. They can enjoy it and interpret it as they see. I think that's one of the big benefits. I think, slowly, Little Rock is becoming a city of art."
It has been quite an achievement so far. Kumpuris and Rogers point out that, at this point, the city of Little Rock owns more than $4 million worth of sculpture thanks to donations -- impressive for a city of 200,000.
Goals going forward are just as lofty.
"I think it has the potential to change our city," Rogers says. "It can bring a community together. It gives us as citizens something to brag about."
Beyond that, it contributes to what Kumpuris calls "diversity and density."
By offering many types of activities in an area -- for instance, the garden, playground, walking trails and music in Riverfront Park -- a wide variety of people are drawn together. And when they're drawn together, they interact and get to know each other.
Kumpuris says, "That's, I think, what we're hopefully providing: A place for people to feel better about their city. For visitors to feel better about our city. But most importantly, a place for people to come and feel safe and enjoy their city together. That's what we're trying to do."
The sentiments are echoed by other artists in town, such as Kyle Boswell, owner of the Boswell Mourot Fine Art gallery in Little Rock.
"There are certain cities that require art in public places and on their own development based on the square footage of the particular building. When you drive through a city or you're going to a destination within a city and you see these other elements besides just structural buildings, I think it's more calming to the eye and it also makes the space more expansive. To me, breathable, because there's open space around the sculpture.
"That's the greatest pleasure I have is seeing art and seeing it out in public places."
As a Little Rock resident and a participant, Warrick agrees.
"It's been a real blossoming of sculpture as a way to enhance the community. I'm a real cheerleader of that. I think it's an important venue."
The sculptures throughout Little Rock, from Chenal and the River Market to the Southwest Community Center, are for everyone and serve as a sign of what Little Rock is and can be.
Rogers says, "When guests come from out of town and they see the public art that's in our city, it's immediately sending a message that Little Rock cares about our city. We care how we look. We care what others think about us. I think it shows a side of a city that is unique and only positive."
Kumpuris agrees.
"If we can establish the tradition that that's what Little Rock is -- a city that tries to beautify all areas and tries to make it where a tourist can come -- it adds a whole other dimension to our city."
Style on 04/16/2017
Print Headline: Standing invitations
Sponsor Content
Comments