SPRINGDALE -- A Republican state representative from Rogers wants state grades given to schools to reflect more than what students score on one standardized test given annually.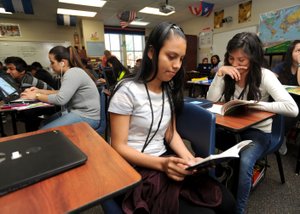 Photo by Andy Shupe
Katherine Ascencio (center), 17, and Lisset Martinez, 16, both sophomores at Har-Ber High School, read Thursday in the language academy meant for English language learners at the school in Springdale. A new law, Act 991, changes testing and performance requirements for English language learners in the state's academic accountability system.
"To grade a school on a test is more of a test on what the population of the kids is rather than the performance of the school itself," Rep. Jana Della Rosa said. "We have a punitive, reactive system. We were trying to change it into a system that would be proactive and encourage excellence for everyone."
HB1607, now Act 991
• Sponsored by Rep. Jana Della Rosa, Sen. Uvalde Lindsey, and 20 other state representatives and two senators
• An act to limit the use of an English learner's score on a state-mandated assessment for public school and public school district accountability purposes
Key provisions
• State test scores do not count for growth or achievement in accountability ratings for campuses and school districts for English learners enrolled in a U.S. public or private school for less than 12 months.
• State test scores count for growth purposes only for English learners enrolled in a U.S. public or private school for between 12 and 24 months.
Source: Staff report
HB1608, now Act 744
• Sponsored by Della Rosa and Lindsey
• An act concerning the accountability system developed by the state of Arkansas under the Every Student Succeeds Act
Key provisions
• School rating system to consist of multiple measures: academic achievement on the annual state testing system, student growth on the annual statewide testing system, school-level graduation rate and English learner progress or growth in acquiring English and at least one other indicator of school quality.
• Options are the other indicator are closing the achievement gap; academic growth of specific student groups; percentages of students who earn credit in Advanced Placement, International Baccalaureate, concurrent credit programs or industry-recognized credentials; equity in resource allocation; student access to flexible programs that allow for personalized, competency or mastery learning; the proportion of educators with National Board for Professional Teaching Standards certifications or with advanced degrees; and public school district and community partnerships.
Source: Staff report
She sponsored House Bill 1607, now Act 991. The legislation focuses on how the accountability system evaluates the performance of English learners enrolled in U.S. schools for fewer than 24 months.
[EMAIL UPDATES: Get free breaking news updates and daily newsletters with top headlines delivered to your inbox]
She also sponsored House Bill 1608, now Act 930. It requires the state's A through F grading system for schools to include more than student achievement on the annual state standardized test, currently the ACT Aspire.
The Arkansas Department of Education provided input to ensure both bills reflect feedback in the ongoing development of a new state accountability plan, said Kimberly Friedman, department spokeswoman.
"We were supportive of the final language and are confident that both acts will help us achieve a more robust and effective accountability system," Friedman said.
State officials are developing a state accountability plan under the federal Every Student Succeeds Act. The plan is due to the U.S. Department of Education this fall for implementation in the 2018-19 school year.
Grading schools
Community members look at school ratings and assume an "A" school does a good job of educating and graduating students, while an "F" school does not, Della Rosa said.
"It just means they did good on a test," she said.
What's not reflected is an "F" school may have high-quality teachers working with large populations of children having challenges, including those who are learning English or those who come from poor families, she said. The state's diverse population of children also includes those with disabilities and students whose families move frequently for work.
"All kinds of things drive poor ratings and are not necessarily because the school is not good at teaching," Della Rosa said. "If you are only looking at one test score and using that as your judge, it's not really what the parents are wanting to know."
Della Rosa's interest in English learners and the state accountability system grew following a visit last fall to Har-Ber High School as part of the state's Take Your Legislator To School month.
Har-Ber High School's "C" grade given in the 2015-16 school year didn't make sense to her after seeing its music program, construction technology program and Language Academy, she said. The academy serves about 120 freshmen through seniors who have been in the United States for less than a year and aren't proficient in English.
The academy focuses on getting students up to speed in their subjects while learning English for reading, speaking and writing, she said. The campus has more than 640 English learners, including those who aren't in the academy.
"You look at this place and what they're doing and how hard they're working," she said.
It bothered her that students were being tested when they can't read the instructions because they are learning English, she said.
Della Rosa expressed interest in pursuing legislation to Springdale Superintendent Jim Rollins. Megan Slocum, associate superintendent for curriculum and instruction for Springdale, and Kendra Clay, the district's student, personnel and legal services director, drafted the language for the bills.
Della Rosa found support for the bill on English learners from lawmakers in communities that are home to large populations of immigrants where schools have experienced similar issues, she said.
Legislators had few questions about the bills, she said. Both passed out of the House and Senate education committees. House Bill 1607 passed with 32 votes in the Senate and 90 votes in the House. It became law March 31.
House Bill 1608 passed with 30 votes in the Senate and 85 votes in the House. The bill received no "nays" in either house. It became law March 29.
Testing English learners
In Arkansas, all instruction and testing in public schools must be in English, Slocum said.
The process is frustrating to students, she said.
Slocum wrote a paper for Rollins that summarized some of the issues with the accountability system, including how it evaluates English learners, she said. She included solutions.
Slocum, Clay and Rollins met with Della Rosa in early January, Slocum said. The process of writing, rewriting and editing a legislative proposal began.
A key part of the process involved sharing their work with other district staff and state officials, Clay said.
"What makes perfect sense on a piece of paper -- we know what that means -- that has to translate into words," Clay said.
And Springdale's leadership consists of a team of people with prior experience working with the Department of Education. Slocum is a former assistant commissioner of learning services. Clay is a former lawyer for the department. Jared Cleveland, the district's deputy superintendent, is a former assistant commissioner for finance. Melody Morgan formerly led the state assessment division.
"We all came with these very different perspectives," Clay said. "[Slocum] knew what's required for learning services to implement."
High expectations and standards remain, Slocum said.
"We don't grade our students on how they do on one day on that state assessment," Slocum said. "The same is true on state accountability. Students are much more than that one grade on that one day."
The bills reflect Della Rosa's desires for changing the system, but also what she thought would receive support and what state officials agreed could be measured and would meet requirements of the Every Student Succeeds Act, she said.
The implementation of both bills will depend on the rules put into place by the department, Clay said.
Under the broader bill on state accountability, schools will receive credit for advancing a student who enters school two years behind and makes a year's growth even if that student isn't yet on grade level, she said. Della Rosa also intends for the law to encourage the growth of the highest achievers, she said.
Della Rosa said she told Commissioner of Education Johnny Key she thinks the department should implement what the Legislature has said it wants from public education.
"We have an obligation to provide an adequate education to the people of Arkansas," Della Rosa said.
NW News on 04/16/2017