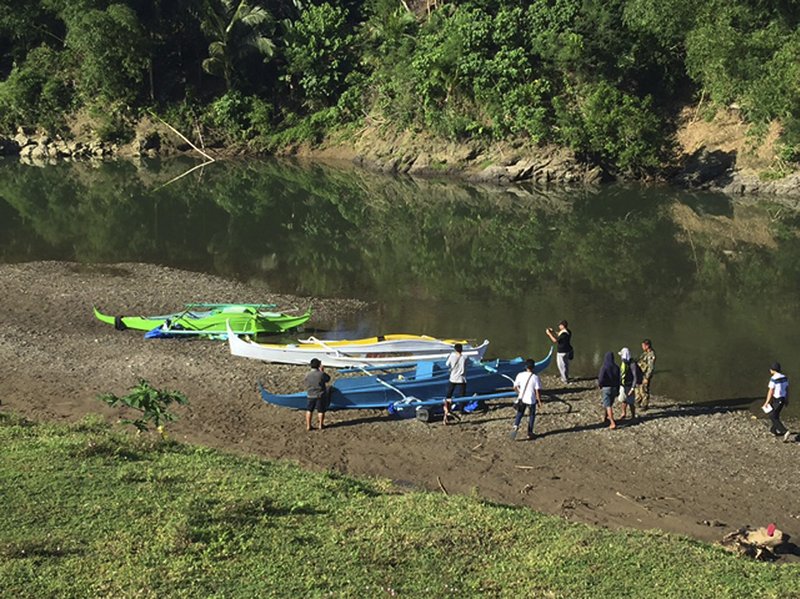 This undated photo provided by the Armed Forces of the Philippines on April 12, 2017, shows people stand by boats which the military said were used by Abu Sayyaf militants to enter the Ibananga River in Bohol province, central Philippines, as government troopers continue clearing operations.
MANILA, Philippines -- A foiled attack on a central Philippine resort island last week was a kidnapping and bombing mission by at least three extremist groups affiliated with the Islamic State, security officials said Saturday.
The Philippine military initially said government forces, backed by airstrikes, had detected and thwarted a kidnapping plot by Abu Sayyaf militants in the island province of Bohol, a popular tourist destination far from the militants' southern jungle bases.
Three soldiers, a policeman, two villagers and at least four militants, including key Abu Sayyaf commander and spokesman Moammar Askali, were killed in the daylong siege Tuesday in Bohol's Inabanga town.
Military spokesman Brig. Gen. Restituto Padilla said military and police forces in Bohol thwarted "major terrorist activities" by the militants, who were aiming to divert the military's focus from intense offensives on the militants' jungle encampments in southern Sulu province and outlying islands.
"The persons who died in the area, some of whom have been identified to be known terrorists, are still the subject of a continuing investigation to ascertain their participation," Padilla said, adding that the result of the investigation would be made public in the near future.
Interviews with three security officials, along with documents and pictures, indicated that three extremist groups that have pledged allegiance to the Islamic State deployed their leading bombers and fighters, some of whom wore Islamic State-style black flag patches, for the Bohol assault.
The officials spoke on condition of anonymity because they were not authorized to disclose details of the ongoing investigation of the foiled attack.
While considered a key commander and emerging leader of Abu Sayyaf, Askali had also led a hard-line Abu Sayyaf faction called the Marakat Ansar Battalion, which is among 10 small groups that pledged allegiance to the Islamic State about three years ago and formed an Islamic State-inspired alliance in the southern Philippines. Askali had been implicated in the beheadings of two Canadian hostages last year and a German tourist in February in Sulu's jungles, the officials said.
Other Abu Sayyaf commanders have refused to align themselves with the Middle East-based extremist group, according to the officials.
Aside from Askali, another key Sulu-based militant killed in Bohol was Edimar Isnain, who had worked with Malaysian and Indonesian militants in assembling bombs and leading bomb-making training for recruits of Abu Sayyaf and another violent group called Dawla Islamiya Ranao, also known as the Maute group, based in southern Lanao del Sur province.
Troops recovered four assault-style rifles, rifle grenades and bomb-making materials, including detonating cords, blasting caps and electronic bomb parts, a military report said.
The Associated Press obtained military pictures of Isnain's body, which was dug up by troops in Inabanga, and the other dead, including an elderly village couple. It's not clear whether the two Inabanga villagers were killed in the crossfire or gunned down by the cornered Abu Sayyaf militants at the height of the fighting.
Officials said the militants, who traveled from Sulu more than 300 miles by motor boat to the south of Bohol, were guided to Inabanga's interior hinterlands by Joselito Melloria, a convert to Islam. Military officials believed he may have been designated to lead another Islamic State-linked extremist band called Ansar Khilafa Philippines had the Bohol attack been successful, the officials said. Ansar Khilafa Philippines' leader, Mohammad Jaafar Maguid, was killed by Philippine counterterrorism forces in southern Sarangani province in January.
Melloria, who uses the alias Abu Alih and allowed the militants to stay at his Inabanga home, was wounded in the Bohol fighting and escaped with several other militants, the three officials said.
It remained unclear what the targets of the militants were, but Bohol draws foreign and local tourists for its beach resorts, waterfalls, caves and wildlife. Bohol island lies about 397 miles southeast of Manila and is about an hour by boat from Cebu province, a trade and tourism center. Bohol is to host a meeting this week of the Association of Southeast Asian Nations, the regional bloc the Philippines is leading this year.
Militants from the three Islamic State-linked groups first collaborated by bombing a night market in southern Davao city, President Rodrigo Duterte's hometown, in a 2016 attack that killed 15 people and prompted Duterte to declare a state of lawless violence. The Bohol attack was the farthest-reaching and most daring plot so far by the allied militants. Duterte has threatened to place the south under martial law if terrorism threats spiral out of control.
A Section on 04/16/2017
Print Headline: 3 ISIS-linked groups said to have led foiled Philippines plot
Sponsor Content
Comments