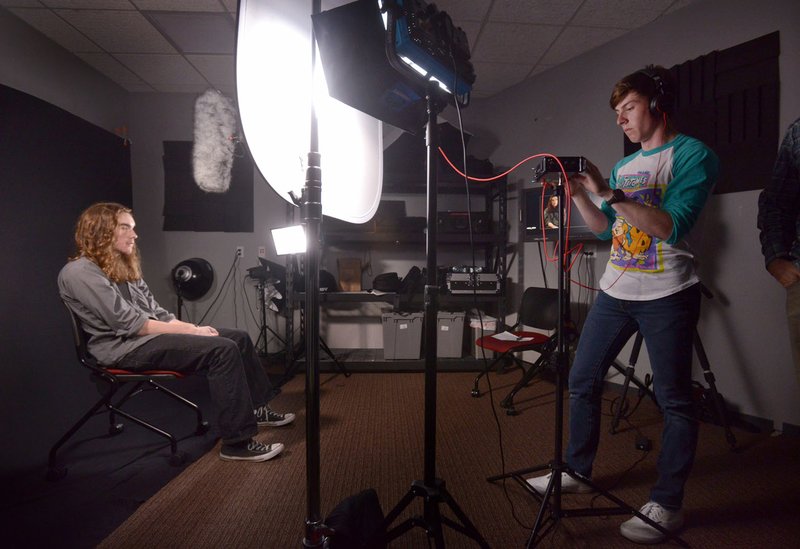 Devin Arnone (right) sets sets up an interview Monday with Carter Davis, both Bentonville High School seniors, during the Ignite program's creative arts video production class at the University of Arkansas' Global Campus in Rogers. - Photo by Ben Goff
BENTONVILLE -- Enrollment in the School District's Ignite program is expected to grow next year, as is the district's financial commitment to it.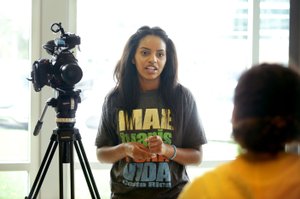 Photo by Ben Goff
Halle Upshaw (left), a Bentonville High School senior in the Ignite program's creative arts video production class, interviews Athena Hays, also a Bentonville senior, Monday.
Administrators are seeking the School Board's approval to spend $245,000 to hire four part-time teachers and add the director's salary and benefits to the district's payroll.
Ignite Info
Some statistics from the Bentonville School District's Ignite program:
Students have earned 549 hours of college credit and 90 job-related certifications.

Fourteen percent of students were identified under the targeted achievement gap group, known as TAGG. The group includes those who are economically disadvantaged, who are English language learners or who have some kind of disability.

The program has partnered with 100 people or businesses that have contributed time, space and internships for students.
Source: Bentonville School District
Ignite director Teresa Hudson's salary has been provided by the Walton Family Foundation since Ignite launched two years ago. Her salary and benefits are projected to cost the district $104,158 next school year.
Hudson discussed the program during the board's meeting Monday. The board is expected to vote April 17 on the Ignite request as well as other secondary-level staffing requests for the 2017-18 school year.
Ignite was designed to expose high school students to specific career paths in which Northwest Arkansas needs more workers. It was developed in partnership with industry and business professionals, Hudson said.
"Our partner base is strong, and many are providing space, internships and training," she said. "We're meeting college-level standards and using actual projects from businesses and nonprofits for learning. And our instructors are a source of guidance for students to find employment or make their postsecondary plans."
The program started in fall 2015 with a single class of 16 students in computer and information technology. It expanded this year to include classes in construction professions, creative arts and medical and health science. Enrollment grew to 100.
The plan is to add culinary arts, business and education classes this fall, Hudson said.
"Enrollment for the fall already has been done and all of the career strands have increased in demand," Hudson said. "We should expect to see around 200 students in the program."
Administrators are considering other areas of secondary education where they'll need additional staffing, stemming mainly from the addition of a senior class at West High School and overall increased enrollment, said Dena Ross, chief operating officer.
"We understand this is a budget year we need to kind of pull in the belt, but we'll come forward with those requests that are most important in those areas," Ross said. "Our goal is to meet the need, not exceed the need."
In other business, administrators will be asking the board's approval of a 10-cent hike in school meals for the 2017-18 school year. The board will vote on that issue April 17 as well.
The proposed increase means students in grades kindergarten through six would pay $2.85 and grades seven through 12 would pay $3.05 next year, according to Janet Schwanhausser, finance director.
The Healthy, Hunger-Free Kids Act of 2010 requires schools to gradually increase paid lunch charges so revenue generated from paid lunches is equal to the amount reimbursed by the federal government for meals provided to students participating in the free-meal program. The act also capped those annual increases at 10 cents.
As of the 2010-11 school year, the district received 18 more cents for a free meal than it did for a paid meal, Schwanhausser said. The district has increased lunch prices by 10 cents every school year since the 2011-12 year, she said.
Eliminating the difference in revenue has been a slow process because the National School Lunch Program increases the amount reimbursed to schools by the consumer price index plus 2 percent annually, Schwanhausser said.
Bentonville, however, is close to catching up.
"This year the difference in revenue between the paid meals and the free meals was 3 cents," Schwanhausser said. "This may be our final year of a 10-cent increase."
The price for breakfast also is scheduled to increase 10 cents to $2.05 per meal. The cost of milk will remain at 50 cents.
NW News on 04/04/2017
Print Headline: Ignite growth spurs personnel request in Bentonville School District
Sponsor Content
Comments